If you have dived in Seychelles before, please share your experiences: Dive spots you would recommend, which Dive Center you used, Fishes & Diving, Visibility, Currents, etc. Please post your comments in the section below, by doing so you will help fellow divers to plan their next trip

The Seychelles archipelago offers some of the best diving in the Indian Ocean. The Islands sit 480 kilometers off the coast of Africa with 115 islands spanning a distance of over 1,100 kilometers. Located just 4 to 10 degrees south of the equator, the country has warm water and air temperatures year round.
This western Indian Ocean country is divided into two main geographical groups, the inner islands and the outer islands. The inner islands are 41 granite islands while the outer islands are made up of 74 coral atolls and reef islands. The outer islands are further divided into five groups.
The three inner islands of Mahé, Praslin and La Digue are called the main islands and this is where the vast majority of the tourism and Scuba diving industry is located.
In this page you will find more detailed information about scuba diving in Seychelles.
Photos Seychelles
Best Dive Review
Scuba Divers visiting the Seychelles will find outstanding visibility while visiting the dive sites around the different islands. The shallow waters near the deep waters create great reefs that make great scuba diving and snorkeling.
The waters near the islands have exposed rocks and underwater pinnacle which are covered with corals. While a pleasure for divers, it is a hazards for shipping. Many mariners over the eons have temporary lost sight of the hazards and have unwilling donated their ships to become taken over by corals.
The northern portion of Mahé is where most of the divers go. There are thirty different dive sites within a short journey from the dive operators in the area. Additional dive sites are slightly longer and include those that are near the southern portion of the island and those further along the north east coast.
There are a few dive operators on the southern part of the island that has rapid access to the dive sites on the southern side.
Praslin and La Digue have a dozen outstanding dive sites that are accessed from dive centers on those islands. These dive sites are also available to the dive centers on Mahé who are out for a full day diving. Another eight sites are found around Silhouette Island.
While dive operators will visit sites with different frequencies, there are over 75 dive sites for them to choose from.
The outer islands are the areas that the Seychelles liveaboard roam to in addition to the site listed above. Most of these islands are uninhabited giving complete privacy while diving. Alphonse and Desroches islands are the only two that have accommodations for visitors. Each have outstanding resorts offering pristine diving with no other divers using the sites.
How to dive Seychelles?
Divers coming to dive the Seychelles should look closely at the options available to them. Both the liveaboards and the island based diving feature outstanding options.
The three main islands offer outstanding diving with a relaxed location with simple support facilities. These islands offer some other tourism activities and in addition to scuba diving there are other nature based activities. As the number of dive operators verses dive sites is low, divers will not be overcrowded on any dive. At the two outer islands with dive resorts, divers will find little outside of the resorts. The dive sites are pristine and offer unique experiences.
The liveaboards will travel to what can only be described as virgin dive sites. A liveaboard may be the only one to visit a dive site and may not do so on each dive.
Both the liveaboards and the resorts can offer diving that fit all skill levels of divers.
Where to stay?
I usually use this website to book in advance my hotels in Seychelles as they usually have the lowest rates I find. I like it because it's free to cancel and change the dates.
Best time to dive in Seychelles
The Seychelles Islands has a warm tropical climate that brings comfortable conditions all year.
October to March is governed by the north-westerly trade winds that brings wind speeds of 8 to 12 knots.
May to September is the time of the south-easterly trade winds which are brisker. This will bring excellent sailing weather but more surface chop that divers would need to deal with.
April/May and October/November are the best times for diving as the winds and seas are calm and water temperatures reach 29°c and visibility exceeds 30 meters.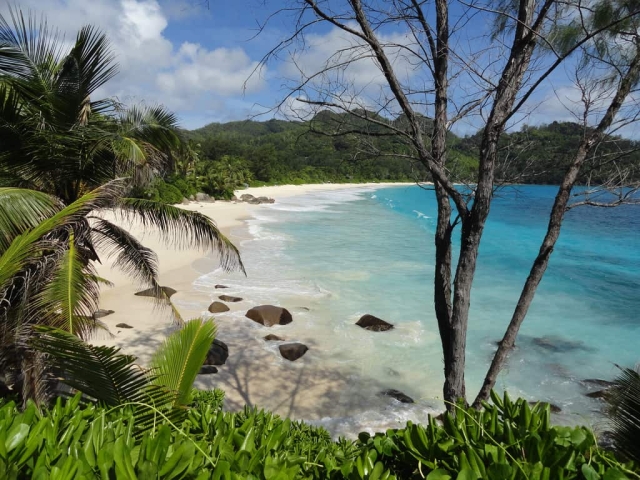 Top liveaboards in Seychelles according to divers reviews
Dive courses
It is a perfect place to learn to dive and to advance your training. The wide variety of dive sites mean there is something for everyone and that also means that dive training at all skill levels are great here.
Scuba Diving conditions
April/May and October/November are the best time for water sporting including snorkeling and scuba diving. The seas are very calm and the water temperature sometimes reaches 29ºC and visibility is often over 30 meters. The Seychelles Island weather service has detailed weather information.
Snorkelling in Seychelles
Snorkelers will find that the Seychelles offers outstanding opportunities to explore underwater. Most of the resorts and many of the liveaboards have special programs for snorkeling.
Fishes and Coral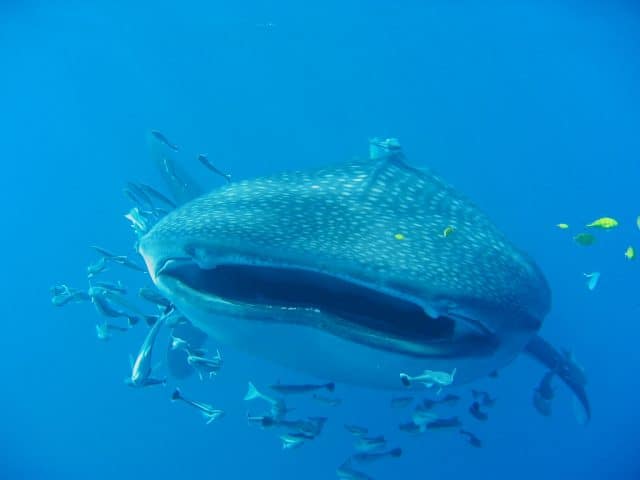 Seychelles, just off the coast of The island of Mahé, photograph by Olivier ROUX
The Seychelles location in the western portion of the Indian Ocean is alive with marine life. While the number of different species of coral and reef fish are lower than the Indo-Pacific area, it is still much higher than the Caribbean and Red seas. The islands, atolls and coral islets are rich in corals which attracts marine life large and small. Some of the marine life the area is known for include:
Hawksbill and Green Turtles
Game fish such as swordfish, Marlin and sailfish
Barracuda
Giant Grouper
Grey and Silver tip Reef Sharks
Lion Fish
Napoleon Wrasse
Dugong
Stingray
Whale Shark
Diving Safety
If you are planning an upcoming dive trip or travelling to Seychelles, it is a really good idea to invest in travel insurance for scuba diving, because you never know what could happen and when you might need it (because accidents do happen!). I recommend this diving insurance as they offer worldwide coverage and focus on providing scuba divers a quality insurance and medical assistance service.
Seychelles and Maldives both have outstanding diving. The locations underwater are very similar with perhaps more wrecks in Seychelles. However, Seychelles does not have the large number of resorts on private islands, and does not have the international reputation of being a luxury honeymoon destination. For the Scuba diver this means Seychelles is a more nature focus destination and more reasonably priced.
Travel Guide
Now that you know all about the underwater world, you might want to start planning your scuba holiday! Check out our Seychelles Travel Review for information about how to get there, activities and excursions, where to stay, and more.
Diving Reviews for this region
Dive spots reviews in Seychelles
No dive sites reviews found
Liveaboard Reviews in Seychelles
Diving centers in Seychelles