If you have dived in Raja Ampat before, please share your experiences: Dive spots you would recommend, which Dive Center you used, Fishes & Diving, Visibility, Currents, etc. Please post your comments in the section below, by doing so you will help fellow divers to plan their next trip

Raja Ampat has been described by many scientists as the richest place for Marine life on Earth. The biodiversity is just amazing with weird and rare underwater creatures everywhere you look. Many new species have been discovered over the last few years in the archipelago.
Raja Ampat is like heaven for underwater photography with magnificent hard and soft coral, clear water and a teeming reef life. These islands are very rich in macro life with just about all of the kind of critters you can dream of!
The Raja Ampats are also great for big fish action with pelagic fishes everywhere such as the Giant Trevally or the Dogtooth Tuna. You can spot many Sharks too, mainly Blacktip and Whitetip reef Sharks but also the strange and beautiful Wobbegong Shark.
Manta Rays are common too and there are amazing dive sites such as Manta Ridge and Manta Sandy to spot them! The very rare dugong has been spotted several times too. From the boat it is not rare to see dolphins playing or a whale passing by

In this page you will find more detailed information about scuba diving in Raja Ampat.
How to dive Raja Ampat?
Liveaboard or Dive Resort?
There are over 1500 Islands in the Raja Ampat archipelago! With a Liveaboard, you can visit many Islands and you can explore the Northern part of the Archipelago with the stunning Island of Wayag. In addition, you can visit several wrecks from WWII such as the superb P-47D Thunderbolt located near Way Island. I usually use this website to book in advance my liveaboards in Indonesia as they usually have the lowest rates I find. I like it because they have an easy booking system.
A liveaboard is more expensive than for example the Kri Eco Resort from Papua Diving. The best diving is actually in the central part of the Raja Ampats, and most of the Liveaboards will go dive spots around the Sorido bay resort and the Kri eco resort, at least as the beginning of the cruise.
For the resorts, you will have the choice between:
Misool Eco resort
Raja Ampat dive lodge
There are also a few homestays on some Islands in the southern part of the Archipelago.
Where to stay?
I usually use this website to book in advance my hotels in Raja Ampat as they usually have the lowest rates I find. I like it because it's free to cancel and change the dates.
Best time to dive in Raja Ampat
Diving in Raja Ampat is excellent all year round. As the number of divers coming to this remote area is very small, there is no "high season".
The climate is tropical with hot and humid air. The weather is sunny all year with some rainy days. From May to September, there is more rain than the other months but nothing too bad.
Top liveaboards in Raja Ampat according to divers reviews
Scuba Diving conditions
The conditions are usually very good. The water temperature is about 28 °C all the year.
Visibility is not outstanding, but you can expect from 10 to 30 meters depending on the dive site.
The current varies from none to very strong depending on the location. Many dives are drift diving, for example the spot called the Passage is really impressive when the current is fierce!
The depth ranges from 10 m to 40 m and most of the dives are quite easy but due to the remoteness of the islands, this destination is more suitable for experienced divers.
Photo Credit: http://www.flickr.com/photos/elsaw/5555624219/
Snorkelling in Raja Ampat
Raja Ampat offers excellent snorkelling opportunities with many superb and shallow coral gardens. For example, in front of the Kri Eco resort, and the Sorido Bay Resort, there is an amazing house reef to explore where you can find superb coral, turtles and juvenile blacktip reef sharks!
Diving Safety
If you are planning an upcoming dive trip or travelling to Raja Ampat, it is a really good idea to invest in travel insurance for scuba diving, because you never know what could happen and when you might need it (because accidents do happen!). I recommend this diving insurance as they offer worldwide coverage and focus on providing scuba divers a quality insurance and medical assistance service.
The number of dive sites is still unknown as most parts of the Raja Ampat Islands are still unexplored. The best known dive spots are the following ones:
Manta Ridge
Cape Kri
Manta Sandy
Cross Wreck
Fabiacet
Farond Island
Jef Fam Group
Kaleidoscope
The passage
Mike's Point
Melissa Point
Sel Pele Bay
Photos Raja Ampat
previous
Batfish School Beautiful Setting

Pink White Small Creature Bis

Pink White Small Creature
next
Travel Guide
Now that you know all about the underwater world, you might want to start planning your scuba holiday! Check out our Raja Ampat Travel Review for information about how to get there, activities and excursions, where to stay, and more.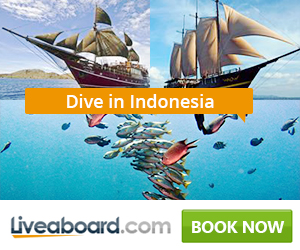 Diving Reviews for this region
Dive spots reviews in Raja Ampat
No dive sites reviews found
Liveaboard Reviews in Raja Ampat
Diving centers in Raja Ampat