If you have dived in Lankayan before, please share your experiences: Dive spots you would recommend, which Dive Center you used, Fishes & Diving, Visibility, Currents, etc. Please post your comments in the section below, by doing so you will help fellow divers to plan their next trip

Lankayan offers good scuba diving opportunities. It is one of the few destinations which offers at the same place macro diving, easy wreck diving on sunken wrecks and very beautiful coral.
The muck diving is great but it is not really a macro paradise as it has been described. It is not as good compared with the islands of Mabul and Kapalai but you can find rare species like seahorses and porcelain crabs. You will also spot colourful nudibranchs and lots of gobies. The best dive site for critters is Jawfish Lair where you have the chance of spotting the very rare ornate ghost pipe fish or the rare mimic octopus.
Several former illegal fishing boats have been sunken around the island. In front of the resort jetty, there is the jetty wreck lying in 20 meters of water. It is a great site for an interesting night dive and for macro photography. The Lankayan wreck and the Mosquito wreck are also two easy wreck dives with possibilities of penetration.
Marine Life around the wrecks is teeming with big school of fishes and groupers hiding inside. It is also the place to encounter pelagic fishes such as barracudas and trevallies.
In this page you will find more detailed information about scuba diving in Lankayan.
Best Dive Review
The coral is superb and in very good shape on the numerous reefs around Lankayan like staghorn and lettuce coral.
If you are very lucky you can spot the famous whale Shark but it is never guaranteed and is rare to see, even during the right season from March to May!
You can though spot many turtles around the island in or outside the water as the Lankayan is a nesting place for Hawksbill and Green turtle. From June to September, you will have great chances to see nesting turtles as they lay their eggs on the shore.
There are over 30 dive sites, all accessible by a short boat ride. The best ones are:
Jawfish Lair
Jetty Wreck
Lankayan Wreck
Mosquito Wreck
Photo Credit: http://www.flickr.com/photos/aidancasey/2836068284/
Where to stay?
I usually use this website to book in advance my hotels in Lankayan as they usually have the lowest rates I find. I like it because it's free to cancel and change the dates.
Best time to dive in Lankayan
Lankayan is perfect as a year round diving destination. If you'd like the chance to spot the mythical Whale Shark, your best chances are between March to May.
From June to September, you will have excellent chances of seeing nesting turtles as they come up to the shore to lay their eggs.
Hot tip
As there is no accommodation on the Island other than Lankayan, it is better to book in advance especially during the "Whale Shark Season".
Top liveaboards in Lankayan according to divers reviews
No liveaboard found
Scuba Diving conditions
Conditions are very good all year round apart from the visibility which is sometimes quite poor due to the proximity of big rivers filled with sediment on nearby Borneo. You can expect between 5 m to 15 m visibility depending on the season.
The current is generally very light and the water temperature is around 29 °C ;-).
Snorkelling in Lankayan
Snorkelling is good and easy around the island. You can snorkel right in front of the resort jetty. There are several harmless baby blacktip reef sharks in the shallow coral garden. You can also jump on a diving boat to go snorkelling on other reefs.
Diving Safety
If you are planning an upcoming dive trip or travelling to Lankayan, it is a really good idea to invest in travel insurance for scuba diving, because you never know what could happen and when you might need it (because accidents do happen!). I recommend this diving insurance as they offer worldwide coverage and focus on providing scuba divers a quality insurance and medical assistance service.
Photos Lankayan
Travel Guide
Now that you know all about the underwater world, you might want to start planning your scuba holiday! Check out our Lankayan Travel Review for information about how to get there, activities and excursions, where to stay, and more.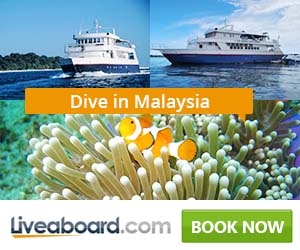 Diving Reviews for this region
Dive spots reviews in Lankayan
No dive sites reviews found
Liveaboard Reviews in Lankayan
Diving centers in Lankayan