If you have dived in Portugal before, please share your experiences: Dive spots you would recommend, which Dive Center you used, Fishes & Diving, Visibility, Currents, etc. Please post your comments in the section below, by doing so you will help fellow divers to plan their next trip


Portugal is not often mentioned while talking about scuba diving. However, the country offers some outstanding diving. Many consider it some of the best diving in the Atlantic. From the mainland coastline to the remote islands, Portugal has more than one diving opportunity that you will enjoy!
In this page you will find more detailed information about scuba diving in Portugal.
Photos Portugal
Best Dive Review
Diving Portugal is very diverse. Indeed, diving the Atlantic coast in northern Portugal is vastly different than diving the Atlantic in the Azores. Here are the four regions to dive in Portugal:
The remote location and temperate waters keep the Azores from ranking high on many best dive destination list. Or it might be a conspiracy between divers that dive there to keep it a secret! The scuba diving in the Azores is excellent. Coastal visibility ranges from 15ft to 120ft (5m to 40m) while offshore is a consistent 105ft (35m) visibility. The deep waters surrounding the islands are the home of many large species that come to the shallows to feed. A great location to dive with sharks.
 The Madeira archipelago, called the Pearl of the Atlantic, is about 700 kilometers off the African coast, about 90 minutes flying time from Lisbon. Of the eight islands, only Madeira and Porto Santo are inhabited. In fact, the others islands are nature reserves. Madeira has a mild climate all year round, water temperatures of 18 to 23°C and visibility averaging 25 meters.
 If flying to one of the islands does not fit your plans, then a trip to the Algarve coast may be the best option! Located at the southern tip of Portugal, the Algarve area offers a more secluded diving, but still in the Atlantic Ocean. Thus, there will be fewer currents and surges. The visibility is from 5 meters to 15 meters and the water temperature in the summer can range between 14C and 23C, slightly cooler in the winter.
If you find yourself in Lisbon, you may be surprised to see that there is a good variety of dive sites around the city's coast and nearby. Just south of the city is Sesimbra. Sesimbra is in a protected cove and is the home of Arrábida National Park, Cabo Espichel, and the Luiz Saldanha Marine Park. Plus, there's Fonte de Telha, lying directly on the Atlantic Ocean, near Lisbon. Both areas offer year-round diving.
Last but not least is the Berlengas Archipelago, just off the small surfing town of Peniche. The water is very clear, perfect for snorkeling and diving! You can book a diving trip, or a snorkeling trip in Peniche and head to the archipelago for a day. Plus, make sure you save a day to also visit the islands on foot… the views are stunning as you can see on the picture below!
How to dive Portugal?
Portugal is a land-based diving destination. Lisbon and the Algarve region have standalone dive centers and some are only open in the summer. While on the islands, you will find a few resorts with integrated dive operations.
Best time to dive in Portugal
The best time to scuba dive in Portugal is very subjective. If you are on a budget, then the best time to visit Madeira and the Azores is during the winter months. You might find that a dive site or two are unavailable due to weather, but others will be just fine.
In fact, both of these locations are great for year-round diving. Madeira has a large whale population, present all year but peaking in May – June, and September – November. In comparison, the Azores sees an increase in whale population later in the summer.
The Berlengas Archipelago and Algarve region are primarily summer destinations. That being said, you can still dive off-season. Sesimbra is protected, so other than the need for more protective clothes it is also great year round.
Top liveaboards in Portugal according to divers reviews
No liveaboard found
Dive courses
All of Portugal's dive destinations offer diving courses. Madeira is a great place to learn how to dive, and so is the Algarve coast! If you are visiting the Azores and are not a drift diver or deep diver, consider taking those courses when you visit. The Azores has some great drift dives and there are a number of deep dive sites that are the top of underwater mountains.
Scuba Diving conditions
While scuba diving conditions in Portugal vary between destinations, it is possible to dive year-round. First, the water temperatures around Lisbon are between 18°C to 20°C from June to October, dropping to 15°C in February and March when it starts getting warmer.
Secondly, Madeira has a mild climate all year round with water temperatures of 18°C to 23°C. Thirdly, in the Azores, we are looking at 22°C to 25°C in August and around 15°C to 17°C in March. While the winter months have the coldest temperatures and seas can be rough, it is the best time for whale sightings in the Azores.
Regarding the Algarve's coastal region, the water temperature in the summer can range between 14°C and 23°C, with good visibility.
Snorkelling in Portugal
There are many great snorkeling sites in Portugal. Indeed, in both Sesimbra and the Algarve coast, you will have great snorkeling from the beaches. Plus, the marine reserves in Madeira are also great snorkeling.
As you go up on the coast of Portugal, if you stop by Peniche to catch a few waves, make sure to visit the Berlengas! Indeed, the small Berlengas archipelago has clear waters and offers amazing snorkeling possibilities.
Fishes and Coral
Portugal has the marine life that you might not first associate with the Atlantic Ocean. Leatherback turtles are often found on the mainland coast. In fact, these turtles have a migratory route that brings them to the Portugal coast.
Plus, Madeira has over 20 species of dolphins and whales. Indeed, you will be able to meet them during most of the year, with higher chances in May – June and again in September – November.
Diving Safety
If you are planning an upcoming dive trip or travelling to Portugal, it is a really good idea to invest in travel insurance for scuba diving, because you never know what could happen and when you might need it (because accidents do happen!). I recommend this diving insurance as they offer worldwide coverage and focus on providing scuba divers a quality insurance and medical assistance service.
Portugal's unique dive destinations are all worthy of your time. A few evening dives will fit right in with a business trip to Lisbon. Marine mammal lovers clearly need to visit Madeira. The Azores are outstanding. If you are in Europe then the Algarve region is great for a mini dive vacation any time of the year. Give them all a try!
Travel Guide
Now that you know all about the underwater world, you might want to start planning your scuba holiday! Check out our Portugal Travel Review for information about how to get there, activities and excursions, where to stay, and more.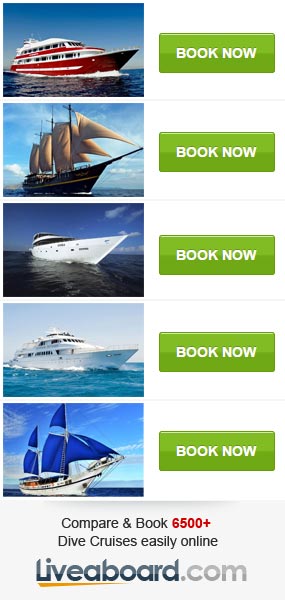 Diving Reviews for this region
Dive spots reviews in Portugal
No dive sites reviews found
Liveaboard Reviews in Portugal
Diving centers in Portugal