If you have dived in Lembeh Strait before, please share your experiences: Dive spots you would recommend, which Dive Center you used, Fishes & Diving, Visibility, Currents, etc. Please post your comments in the section below, by doing so you will help fellow divers to plan their next trip

Some say that Lembeh Strait is the Best Muck Diving place in the World! It is a real paradise for underwater macro photography and for all the critter lovers. Scuba diving in Lembeh is like jumping into a world of tiny strange and weird creatures. Famous photographers and enthusiastic divers come from all over the world to dive this famous spot and discover this incredible biodiversity!
You can find all sorts of strange critters such as the Flamboyant Cuttlefish, the rare Mimic Octopus or the ugly Hairy Frog Fish!
What is Muck Diving?
Muck diving refers generally to diving in murky water with poor visibility on shallow sandy slopes. Okay, so it doesn't sound so good for the moment! But Muck diving offers the possibility to observe some of the weirdest creatures on Earth! These tiny little critters are the preferred subjects of underwater photographers.
If you are a beginner diver, muck diving could seem a bit boring to you and Lembeh is not really a good diving destination for your first bubbles! Try instead to explore Bunaken dive sites with amazing Walls and Coral gardens.
Muck diving is more suitable for experienced divers who have dived many times on conventional coral reefs and now want to discover really rare underwater creatures. Another amazing location for Muck fans is Mabul Island in Malaysia.
In this page you will find more detailed information about scuba diving in Lembeh Strait.
Best Dive Review
Scuba diving in Lembeh Strait is all about the rare and strange macro creatures. The biodiversity in this part of Indonesia is just incredible!
Due to the lack of places to hide in this sandy environment, the species living there have developed unusual strategies to hide themselves. This unique ecosystem is home to critters such as the magnificent Ghost Pipefish, Seahorses, rare species of Nudibranchs, the superb Flamboyant Cuttlefish, the amazing Mimic Octopus or the weird Hairy Frog fish!
Most of the diving is done on volcanic black sand and this will give superb contrast to your pictures.
Moreover, Lembeh Strait is not all about critter diving, it also offers interesting shipwrecks, beautiful soft coral and several coral gardens.
You can also explore this underwater world on a Liveaboard trip that generally combines Bunaken National Park, The Bangka Island and the Lembeh Strait. I usually use this website to book in advance my Liveaboards in Indonesia as they usually have the lowest rates I find. I like it because they have an easy booking system.
Photo Credit: http://www.flickr.com/photos/steve_childs/3165713089/
Where to stay?
I usually use this website to book in advance my hotels in Lembeh Strait as they usually have the lowest rates I find. I like it because it's free to cancel and change the dates.
Best time to dive in Lembeh Strait
You can dive in Lembeh Strait all year round. Depending on the season, visibility and conditions can vary but since you are here to look at small critters, the visibility isn't too much of a worry. In fact, the worse the visibility, the more critters there are. Fish species vary throughout the year, which means you can dive the same place at different times and see totally different creatures.
Dry season runs from March to October, average temperature of 30°C.
Rainy season from November to February, but it is usually just heavy rain for 2 hours and then a sunny day!
Low Season from January to June with fewer divers and less good conditions but still fine to dive.
Peak Season runs in July and August and you should book in advance during this period.
Worst visibility takes place in August but it is actually the best time to see many critters!
The best time would be in September and October. Liveaboards are running all year round too around Lembeh Strait.
Top liveaboards in Lembeh Strait according to divers reviews
Scuba Diving conditions
Scuba diving around Lembeh is very easy and shallow. Most of the dive sites don't go below 15 meters and maximum depth is around 25m deep. Generally, there is no current.
Water temperature varies year round from 24°C to 30°C. The visibility is generally not good as with many muck diving destinations. It ranges from 4 meters to 20 meters if you are lucky. However, there is a rule saying that the more the water is murky, the more critters you will find

There are around 30 dive sites all within a short boat ride away from the Lembeh diving resorts.
Snorkelling in Lembeh Strait
It is really not a great place for Snorkelling. If you are in the area you should head to Bunaken Island not far from Manado for excellent Snorkelling on shallow Coral gardens.
Diving Safety
If you are planning an upcoming dive trip or travelling to Lembeh Strait, it is a really good idea to invest in travel insurance for scuba diving, because you never know what could happen and when you might need it (because accidents do happen!). I recommend this diving insurance as they offer worldwide coverage and focus on providing scuba divers a quality insurance and medical assistance service.
Photos Lembeh Strait
previous
Yellow Seahorse in Lembeh Strait

Photo by Agnes Tjandranegara

Blue Nudibranch in Lembeh Strait

Lion Fish swimming in crystal clear water

Photo by Agnes Tjandranegara

Night White Fish Looking For Food In Sandy Bottom

Photo by Agnes Tjandranegara

Stonefish At Night

Photo by Agnes Tjandranegara
next
Travel Guide
Now that you know all about the underwater world, you might want to start planning your scuba holiday! Check out our Lembeh Strait Travel Review for information about how to get there, activities and excursions, where to stay, and more.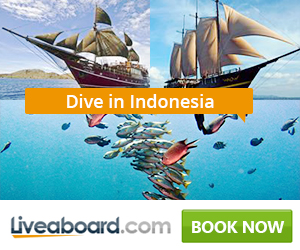 Diving Reviews for this region
Dive spots reviews in Lembeh Strait
No dive sites reviews found
Liveaboard Reviews in Lembeh Strait
Diving centers in Lembeh Strait