If you have dived in Langkawi Island before, please share your experiences: Dive spots you would recommend, which Dive Center you used, Fishes & Diving, Visibility, Currents, etc. Please post your comments in the section below, by doing so you will help fellow divers to plan their next trip

There are no diving spots in Langkawi Island itself. You have to go to Pulau Payar Marine Park Group of islands. They are located about 30km south east of Langkawi Island and North of Penang. There are many dive operators on Langkawi who can get you there during a day trip.
The diving there is good but nothing spectacular as on other diving destinations around Malaysia like Sipadan in Borneo or the Perhentians Islands on the East Coast. However it is the best scuba diving along the Malaysian west coast. It is a good destination for inexperienced divers with no current and shallow reef.
Photo Credit: http://www.flickr.com/photos/alexissoon/5326527517/
The marine life around these islands is very good with a good chance of spotting pelagic fishes such as barracuda, jacks and blacktip reef shark as well as the usual reef fishes.
There are also very easy wreck diving sites like the Kaca Sunken Wrecks dive site with dozens of fishing boats sunk to make artificial reefs at Pulau Kaca. Coral is pretty with many varieties of hard and soft coral. Grouper farm is also a great spot to explore the reef and see many Groupers!
Unfortunately the visibility is not as good as on the east coast of Malaysia due to the high density of plankton. It ranges from 5 to 20 meters depending of the season. The visibility is often better at Pulau Segantang located 13Km from Pulau Payar.
You can also explore this underwater world on a Liveaboard trip that generally takes you from Phuket to Langkawi Island (MV Sai Mai Liveaboard). I usually use this website to book in advance my Liveaboards in Malaysia as they usually have the lowest rates I find. I like it because they have an easy booking system.
In this page you will find more detailed information about scuba diving in Langkawi Island.
Where to stay?
I usually use this website to book in advance my hotels in Langkawi Island as they usually have the lowest rates I find. I like it because it's free to cancel and change the dates.
Best time to dive in Langkawi Island
Langkawi Island is a year round destination with much the same tropical temperature year round (25 to 32 °C). However some months are affected by heavy rains.
Dry season from mid November to mid April, with very little rain
Mid-season runs from April to August with light precipitations.
Rainy season from September to November. It rains every day for about 2 hours and at night.
The peak tourist season is during the dry season. However prices drop during the rainy season and it can be a great deal for low budget travellers.
The best diving time also runs during the dry season with better visibility.
Hot tips
If you are planning to visit Langkawi Island around New Year's Eve, you really need to book in advance as most of the accommodation will be fully booked.
Top liveaboards in Langkawi Island according to divers reviews
No liveaboard found
Snorkelling in Langkawi Island
Snorkelling around these islands is very rewarding with a good chance of spotting juvenile blacktip reef sharks in very shallow water around the marine park centre.
Diving Safety
If you are planning an upcoming dive trip or travelling to Langkawi Island, it is a really good idea to invest in travel insurance for scuba diving, because you never know what could happen and when you might need it (because accidents do happen!). I recommend this diving insurance as they offer worldwide coverage and focus on providing scuba divers a quality insurance and medical assistance service.
Photos Langkawi Island
Travel Guide
Now that you know all about the underwater world, you might want to start planning your scuba holiday! Check out our Langkawi Island Travel Review for information about how to get there, activities and excursions, where to stay, and more.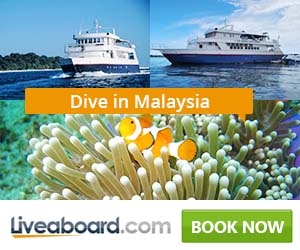 Diving Reviews for this region
Dive spots reviews in Langkawi Island
Liveaboard Reviews in Langkawi Island
Diving centers in Langkawi Island