If you have been to Mabul Island before, please share your experiences, ideas and feedback (Hotel, Excursions, General Feeling,…) in the comments section below, by doing so you will help fellow travellers to plan their next trip

Mabul is a beautiful small Island located on the East Coast of Sabah, the Malaysian part of Borneo. Since 2002, it is no longer possible to stay directly on the world famous diving island of Sipadan and as Mabul Island is just 15 km away, Mabul has become the best starting point to dive Sipadan.
But Mabul Island itself offers terrific scuba diving opportunities. It is a world class destination for muck diving and underwater macro photography. Critter lovers will be delighted by the rare species they will find underwater like the rare Flamboyant Cuttlefish, or the strange Mimic Octopus.
The Island is small and very beautiful with white sandy beaches and coconut trees. It is very quiet with only two fishermen villages and a perfect place to relax.
In this page you will find practical information to plan a scuba diving trip to Mabul Island:
Where to stay?
I usually use this website to book in advance my hotels in Mabul Island as they usually have the lowest rates I find. I like it because it's free to cancel and change the dates.
There are few hotels, guesthouses and diving resort on Mabul.
The best diving resorts to stay should be:
Sipadan water village
Seaventures
Mabul water bungalows
Seaventure is an interesting stay as it is a former oild rig platform transformed in a diving resort!
There are also much cheaper places but not all offer a diving centre and have the permit to dive Sipadan. So always ask before booking. You can watch this video to learn more about the Island:
Activities and excursions in Mabul Island
There is not much to do on Mabul Island. The island is very beautiful and the main activities apart diving are exploring the fine beaches, visit the fishermen villages, relax by the pool and go snorkelling on a day trip.
For families, most of the diving resorts propose a rather pricey babysitter service.
Health and Safety
If you are planning an upcoming dive trip or travelling to Mabul Island, it is a really good idea to invest in travel insurance for scuba diving, because you never know what could happen and when you might need it (because accidents do happen!). I recommend this diving insurance as they offer worldwide coverage and focus on providing scuba divers a quality insurance and medical assistance service.
Where is Mabul Island located in the world?
Mabul Island is situated on the East Coast of Sabah,in Borneo, Malaysia.
See the map below
Mabul Map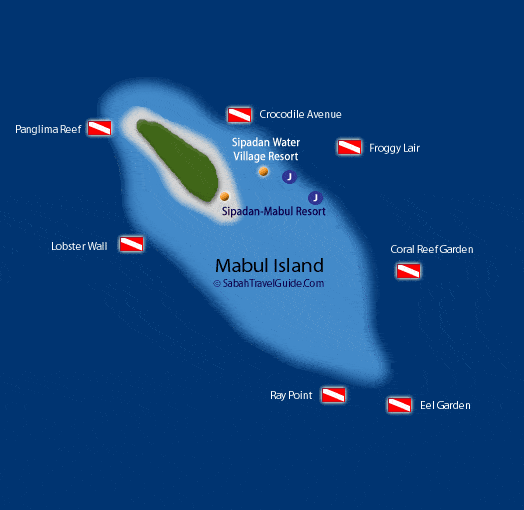 How to get to Mabul Island?
Going to Mabul is not an easy task but everything is well arranged to get you there as fast as possible on the island.
Step 1
You have first need to fly from Kuala Lumpur (3 hours flight) or Kota Kinabalu (55 min flight) to Tawau airport. The best companies to fly there are low cost airline Air Asia or Malaysian Airlines.
Step 2
From Tawau airport, you need to take a taxi or a mini van for about 2 hours to reach the port of Semporna.
Step 3
From Semporna harbour, you will take a fast boat to reach the Mabul Island in about 45 min.
Hot tips
This entire trip can be arranged by your dive operator or your diving resort.
You can also discover and dive Mabul on a day trip from Semporna.
Try to get an early flight in the day or you will have to stay overnight in Semporna.
There is no Bank or ATM facilities on the Island so bring cash with you, even if all the resorts normally accept major credit cards.
Photo Credit: http://www.flickr.com/photos/leafbug/531275131/
Getting Around
The island is very small and can be easily explored by foot. There are no roads or cars. The best way to get around is by boat. A good thing to do to discover the island is to organize a snorkelling trip around the island aboard a local fishing boat. You will discover some superb beaches!
The only drawback of Mabul is the poor garbage control and sadly, you will find trash around many places.
Mabul Island Photos
Scuba diving
You will find all information about sea life, best time to visit, top dive spots, etc. in our review: Mabul Island Diving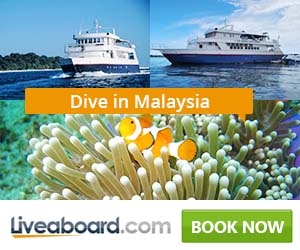 Diving Reviews for this region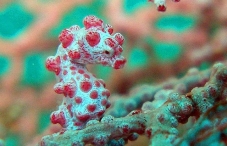 Muck Diving Paradise and superb playground for macro photography with rare critter species.
Liveaboard Reviews in Mabul Island
Cruise ship Reviews in Mabul Island