If you have dived in Pom Pom Island before, please share your experiences: Dive spots you would recommend, which Dive Center you used, Fishes & Diving, Visibility, Currents, etc. Please post your comments in the section below, by doing so you will help fellow divers to plan their next trip

Many of the tourists that come to Pom Pom Island resort choose this location for the variety of diving spots in the Celebes Sea.
The best ones around the island are:
Pit Rock
New Life
Northern Valley
Magic Rocks
Mandarin Heaven
Cliffhanger
Keep in mind that, while most diving sites are perfectly safe for beginners, Northern Valley is more suitable for experienced divers, due to strong currents.
Apart from the six diving spots around the Pom Pom Island, divers can also visit many others on the seven islands located nearby like the world famous Sipadan or Mabul Island.
In this page you will find more detailed information about scuba diving in Pom Pom Island.
Where to stay?
I usually use this website to book in advance my hotels in Pom Pom Island as they usually have the lowest rates I find. I like it because it's free to cancel and change the dates.
Best time to dive in Pom Pom Island
The climate in the area allows diving almost all year long. In terms of the best time of the day for diving, most instructors prefer the morning, which is why most packages contain two diving trips in the morning and one in the afternoon.
Top liveaboards in Pom Pom Island according to divers reviews
No liveaboard found
Scuba Diving conditions
The weather conditions on Pom Pom Island are excellent diving trips (and a bit of sunbathing if you wish!). On Pom Pom, temperatures range between 25 and 33 degrees Celsius.
Water Temparature: it ranges between 26 and 30 degrees Celsius.
Visibility: the visibility is quite good in this area. It can reach at least 15 to 20 meters. In some places it goes till 30 meters in depth.
Current: In some areas, the currents can become dangerous, but the diving instructors are specially trained to avoid them.
Snorkelling in Pom Pom Island
Snorkeling in Pom Pom can be quite an adventure. If you are lucky, you can see the large green turtles that lay their eggs on the shores at night. You can also see a variety of fish like the Clown fish, the Trigger fish, the Eel or small jelly fish.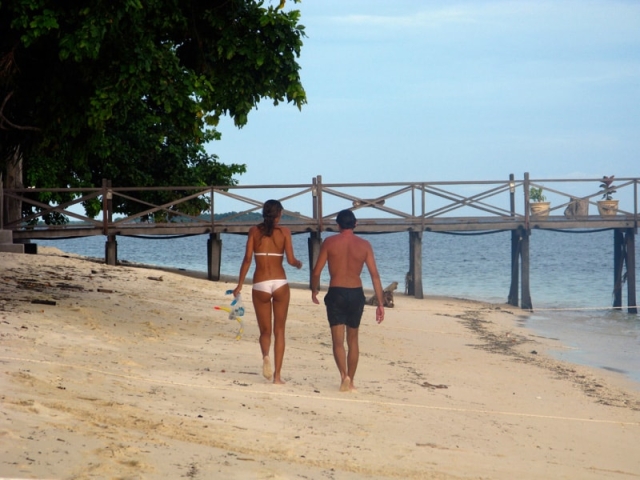 Diving Safety
If you are planning an upcoming dive trip or travelling to Pom Pom Island, it is a really good idea to invest in travel insurance for scuba diving, because you never know what could happen and when you might need it (because accidents do happen!). I recommend this diving insurance as they offer worldwide coverage and focus on providing scuba divers a quality insurance and medical assistance service.
Thank you to Gregg for the review on Pom Pom Island.
Photos Pom Pom Island
Travel Guide
Now that you know all about the underwater world, you might want to start planning your scuba holiday! Check out our Pom Pom Island Travel Review for information about how to get there, activities and excursions, where to stay, and more.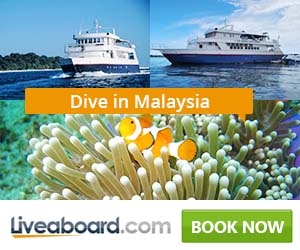 Diving Reviews for this region
Dive spots reviews in Pom Pom Island
No dive sites reviews found
Liveaboard Reviews in Pom Pom Island
Diving centers in Pom Pom Island