MV Sachika Diving Liveaboard
Without a doubt, the Sachika is known to sweep their the guests off their feet by providing them with the high-quality yet affordable service they deserve. This 33m long dive boat has plenty of space designed to accommodate up to 20 divers. The MV Sachika yacht has luxury-style cabins with own ensuites, minibar, TV and DVD players. Wi-fi internet is also available for guests to be connected to the online world at any time.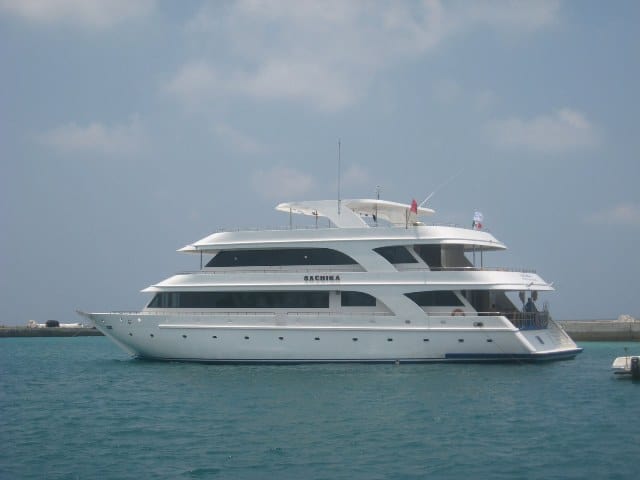 Guests also savor the luxurious service offered on board Sachika, which includes a massage room and a 5-seat Jacuzzi on the sundeck! Oooooh! Underwater scooters are also available for rent if you want to vamp your fun to a higher level. You can also enjoy the vicinity of the upper deck while enjoying your breakfast, lunch and dinner, cooled by sea breezes. Delicious fish and seafood are also abound in MV Sachika together with a mouth-watering array of pastries.
On board facilities and services:
Dive dhoni with 120m² dive platform, 2 fresh water showers and a toilet
Motorised dive dinghy
Rinse tank and separate camera rinse tank and table
Air-conditioned saloon and bar with TV, DVD and music players
Library with movies, magazines, novels, fish ID books and games
Dedicated air-conditioned restaurant with bar
Click here to Check Availability and Prices for this Boat
Sachika Boat Budget Range / Price: Starts at US$ 1,768 for a 7 nights tour

This Italian owned and operated liveaboard received a 'Liveaboard of the Year' award in 2010.

Sachika Maldives Diving Liveaboard booking Form
Read this page for more Maldives Liveaboard Reviews.
Customer Review
"The service was really good, we booked directly with them and they always responded promptly and with details. We were a big group of 14 so we had the boat for ourselves. Here's an extensive list for all the huge must you can find on that vessel.
-Rooms are spacious for a boat and they all have their own private ensuite bathroom.
-There's a big dining area, one bar inside and one outside plus lots of chairs and couches to chill on inside and out.
-Drum roll for this one… A jacuzzi sits on the upper deck! This was purely fantastic!
-The food: variety and good taste is good to summarize.
-The BBQ on a pristine island. We had cocktails, played in the sand, had a volleyball matchup. We had fresh fishes from the sea, grilled to perfection and served with yummy side dishes.
-We dove 3 times everyday, all the dives were great and the underwater world was beautiful to explore in the Maldives.
-The massage room! Many of us had a massage and that was a must after long days of diving.
-The dive boat is separate from the main boat and just follows everywhere. That's great cause that makes more room on the main boat and keeps it clean!
Some improvements that could be done ?
-I did not mind but some people in our group did, the wifi was not working for the whole week.
-The air con in some of the room was not working properly, they sure should fix that.
-If you like cozy mellow mattresses, I am afraid you will find their beds pretty harsh.
-If you are environmentally conscious and a bit picky on it, like me, you won't like the fact that they use individual litres of water… They should definitely get big gallons."
-Alina, Joe and friends.
"A fantastic time we had on board the MV Sachika! The diving dhoni was spacious and well organized, makes everything quick and easy. The dive master team was always willing to go out of their way to help divers. The briefings are great, plenty of useful informations were given. The crew is professional and also fun to be around. The main boat was spacious as well and comfortable, I have to specify that we were only half the capacity. This adventure was part of our honeymoon getaway and we were able to get romantic features on the boat like a private dinner on a deck and they have a hot tub and offer massages so we made the best out of it. The dives were, of course, a divers paradise. Top notch!"
–Erin & Matthew Shapiro