Cost
Expensive, and Luxury!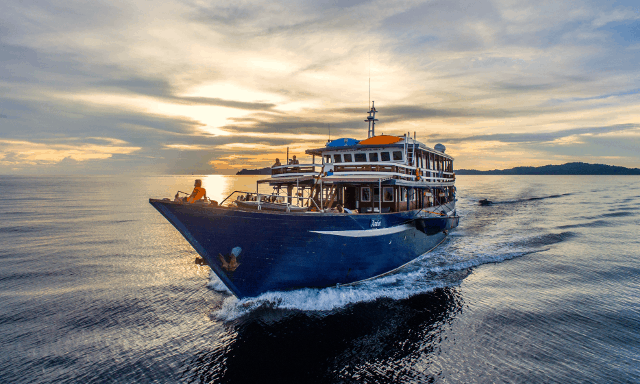 The MV Ambai – Wallacea Dive Cruise.
MV Ambai dive boat review
The MV Ambai 2012, is a newly built 32 meter boat, which can accommodate up to 16 divers in 8 fully equipped cabins, with 2 of the cabins located on the upper deck complete with breathtaking sea views. All rooms are air conditioned and equipped with hot water showers for your comfort.
You can check the availability and prices for this boat here.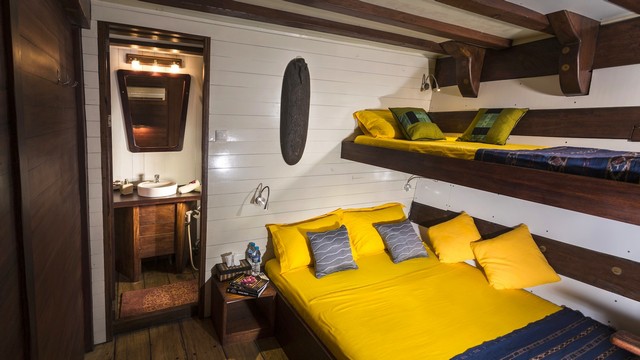 The Ambai has been specifically designed for Scuba Divers, with a large diving deck and 3 dinghies for transportation, and is therefore a very good option for a Komodo Liveaboard cruise.
The living room offers divers some peace and quiet, whilst the relaxing sun deck is optimal for those wanting to soak up some sunshine.
The specially designed camera & video room should come in handy for all of the photo/video graphers out there!
MV Ambai cruises, depending on the season, in Raja Ampat Archipelago or around the Komodo Islands National Park.
Check the video below for more details!
MV Ambai on board facilities and services include:
Fibreglass dive tenders
Nitrox system
Dive deck with fresh hot water shower & toilet
Camera room with charging stations, table and rinse tank
Air-conditioned saloon with TV, video and music system
2 kayaks available
Movie library, diving books and magazines
Shaded area and sun decks with sun loungers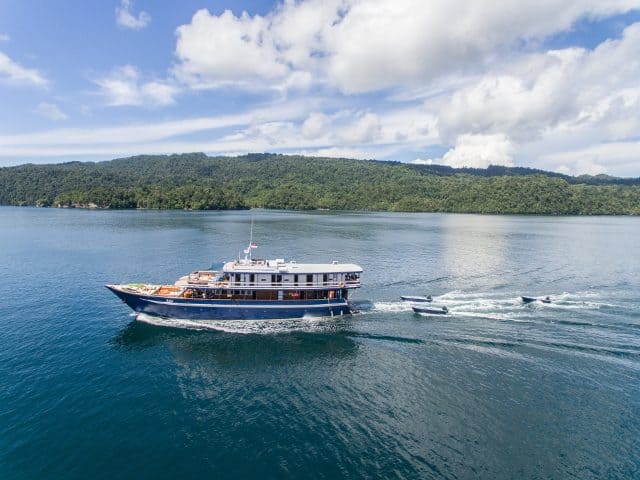 MV Ambai Boat Budget Range / Price: Starts at 1180 Euros for a 5 night tour.
Customer Review
"The MV Ambai has just about everything the most enthusiastic diver could need and beyond. Space, great material, fresh water rinsing tanks, nitrox, camera room and much more. We dove 3 to 4 times in a day but somehow it was always on a relaxed schedule and everything was running smooth. Never more than 4 divers per guides, this is definitely a big point for this boat! The local dive guides are very nice and professional. You can tell they are knowledgable, have experience and are dedicated to their work. We experienced good weather and the visibility under water was always fair or very good. We have seen plenty of stunning marine life. As for the boat, everything was great, lots of privacy. The spacious cabins have each their own bathroom with hot shower and AC control. They offer full board, including soft drinks and the food was tasty and various the whole time. It's a beautiful yacht and the people on board were all great. It's been an amazing week! Fully recommend!"
– David
"Perfect! The Ambai is awesome and very well equipped. The cuisine was various and always super tasty. The boat crew was nice, competent and always putting on a smile! The dive crew is very professional and they take pleasure in sharing their knowledges of the sea life with everyone. I found that the camera room was a huge plus to have on board! Stocked with batteries and all kind of gadgets, it was very useful. Diving around Raja Ampat was amazing, many macro dives, always entertaining and beautiful."
–Elena
If you wish to know more about this boat you can visit the operator Wallacea Dive Cruise here.
Where does this liveaboard dive boat go?
Check out the fabulous places where this dive boat travels to.
Note: some destinations may not be listed below, please enquire for more details.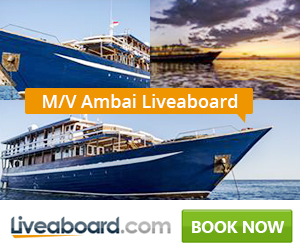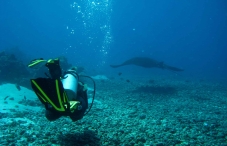 Diving in Komodo is all about action! It is BIG fishes land! With wonderful coral, it is just incredible diving all year round.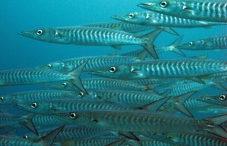 Richest Reef in the World, Amazing Biodiversity, Wonderful Coral, perfect place for underwater photography.
Other Liveaboard Reviews in Komodo Island & Raja Ampat
Dive spots reviews in Komodo Island & Raja Ampat