Cost
Simply the best of everything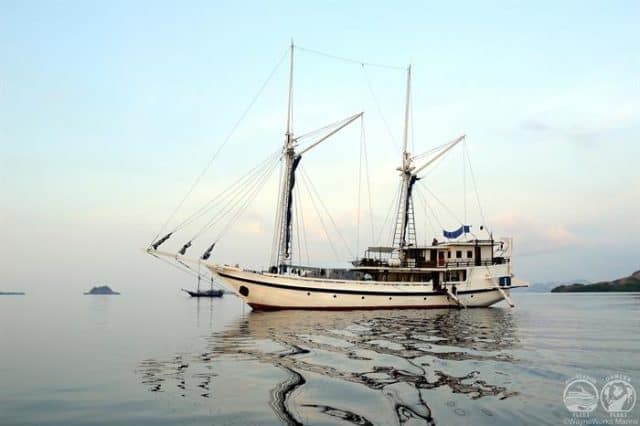 MV Indo Aggressor dive boat review
MV Indo Aggressor – formely known as the 'Komodo Dancer' – is one of the vessels of the world famous Aggressor Fleet. Aggressor Fleet are a USA based company with extensive international experience. With a vessel in almost every highly desirable diving location on the planet, they have consistency of approach and globally high standard.
Komodo National Park – establish in 1980, is part of the country of Indonesia, is famous for it's nutrient rich waters. The waters feed the plankton. And the plankton feeds some of the amazing life that lives in it's waters – and pelagic life that's passing through. Currents here are sometimes strong. However, the lush waters sometimes attract manta rays and whale shark. At the other end of the size scale the macro life here can be stunning pygmy seahorse, nudibranch and harlequin shrimp are often found here. And that's not all – the warm, tropical waters are also home to reef fish such as grouper, potato cod, Napoleon wrasse, surgeonfish and snappers.
The Indo Aggressor is a peer of the luxurious Blue Manta. At approximately 38m long and 8m in beam she is a stylish traditionally laid out vessel, ideal for the task in hand; cruising the waters of Bali and the Komodo national park.
As you would expect from the Aggressor Fleet is built to the specifications of the local regulatory agencies. She is also approved by the International Maritime Organization (IMO) in accordance with SOLAS (Safety of Life at Sea). There is a full compliment of safety and emergency equipment onboard. She is capable of cruising at 8 knots as she elegantly wafts from site to site.
You can check the availability and prices for this Boat here.
Cabins and Boat Layout
The 16 guests have a choice of 3 separate cabin options depending on budget and personal circumstances.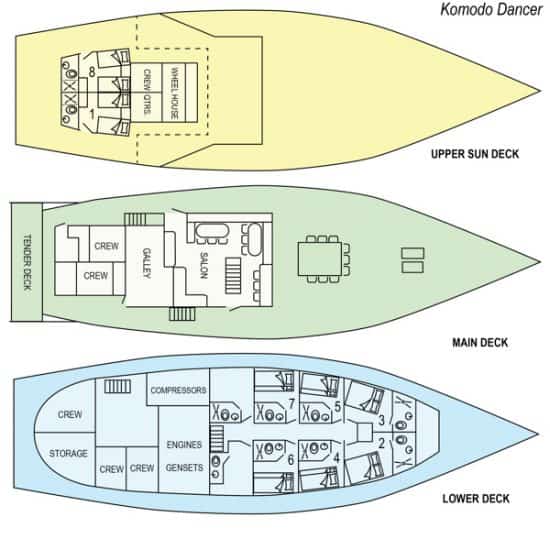 Twin Stateroom – approximately 10ft x 8ft in size, these cabins have twin single bunk beds (European size), private bathroom, air-conditioning and porthole view. Bathrobes, hairdryer and a mirrored wardrobe are also in the cabin.
Deluxe Stateroom – approximately 9ft x 9ft in size, the deluxe stateroom has a queen-sized double bed for couple. It also has all the features associated with the Twin stateroom.
Master Stateroom – for those guests wanting additional space and luxury, this cabin is approximately 12ft x 10ft in size. In addition to the features of the deluxe and master staterooms, the Master Stateroom has the option of an (Asian sized) king-sized bed or two single beds in addition to the other great standard features.
Outside the cabins on the Indo Aggressor the attentive 14 member crew will attend to your every whim. There is an air-conditioned salon area. In the salon you can relax and watch TV or make use of the entertainment system; watch a film or listen to music.
The dining – which may be done either indoors or outdoors – is a carefully selected buffet-style selection of local and western cuisine throughout your voyage. In addition there are fruits juices, tea, coffee, water and snacks available throughout your voyage.
There's lots of space to relax outside too – either on the sun deck or at one of the other relaxing areas – where you can soak up the sunshine in comfort or watch the sun set with a cold drink.
Photographers benefit from plenty of charging points and a camera facility with charging points and a table.
Diving onboard Indo Aggressor
Between 4-5 dives a day are available on Indo Aggressor following your briefing from the dive professionals onboard. The vessel has a spacious, shaded dive deck on which to set up your equipment. The English-speaking crew, are there to lend a helping hand with any logistical requirements you may have.
The many dives are generally undertaken from diving tenders. And, a big benefit on repetitive dives, EANX Nitrox is available for those qualified or wishing to train.
Itineraries
The voyages to range over a series of options; Komodo Deep South, Bali, Tulamben, East Sumbawa & Komodo National Park, Komodo National Park, Alor Archipelago, East Flores and Wakatobi. The Komodo National Park cruise is typically 8 days/7 nights – offering copious time to enjoy the underwater world.
Expect to pay around EUR2,738 for a 8 day trip. This equates to EUR342/day. Please note that this does not include some extras such as crew tips, port/marine park fees, nitrox and equipment rental. Please contact us for further details.
Where does this liveaboard dive boat go?
Check out the fabulous places where this dive boat travels to.
Note: some destinations may not be listed below, please enquire for more details.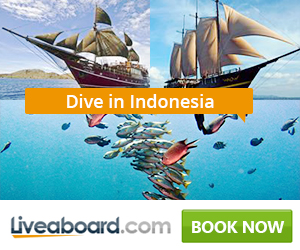 Other Liveaboard Reviews in Bali & Komodo Island & Tulamben & Wakatobi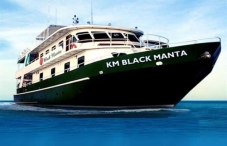 . Please note… The Black Manta has bee
Dive spots reviews in Bali & Komodo Island & Tulamben & Wakatobi