Guest Post by Sophie | Leagues Ahead Diving Gran Canaria
The Canary Islands are renowned for having some of the best scuba diving sites in Europe. With warm crystal clear water, impressive volcanic rock formations and over 550 different species of aquatic life. But what makes diving in the Canary Islands even more impressive is the work the local government undertakes to protect and maintain natural areas. They do this by creating Marine Protected Areas (MPAs.)
What is a marine reserve?
The term 'marine reserve' is commonly used to promote scuba diving activities, but what is a Marine reserve and why do we have them?  Marine reserves are protected areas in which no damaging or extraction activities such as fishing, mining or boating can take place. The aim of protecting these areas is to reconstruct, protect and conserve the ocean's biodiversity which is declining as a result of human interaction and climate change. In addition, marine reserves provide the perfect dive sites for scuba divers!
Now let's explore the top three marine reserves located on Spain's Canary Islands and you can get booking your flight tickets!
El Cabron- Gran Canaria
El Cabron is the only marine reserve on the island of Gran Canaria, located on the East coast. The Local council declared El Cabron a marine reserve over ten years ago and the European Union have now classed this dive site as a site of special scientific interest.
This marine reserve is renowned for its volcanic rock formations both underwater and on the surface. It has six different entry points each offering something different. From caverns, arches, swim-through, caves, and drop-offs it is guaranteed to delight scuba divers from beginners to professional level.
Because of its marine reserve title, marine life thrives! In marine reserves, the biomass of the species is said to be 450% bigger. You will definitely notice this in El Cabron when you dive with species from the Mediterranean, Africa and the Caribbean. You are guaranteed to see some of the over four hundred varieties of marine flora and fauna. In addition, you will be delighted by the 5 types of stingrays, angel sharks, parrotfish, barracuda and octopus to name but a few. Click here to find out more about Gran Canarias marine reserve and to watch a video.

.
Mar de las Calmas- El Hierro
The Canary Island El Hierro takes it's marine biodiversity protection very seriously. They do this by creating marine reserves such as Mar de las Calmas. This Reserve was created in 1996 at the request of the fishing sector to prevent overfishing. Making it the perfect dive site to observe the abundance of rich marine life that inhabit the water. Such as the whale shark, sea turtles, dolphins, parrot fish, stingrays and much more.
Located on the southwestern end of the island, this marine reserve is protected from Northeast winds making it perfect for diving all year round. Mar de las is a reasonable size at 750 hectares and are comprised of twelve different scuba diving areas (1 hectare equates to 10000 square meters). What makes this marine reserve even more fantastic is that at each designated diving area there can only be a maximum of 12 scuba divers! This means you won't experience overcrowded dives that you may experience in other Canary Island marine reserves.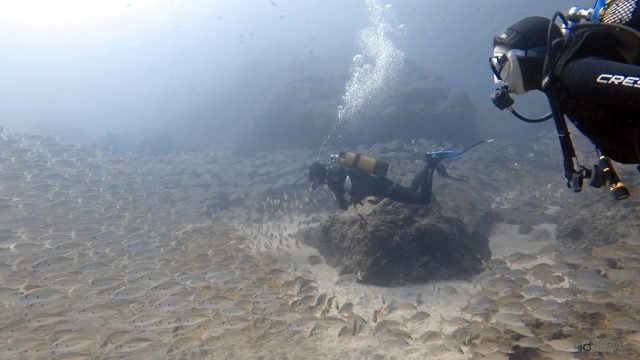 .
La Graciosa- Lanzarote
Known as the Chinijo Archipelago marine reserve, with 70 700 hectares, La Graciosa is the largest marine reserve in Europe. Located in the North-East of Lanzarote it is a must-see for any scuba diver. You will be able to spot 90% of all the marine life that call the Canary Islands their home, making this marine reserve rich in biodiversity.
Luckily for some, one of the species you won't find is sea urchins. This allows for algal forests to grow and create a breathtaking view. Similar to El Cabron this marine reserve is renowned for its big rocks, columns, arches, and caverns. You will be able to observe stingrays, angel sharks, groupers, trumpet fish, dolphins, and even whales!
As you can see with the top three marine reserves in the Canary Islands. Marine reserves are helping our ocean to regenerate and are reducing the impact of human interaction. So far only 4% of the world's oceans are protected. We need more marine reserves not only in the Canary Islands in order to improve the health of our ecosystems.
---
Have you been diving the Canary Islands? We would love to hear about your experience in the comments below! ⇓
Related Posts