The Galapagos are known as THE best Scuba Diving destination of the world by many. Indeed, their reputation is lasting and it's why a liveaboard diving cruise in the Galapagos is a tempting idea. Obviously, the Galapagos Islands are a luxurious destination. Luckily customers can choose between a vast array of liveaboard categories and prices.
See the Best Galapagos Liveaboard Reviews of 2016 for more informations!
Cheap ain't for you ? See our lists of Budget Liveaboard Galapagos or of Luxury Liveaboard Galapagos.
The 25 meter Astrea doesn't have much to envy to any of the Galapagos liveaboards. Indeed, last refurbished in 2015, she is up to date & has all the safety &diving installation on point. Catering to a maximum of 16 guests, the Astrea offers a very good value for money ratio.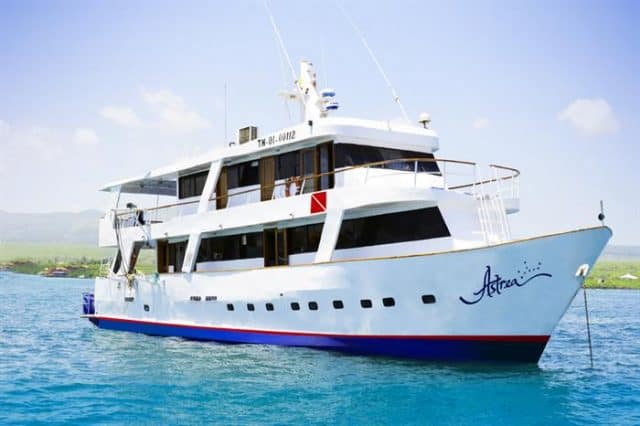 Diving wise, the Astrea cannot disappoint. First, the boat is fully equipped for the diving operation. Indeed, with nitrox, air compressors, spacious diving center, rinse tanks, fresh water showers, camera table, etc., it has it all. You will dive from the dinghy tender, saving your energy for the underwater action! The itinerary is the typical Galapagos diving route and, indeed, includes the fascinating Wolf & Darwin sites.
As for accommodation, all cabins are equipped with air conditioning, reading lamps, a closet as well as a complete attached bathroom. Moreover, basic amenities are covered and shower has hot water! Some cabins have 2 twin bunk beds and double cabins have a double bunk with a twin on top. Furthermore, there is a indoor, air conditioned lounge, salon and dining room. The salon has everything you need for lazy evening or rainy days; tv, games, books, etc. Meals are served either 'à la carte' or buffet style and they can cater to dietary requirement. Let them know prior to the trip.
Discover the Galapagos Islands on the beautiful MV Astrea Liveaboard!
Price starts at 3917$ for a 7 nights Diving Cruise / 2846$ for a 7 nights Naturalist Cruise
---
MORE GALAPAGOS LIVEABOARDS