The Galapagos Islands are world-known for an incredible marine biodiversity. Made famous by Charles Darwin's exploration, the Galapagos Islands have a huge historical background. As you are planning you next vacation to the Galapagos, you will soon realize that a liveaboard is probably the best decision you could make. A Galapagos luxury liveaboard basically is a 5 stars floating hotel. One thing is certain, it will be hard to choose which one to dive with!
See the Best Galapagos Liveaboard Reviews of 2016 for more informations!
Luxury ain't for you ? See our lists of Budget Liveaboard or Cheap Liveaboard in the Galapagos Islands.
---
This wonderful vessel is fully equipped to satisfy every diver's need, and beyond. Moreover, there is air-conditioning in the cabins, the salon, the restaurant and bar. The cabins are either Deluxe or Master, all with a private ensuite bathroom. Furthermore, the toiletries are all biodegradable, insuring a low environmental impact. Also, there are bathrobes, hair dryers and most little things you can't even think of.
Diving wise, the Galapagos Sky was perfectly designed to meet the most discerning diver's expectations. With a a maximum of 16 guests onboard, you sure have a lot of personal space. Indeed, the dive platform has camera tables, separate rinse tanks, lots of personal gear storage, fresh water showers, etc. You can rent anything you need onboard, diving equipment and even cameras.
Ultimately, the diving cruise onboard the Galapagos Sky is all-inclusive. Usual room & board is covered in the price, but that's not all. All the biodegradable bathroom necessities are at no extra charge. Wine and beer are served at no charge with dinner. You get up to 4 dives a day and a hot towel after each! Wait for the best… Nitrox is FREE for the new comers!
Discover the Galapagos Islands on the beautiful Sky Liveaboard!
Price starts at 5695$ for a 7 nights cruise / 8135$ for a 10 nights cruise. 
⇒Read more about the amenities and specs of Galapagos Sky⇐
---
The Galapagos Aggressor III is a sturdy vessel, perfect to explore every corner of the Galapagos water. Indeed, there are 8 cabins on the ship, accommodating up to 16 guests. Every cabin is equipped with climate control, ensuite bathroom and entertainment system. Plus, every cabin has a window or a port hole. The main deck has a beautifully appointed, air condioned, salon where you can sit comfortably, enjoy a movie, read a book, view your recent shots, etc. Moreover, the indoor dining room, all with cushioned seating, has air con as well. Dishes served by the chef are a mix of local fares and international delights.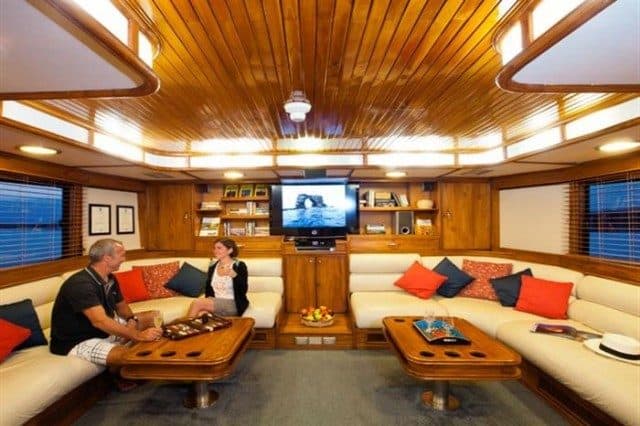 The boat has every divers need fully covered. Indeed, with up to 4 dives daily as well as a crew of 9 to help out and guide you, your diving journey should be a breeze. Finally, the dive platform is roomy, boasting personal lockers, rinse tanks, fresh water showers and ample space for storage. Diving is done from the motorized dingies, taking you closer to the action!
Discover the Galapagos Islands on the beautiful Aggressor Liveaboard!
Price starts at 5795$ for a 7 nights cruise
---
MORE GALAPAGOS LIVEABOARDS