Sea life
A few fishes around...
Visiblity
Good visibility: 10->20m
Level Advanced Divers
Dive depth Normal diving depth, 10-25m
Barracuda Lake is a very unusual dive site famous for its Thermocline. It is located North West of Coron Island in the Philippines.
It is a freshwater lake taking place in a former crater. It is about 40m deep and surrounded by sharp limestone cliffs. Barracuda Lake is a beautiful place but to get there after a boat ride from Coron Island you have to climb for 30min with your full gear on your back!
There is not much fauna in the lake but you can still spot Gobies, Shrimps, Groupers and sometimes Barracudas! This suggests that the Lake may have been connected to the sea in the past. Diving here is really nice as you can observe unusual and intriguing underwater rock formations. It is also a popular snorkelling spot. The name of the lake seems to come from a big barracuda that is living in the lake ;-).
The first 4m layer of water is actually fresh water around 28°C. When you are going down you then meet salt water. There is a huge Thermocline and Heliocline at 14m deep and the water temperature is rising to 38°C!!!
It is really a must dive in addition to the Wrecks if you stay for a few days in Coron.
There is also a 30m long cave near the bottom of the lake where it is possible to penetrate but you need the appropriate training and material. The cave is only large enough for one diver at a time. Don't forget your lamp and be careful, there is lots of sediment in the cave!
Around 35m deep the water is changing from clear to dark brown with lots of silt.
The entry to Barracuda Lake cost P75. There is also another lake not far called the Cayangan lake which is worth visiting too!
You can dive Barracuda Lake all year long. Access: from the Shore. See the map of Barracuda Lake on the right for the exact location.
Fishes you may spot while diving Barracuda Lake
Barracuda

Gobie

Grouper

Trevally
... and more fishes & sea life, Shrimp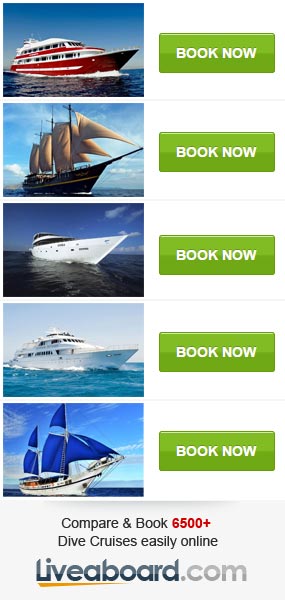 Photos
previous
Barracuda Alone In The Blue Sea

Barracuda Face Scary Smile
next
Diving Reviews for this region
Dive spots reviews in
No dive sites reviews found