Sometimes I get off my computer screen and right into the deep blue, and it was that time of the year a couple of weeks ago. Indeed, I flew to Hawaii for fun vacation time and took this opportunity to do plenty of scuba diving and snorkeling. I'll talk about the latter in a different post, so let's focus on scuba diving around Maui for now.
Of all the islands, I was told that Maui was one of the best islands to scuba dive in Hawaii. Is it true? I can't tell since it's the only one around which I dove. But, was it great? Yes, it was, and that's why I'll tell you about my short and sweet diving adventure around Maui's southwest shore. Plus, it involves the Molokini Crater!

Diving the Molokini Crater, is it worth it?
The short answer is no, you can only snorkel it and see pretty much the same stuff if you are anywhere inside the crater. The visibility was very good as for me and so I could see the whole group from the surface.

The longer answer would be that it can be worth it depending on sites and on your certification level. Let me explain. Most dive centers I've been in touch with were offering only one out of the two dives on Molokini Crater. Thus, let's say your boat parks at Reef's End dive site, snorkelers will see pretty much all the same stuff but from above. That being said, divers do get to roam around on the bottom of sites such as Reef's End, Tako Flatts and Middle Reef on the same dive…

Moreover, perhaps it is worth to be scuba diving if you go with a dive center that hits the Enenue and Shark Condos side of the reef… and that you are at least an advanced diver. Indeed, the sites on the opposite side from Reef's Ends are going to about 130 feet / 40 meters. Plus, the back wall of Molokini Crater must definitely be worth diving for experienced divers. Can't tell as I have not done that.

Diving in Maui: the shoreline
Where to go scuba diving in Hawaii was a puzzle to me since it was not the focus of my trip and so I had merely one day, one shot at diving. Fortunately, I did enjoy plenty of snorkeling on Aloha Land! As for diving, the boat headed back toward Maui's shoreline after the Molokini snorkel and dive part of the morning!
The site is called White Rock and is a mix of hard coral and sandy patches. The visibility was great and the water calm. I would say it's a rather simple dive site and easy to get around, which would make sense since I was following a group of discover scuba, which my friend was part of!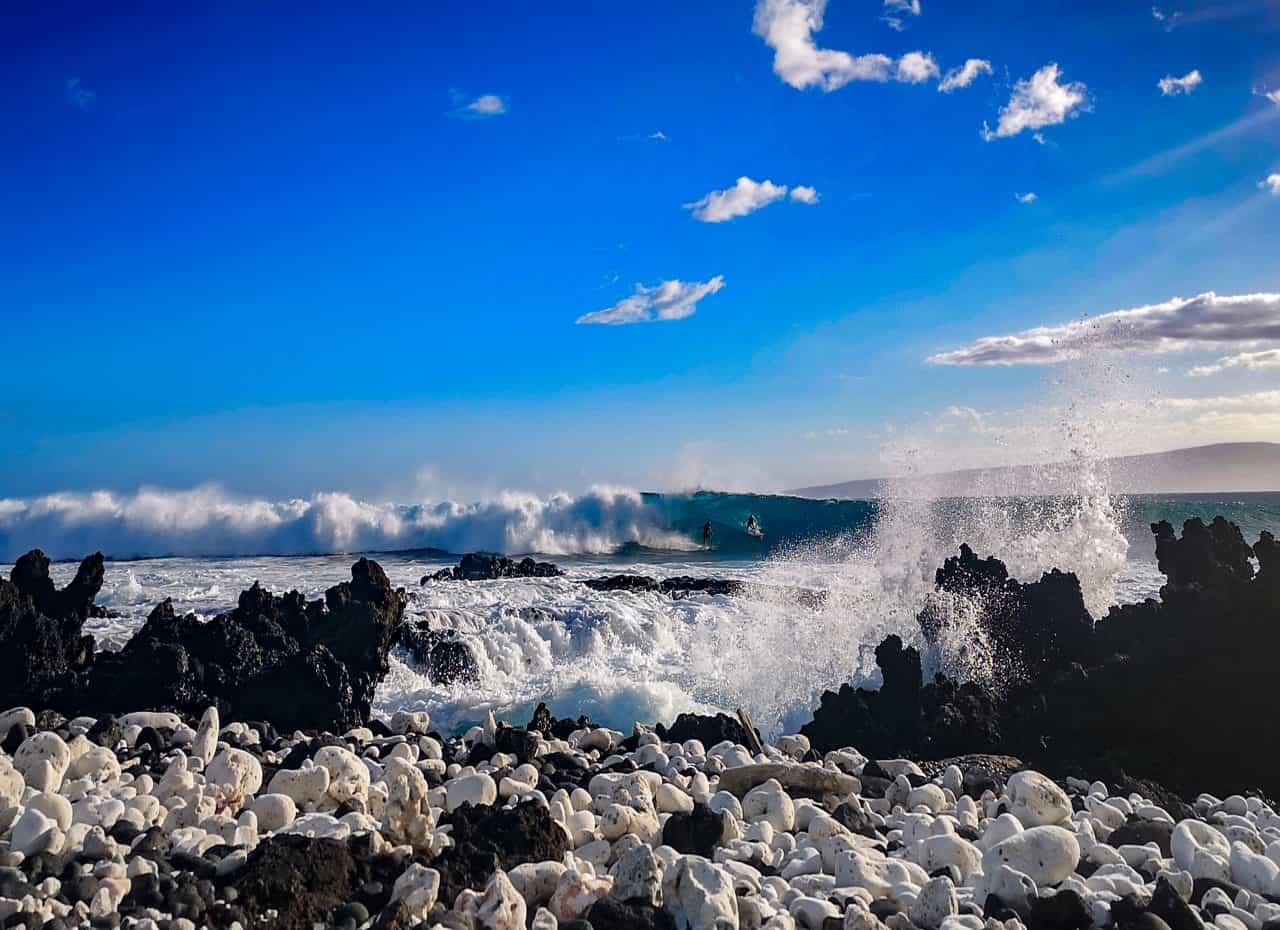 The hard corals were home to trumpet fish, many kinds of butterflyfishes, wrasses, triggerfish, unicorn fishes and puffers… only to name a few that I can remember! Unfortunately, I did not run into any turtles.

Unfortunately, I didn't get to tour the best dive sites of Maui this time, both because it wasn't the focus of my trip (hiking was) and because it's expensive. That being said, I'm sure there's plenty of dive sites far more interesting to discover.
Next time, I'll be looking to do the famous Turtle Town dive site, and perhaps Shark Condos on Molokini! Despite this quick diving adventure on Maui, I've spent plenty of time snorkeling and definitely think I saw some of the best spots. Stay tuned for the upcoming posts as I intend to share my best snorkeling spots on Maui with y'all!
---
Have you been scuba diving on Maui? Or anywhere in Hawaii? I'd love to hear about the most beautiful dives you've done, and so would our readers! Please drop us a comment below!
---
Related Posts