If you have been to Madagascar before, please share your experiences, ideas and feedback (Hotel, Excursions, General Feeling,…) in the comments section below, by doing so you will help fellow travellers to plan their next trip


Madagascar is located off the coast of Africa and is the 4th largest island in the world. Indeed, the country is sometimes referred to as the "eighth continent" of the world. Like Australia and Galapagos Islands, life on the island developed differently than their nearest neighbor Africa. About 90% of the life on the island is unique, found nowhere else in the world.
In this page you will find practical information to plan a scuba diving trip to Madagascar:
Madagascar Photos
Where to stay?
Madagascar has a wide range of destinations within the country, each suited for individual taste. The Nosy Be Archipelago is by far the most popular. Indeed, the smaller islands offer outstanding beaches and scuba diving.
The capital city Antananarivo, formerly known as French Tananarive, offers the visitor a unique blend of culture and activities. Ile Sainte Marie is another popular island destination.
The country offers many national parks each offering a wild life or outdoor enthusiastic something very special, a one of a kind experience. Camping, homestay, lodges, and hotels make up the array of accommodations. With the exception of all-inclusive beach resorts catering to older, wealthier Europeans, it should be noted that accommodation standards are not always world-class.
Activities and excursions in Madagascar
Madagascar attracts a more active tourist or at least one geared towards the outdoors. The most popular activities include:
Scuba diving in Madagascar is outstanding in many destinations within the country!
Beach outings will sure please the sun chasing travelers! Indeed, Madagascar has many beaches that are world class. Many traveler come to the Nosy Be Archipelago solely for the beaches.
Safari vacations! While a different type of safari than found in Africa, nature lovers will find the unique animal and plant life well worth a trip.
Visit a national park! In addition to the safari type of vacation day trips or overnight trips to any of the national parks is an experience in itself.
Best time to visit Madagascar
As mentioned before, Madagascar is the 4th largest island in the world, so there will be regional variations in term of climate.
January to March is the wettest season and is also the cyclone season. The weather at this time will negatively impact all activities.
Early May to December has weather that is best for outside activities.
July to September is best for those wishing to observe wildlife.
However, you need to consider that in the southwest portion of the island, temperatures during December can be dangerously high. Thus, it's best for beach outings and water activities but make sure you stay well hydrated!
Health and Safety
Potential visitors to Madagascar should consult their local doctor at least two months before traveling. Indeed, most travelers to Madagascar will need vaccinations for hepatitis A, typhoid fever, influenza, and polio, as well as medications for malaria prophylaxis and travelers' diarrhea.
Insect and water-borne illnesses are common within the country. While the risk is less in Antananarivo it still much higher than a normally acceptable range. Visitors should only drink bottled waters and avoid ice unless it is from a known safe source.
Medical facilities are limited, although there are a number of foreign-trained medical specialists in Antananarivo. Outside Antananarivo, acceptable medical care may be difficult to find.
Recommendations
Bring adequate supplies of all medications in their original containers, clearly labeled. Carry a signed, dated letter from the primary physician describing all medical conditions and listing all medications, including generic names. If carrying syringes or needles, be sure to carry a physician's letter documenting their medical necessity. Pack all medications in hand luggage.
Carry a duplicate supply in the checked luggage. If you wear glasses or contacts, bring an extra pair. If you have significant allergies or chronic medical problems, wear a medical alert bracelet.
If you are planning an upcoming dive trip or travelling to Madagascar, it is a really good idea to invest in travel insurance for scuba diving, because you never know what could happen and when you might need it (because accidents do happen!). I recommend this diving insurance as they offer worldwide coverage and focus on providing scuba divers a quality insurance and medical assistance service.
Where is Madagascar located in the world?
Madagascar is an African country located in the Indian Ocean. Indeed, just off the East coast of the African continent, the nearest country would be Mozambique. The nation comprises the island of Madagascar which is large, but also numerous smaller islands.
How to get to Madagascar?
Ivato International Airport is the main international airport serving Madagascar. It is located near Antananarivo, the capital of Madagascar, about 16 km northwest of the city. Depending on seasonal flights there are 10 airlines that serve international destinations. Destinations include Paris and Marseilles (France), Johannesburg in South Africa, Guangzhou in China, Addis Ababa (Ethiopia), Nairobi in Kenya and Istanbul in Turkey. Air Madagascar has the most international flights.
Do I need a visa for Madagascar?
All foreign visitors to the Republic of Madagascar require entry visas. For short visits (90 days or less), every visitor, regardless of nationality, can obtain a visa upon arrival at the airport in Antananarivo.
Also, the usual requirements apply, such as the need of a passport that is valid for at least 6 months beyond the last day of the intended stay in Madagascar. Plus, proof that the visitor will leave within 90 days, so an onward transport ticket.
The visas are issued for 30,60 or 90 days, based on the onward proof of travel. Fees are payable in cash either local currency, USD or Euros.
Getting Around
Getting around Madagascar can be a challenge. The major tourist destinations are served by domestic air service, but other forms of transportation may be lacking.
Local bus service is unreliable and often overcrowded. Indeed, most travelers in Madagascar will book tour packages that include all transportation. The other most used method is to rent a car and driver. This is often a better option than renting a car and driving yourself.
Madagascar can be a dream vacation, however, it does take a bit more planning to ensure that you travel safely and efficiently. Indeed, the combination of the size of the country and the poor infrastructure makes it important that you plan ahead. Still, the country is beautiful and offers the traveler an unforgettable experience.
Scuba diving
You will find all information about sea life, best time to visit, top dive spots, etc. in our review: Madagascar Diving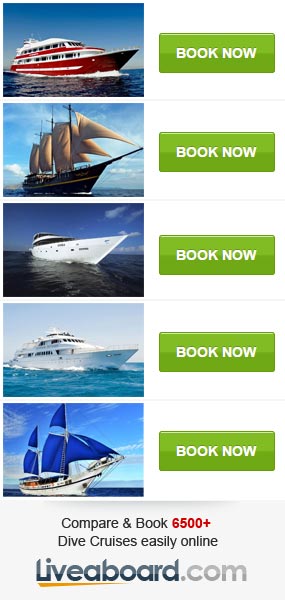 Diving Reviews for this region
10% of the world's humpback whale population migrate here each year!
Liveaboard Reviews in Madagascar
Cruise ship Reviews in Madagascar