Yes, you have read the headline correctly… Helicopter Diving.
If you are a regular diver, like most of us here, you might think this is a crazy idea. On the other hand, if you are an unsatisfied adrenaline seeker, you might be thinking of Heli Diving for your next dose. Either way, it's worth the read!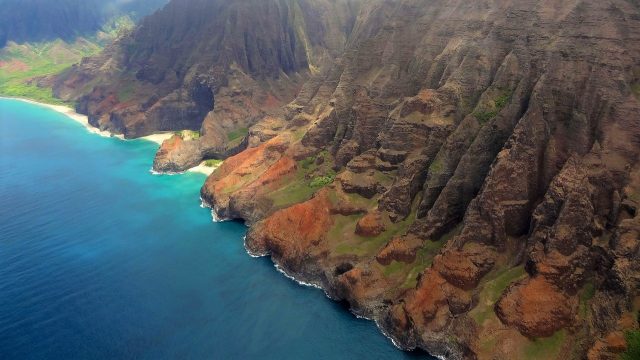 How does Heli Diving works?
You must have heard of Heli Skiing, which can be very convenient to reach higher summits and shred slopes of perfect powder snow. We will agree that the helicopter, as a part of the skiing activity, has a purpose. When it comes to Heli Diving, the first question that came to my mind was 'what does the helicopter has to do with scuba diving?'. Indeed, the role played by the helicopter is only to add a challenge and a whole new level of risk.
Basically, you buckle up in a helicopter with your scuba gear almost entirely set up and on you. The fins and the snorkel mask are attached to your chest. Then, at a height of about 15 feet in the air, the helicopter drops you into the blue. Once in the water, the dive unfolds normally.
I could totally feel the emotion when I read Mark Guccione's paper on Heli Diving and I had to investigate this somewhat curious practice!
Can anyone just decide to heli-dive?
Not quite. Indeed, a diver who would like to heli-dive needs to have a training first. The diver must learn about helicopters, how it works and the basics of the operation. First of all, there are only a few places in the world where you can try that, read further. Second, you have to meet a few requirements, according to PADI.
Be a PADI Advanced Open Water or equivalent certification
OR
Have a proof of certification beyond entry-level (20 dives logged minimum)
Last dive must have been done within the last 6 months
Age requirement: minimum 18 years old
---
Most noteworthy is that heli-diving is not a cheap, neither affordable, activity. Prices usually go from 1,100$US for a single dive for 1 person. That's right.
---
This video shows staff working with Mark Guccione and doing their first Heli-Dive!
Where can you try Heli Diving?
First, there's a confusion about the term heli-diving, which is used online to describe two different activities. Let's make things clear.
Heli & Diving Combo: Offered on the Great Barrier Reef and also in Iceland for example. This activity is a combo of helicopter ride and then a scuba diving activity. It doesn't require any specific certification for this activity (of course, you need to be a certified regular diver) and there's NO jumping/dropping from the helicopter.
Be careful when you google search for heli-diving.
Heli-Diving: This is the one this article is about. This activity requires certification as mentioned above. This one is the actual dropping from the helicopter in your scuba dive gear.
The Heli-Diving is available in California. Indeed, OC Helicopter and PADI are partners and offers the training and certification course to jump from a helicopter right into the blue for an amazing dive off the California coast.
---
Thoughts on Heli-Diving, anyone?
Please comment below if you are aware of other places where actual heli-scuba-diving is available. We are working hard to share the most relevant information!
Have you tried heli-diving? We would love to hear about your experience!
---
---
Related Posts