Eldene Eyssell from South Africa is telling us about her awesome diving trip in Jangamo Bay, Mozambique. If you wish also to publish your article in this Scuba Diving Blog, contact me.
Mozambique has some wonderful diving, from Ponta do Ouro in the south to Bazaruto in the north. I have dived in Ponta do Ouro and Jangamo Bay in Inhambane province in Southern Mozambique, and stayed in Praia de Zavora.
Mozambique is a poor African country. Most of the people are gentle and friendly (except the cops). They speak mainly Portuguese. Resorts are often run by South Africans who speak English.
Jangamo Bay
The (then) Boyfriend suggested we go and dive in Mozambique. I agreed, if he could find us a place that met my conditions: (a) NO camping or shared bathrooms; (b) a hut was acceptable, if it had a bathroom and proper beds; (c) preferably self-catering; (d) but there must be a restaurant nearby; and (e) we must be able to roll down the hill, at most, to the beach and the dive centre. He found it – Jeff's Palm Resort.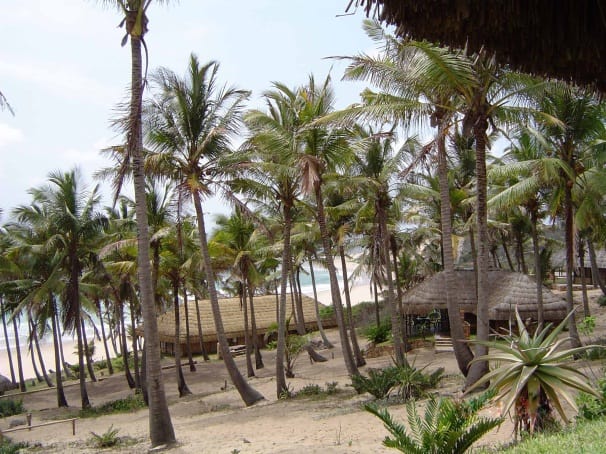 Accommodation is fairly basic, but comfortable, in cabanas or casas made from woven palm leaves. There are no fans or air-conditioning, but we never got hot, even in November, because somehow the natural materials and lovely sea breezes keep the place cool. There are mosquito nets. Accommodation was very inexpensive out of season. Maids come daily to make beds, clean, and wash dishes.
How to get there
Drive and drive and drive for 15 hours from Johannesburg. You can break the journey by staying just outside the border in Komatipoort, South Africa (try Trees Too Guest Lodge), or at the Blue Anchor Inn on the main road in Mozambique, or in Maputo, the capital of Mozambique.
The main highway is a very good road, newly built by the Chinese. However, Jeff's and most resorts are off the main road, on about 20 km of sand, for which you will need a 4X4.
Fly to Inhambane and arrange a pick-up.
Hook up with a dive club in South Africa; they are always going on trips, and plans can be made to share the driving. (See link below.) South Africans are a really friendly bunch.
The Diving
Jeff's has a well-run and well-equipped dive centre. Inspectors come regularly to check on dive centres in Mozambique.
Some of the reefs have been battered by recent storms, but there is still a lot to see. My favourite sightings at Jangamo Bay: geometric moray eels, lionfish, pincushions, Spanish dancer in open water, a yellow frogfish, and, of course, giant manta rays.
Visibility averages about 15–20 m. The water is warm, up to 28°C in summer. Diving all year round. Jangamo Bay is quite protected, so one can launch in the afternoon and on days when it is too rough to launch further up the coast.
Divers are expected to help turn and push the rubber duck into the water. Most reefs are close to shore, so no really long boat rides. There is a divemaster on every dive. You are dropped right on top of the reef.
Other things to do
Take a short drive up north to the towns of Inhambane and Tofo. Tofo has a buzz, with a market and street vendors. You are expected to bargain. There are also some interesting African restaurants and pubs.
Eat prawns and peri-peri (or piri-piri) chicken – hot and delicious, cooked over an open fire. Beware the piri-piri sauce, usually in recycled bottles: it looks watery but it is as hot as hell.
Drink the great Mozambican beer, Laurentina and 2M. Try, if you are brave, rum and raspberry.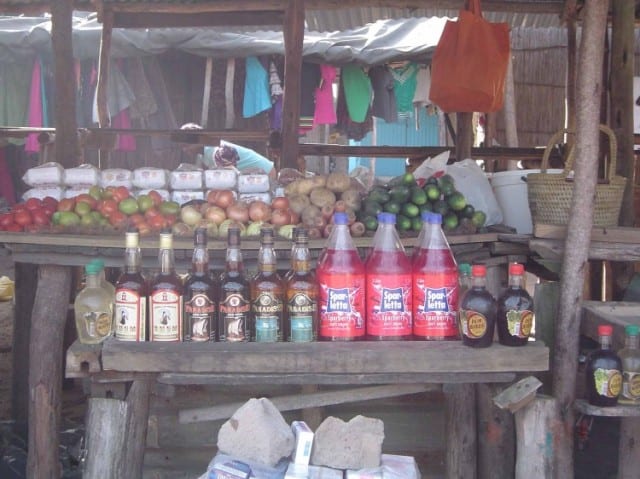 Buy packets of freshly toasted cashew nuts, from sellers on the side of the road or locals who come to the resorts.
Go snorkelling at the next bay south of Jangamo. Check the tides with the resort.
Note
All of Mozambique is a malaria area. I take doxycycline, which is a cheap broad spectrum antibiotic, safe for diving and also useful for any other bugs you may pick up. It does have side effects, such as photosensitivity for some, however. Ask your doctor.
Arrange your trip so that you do not drive at night in Mozambique. Do not exceed the speed limits.
Make sure you follow the rules and have all the papers for taking a car across the border.
Change money at banks and ATMs, not with people who approach you at the border or on the street.
Sometimes the border posts can look busy and chaotic. 'Agents' will approach you and offer to help you get through, for a fee. The queues have never been that long that I felt the need to pay (bribe) someone.
All visitors (except citizens of Swaziland, South Africa, Tanzania, Botswana, Malawi, Mauritius, Zambia and Zimbabwe) need a visa. The rules have recently changed, and visitors should apply in advance for a visa; you can no longer obtain a visa at a border post.
You need to be careful and street smart, and to stick to the rules and laws. But I have never felt unsafe or threatened.
The South Africa-Mozambique border, Komatipoort
Other places to go, things to do
Ponta do Ouro – is closer to South Africa; you enter through the Kosi Bay border, and it is not far from Sodwana. There is a variety of accommodation (try Simply Scuba), and restaurants, shebeens and market stalls in the village. There is some good diving. I did my deepest dive (40.8 m) on Atlantis. Beyond awesome: giant rocks that look like ancient paving stones, phosphorescent algae dancing in front of my eyes, and yellow boxfish and white ferns/corals that were surreal when all other colour had disappeared.
Zavora – (pronounced 'zav-ra') central Mozambique, south of Jangamo Bay, 400 km north of Maputo. We didn't dive there because the inspectors were coming on that day, so dive centres cannot launch because the inspectors want to see the boats. However, I believe there are manta rays and much else. Accommodation (Seagull House at Zavora Lodge) is fine, if not fabulous. What is fabulous is the cottage's position high on the dunes, miles of beach, no one around, and no electricity after about 8:30 at night so you can see the stars.
Kruger Park – if you are heading to Mozambique from Komatipoort in South Africa, you could spend a few days in the Kruger National Park and go game spotting. It is huge (360 km long, 65 km wide), so it's most probably a good idea to do only a section, closer to Komatipoort
Useful Links
Jeff's Palm Resort, Jangamo Bay – http://www.jeffsmoz.com/
Trees Too Guest Lodge, Komatipoort – http://www.treestoo.com/
Blue Anchor Inn, Mozambique – www.blueanchorinn.com
Palmeiras Guesthouse, Maputo – http://www.palmeiras-guesthouse.com/
Dive club, Brightwater Scuba – http://www.brightwaterscuba.co.za/
Simply Scuba, Ponta do Ouro – http://www.simplyscuba.co.za/safrica/
Zavora – http://www.zavoralodge.com/, http://www.mozdivers.com/
Kruger National Park – https://www.safari.com/kruger-national-park/
Related Posts