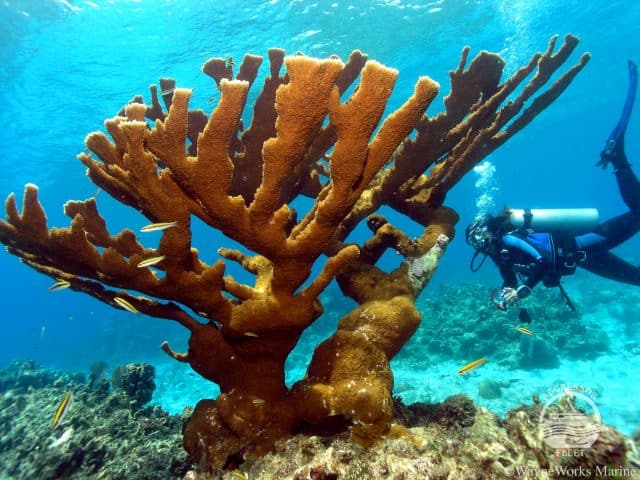 A few years ago, Belize and Honduras were little known. That has changed with both becoming the retirement secret to many middle class retirees. The simple inexpensive and uncomplicated surroundings that drew retirees to Central America is also drawing tourist. While most of them are coming by cruise ships, some are coming for longer stays, and many of those are scuba divers.
Honduras Liveaboard Diving
The Bay Islands of Honduras is one of these emerging destinations. Located at the entrance to the Gulf of Honduras and near the Belize Barrier Reef, scuba divers are finding outstanding diving in Honduras. There are three different island groups of the Bay islands. The Swan Island group is towards the north. The Islas de la Bahía group, concentrated around Roatán and Útila islands, is in the central area and is the closest group to the mainland. The Cayos Cochinos group is further south. In total there are eight islands and 53 small cays.
Roatán Island is the most important of the Bay Islands. The city of Roatán on that island is the capital of the Bay Island and the center of the tourism infrastructure. Indeed, scuba divers usually focus on Roatan and Utila when it comes to exploring the deep blue! These islands and the nearby cays have great fringing reefs and easy access to the barrier reef. While you can dive from either Roatán and Útila and experience outstanding diving, a liveaboard will bring you to dive sites seldom dived by other diver. The liveaboard industry is just beginning, so there is only a limited number of liveaboard available so far.
Budget Honduras Liveaboards
Given that the Honduras liveaboard industry is very small, it is difficult to place liveaboards in different categories. In this case, we have only one liveaboard to place in the budget category. The classification is based on world wide averages and it does not mean that quality is poorer than on other vessels.
ROATÁN AGGRESSOR LIVEABOARD
(Coming soon on Divezone!)
The Aggressor fleet is the only international fleet with a presence in Honduras. Starting in June 2017, the Roatán Aggressor is providing liveaboard service to the Bay Islands. The Aggressor fleet has been active for many years in Honduras and the new captain of the Roatán Aggressor has been with the Aggressor fleet for over 20 years.
The yacht is 120 feet long and has a beam of 21 feet. It carries a total of 18 divers and a crew of six. The main deck has crew quarters forward and the galley. In the center of the yacht is the salon also on the main deck. This is where the meals are served. The meals aboard the Aggressor fleet are reputed to be always outstanding.

Also, the salon functions as the entertainment center with a large flat screen television. Great to watch a movie or to show off your underwater photography. The stern portion of this deck is the dive deck. There are lockers for each diver and ample places to get geared up for your dive, up to five dives a day. Divers step down to the dive platform and off they go. All diving is done right from the vessel.
The lower deck is where the guest staterooms are. There is one master stateroom with a queen size bed and eight deluxe staterooms with bunks. Each stateroom has a private head and shower, individual climate control, a port hole (except the master stateroom), monitor with media player, USB/110v outlet and hair dryer. There is a shared washer and dryer on this deck and another one on the dive deck portion of the main deck.
The upper deck houses the wheel house with the captains quarters attached. There is also a covered area to relax with a wet bar. Aft of this is an open area for sun bathing and there is a hot tub here as well.
The Roatán Aggressor runs week long trips departing each Saturday from the dock located at Romeo's Restaurant in French Harbor, Roatán. This is just a few minutes away from the airport. The yacht returns to Roatán, Friday afternoon. Dinner is on shore and guest stay on board overnight and depart in the morning after breakfast.

Luxury Honduras Liveaboards
While there is only one international fleet in Honduras, there are a few other options. Luxury can be defined in many ways, but chartering your own vessel certainly has the elite feel to it. There are a number of boats and yachts that can be chartered even a few that are scuba diving friendly. We will work on finding new liveaboards to introduce to you, so far there's this one.
SV Zeppelin is a great example of a sailing vessel that is set up as a diving liveaboard. The owners are Elly and Wayne Smith who are from Vancouver, BC, Canada. They are both PADI certified dive instructors and they take small groups of divers on customized diving trips from three night to ten nights long.
The small liveaboard measures 47 feet, with 15 feet of beam. The center cockpit design allows three sleeping cabins, two heads both with showers, a large galley and spacious main saloon. The cabins are designed to comfortably accommodate a maximum of 4 guests. Elly and Wayne have completely renovated the SV Zeppelin, redesigned the interior layout and made extensive modifications to each space to create their comfortable and beautiful home afloat.
Moreover, Elly will create a five star cuisine menu according to your preferences. After you make your reservations, you will be e-mailed a questionnaire about your diet requirements and personal likes and dislikes. Being a remote location, not everything may be available, however, they will do their best to accommodate you.  There may be a catch of the day, fresh from the waters around you, and Wayne's evening BBQ is always a hit.
The dive operation is surprising very complete for such a small boat. Wayne calls it a "Mobile dive shop on board with a 20 foot custom dive launch". They carry 12 cylinders and have a gas powered compressor to refill the tanks. This allows them to offer three dives a day. The Smith's knowledge of the local diving allows them to work with you to select the best dive sites for your own skill levels. The SV Zeppelin is clearly a labor of love. Elly's and Wayne's motto is "We bring a mature approach to both scuba diving, sailing and yoga instruction and love sharing our passions with others."
Honduras Liveaboards Itineraries
The liveaboard industry in Honduras is focused on the Bay Islands. The three large islands, Roatan, Utila, and Guanaja, plus the Cayos Cochinos, a National Marine Park Reserve, is where the diving liveaboards sail too. Each of these four locations has dozens of dive sites. The Cayos Cochinos area is mostly a seamount but has two small island and about 18 cays. There is one small resort and the population of the islands are about 108, many of them park rangers.
Best time to dive in Honduras
You will be diving in water that averages 82°F in the summer months and approximately 78°F in the winter months. With long dive times and repeated dives a wet suit is recommended. A 1-3 mm wet suit or shorty is recommended year round, however some people prefer a 5 mm in January/February. The Bay Islands of Honduras are awaiting for some incredible diving.
Honduras Liveaboard last minute
At times select sailing may show on our Honduras liveaboards last minute page. If you are considering a trip to Honduras in the near future take a look at the last minute page.