Cost
Expensive, and Luxury!
Reef Endeavour dive boat review
The Reef Endeavour is a small cruise ship, offering diving cruises to the best of Fiji. Indeed, the 73 meters long boat operates as a liveaboard diving cruiser, but it has all the amenities of a regular commercial cruise, or so.
.
The cabins
The Reef Endeavour can cater to a maximum of 130 passengers. Indeed, it's not your usual liveaboard, but it has all the great amenities that come along with cruise ships. Plus, it can be great if you are a group or family in which not everyone is a passionate scuba diver.
Visit this page to view prices & schedules for this boat.
.
The vessel welcomes guests in 64 cabins, ranging from porthole cabins to full suites with ocean view. All the cabins have an en-suite bathroom, air-conditioning, hair dryers, and 240V electrical outlets. Plus, the cabins are serviced daily and include basic amenities such as shampoo, soap and towels.
.
Reef Endeavour's on-board facilities
The small cruise ship includes many social areas, which allows every guest a feeling of privacy. Indeed, you will find 2 bars on-board, as well as 2 spacious lounges where you can hang out between dives and activities. Plus, there is both an outdoor and indoor dining area, as well as a souvenir shop.
.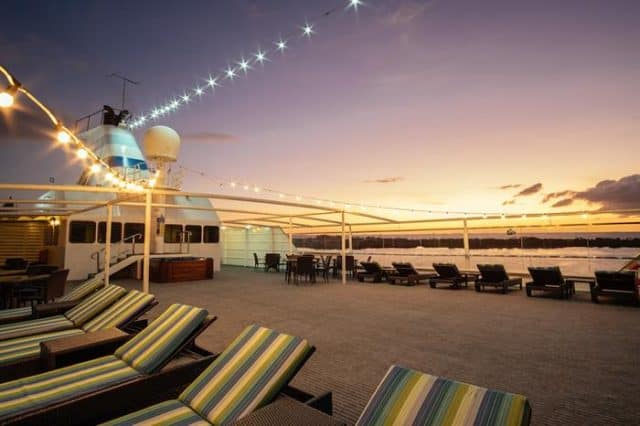 When it comes to the outdoors, you'll find a swimming pool along with a lounging deck, all on the B deck. Plus, jacuzzi pools are located on the top sun deck, along with a lot of loungers for you to enjoy. The huge windows all across the ship are perfect to admire to view over the Fiji Islands, just like the stunning view you get from the outdoor decks.
Moreover, there's a spa service on-board at the Senakai Spa, located on the top deck. You will also find a complete gym and a sauna on-board!
---
Take a peak!
See how it's like to be on a small cruise ship for a diving holiday!
.
Vessel Layout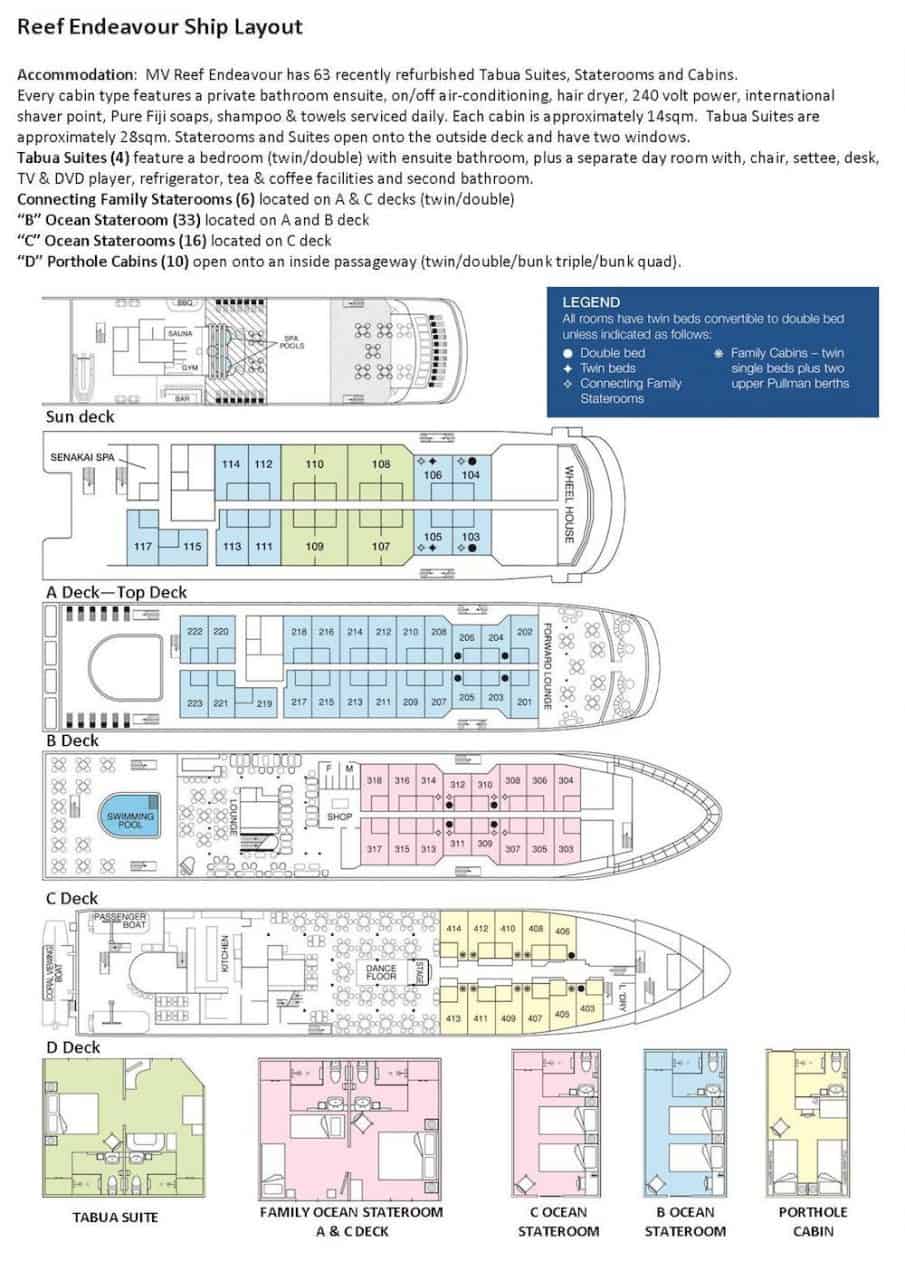 Scuba diving with the Reef Endeavour in Fiji
First, the diving cruise on the Reef Endeavour is not a diving-dedicated cruise, nor your typical liveaboard. Indeed, it's ideal for those who want to have the comfort of a small ship cruise, but still experience water sports, such as scuba diving.
Now, the MV Reef Endeavour allows 2 dives each day and occasional night dives, whenever possible. The vessel is assisted by a dive tender, which will take you on the remote and best scuba diving sites of Fiji. Plus, you can rent you equipment on-board, ask at booking!
---
Price starts at 929$US for 4 days/3 nights short diving cruise – Yasawa
OR
4,025$US for a 12 days/11 nights dive cruise – Lau & Kadavu
More itineraries & cruise length available. 
Where does this liveaboard dive boat go?
Check out the fabulous places where this dive boat travels to.
Note: some destinations may not be listed below, please enquire for more details.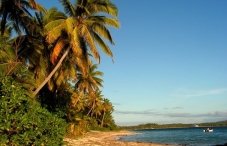 Fiji's tourism website says it best, "Fiji is blessed with 333 tropical islands that are home to some of the happiest people on Earth."
Other Liveaboard Reviews in Fiji
Dive spots reviews in Fiji
No dive sites reviews found