Burma, also called Myanmar, is a newer diving destination. Indeed, the Mergui Archipelago is a pristine dive destination which only a few divers can discover each year. Most of the luxury liveaboards going there are cruising the Thai Andaman Sea as well.
See the Best Thailand Liveaboard Reviews of 2016 for more informations.
Luxury ain't for you? See our list of Budget Liveaboard Burma.
Raja Laut
The Raja Laut is a beautiful charter yacht, sailing in a few spots in Asia. It's maximum capacity is 12 guests and it's only available on a full charter basis.
Stay Tuned! More details are coming soon!
Dive the stunning waters of Burma on-board the
private charter

Raja Laut!
Price Starts at

4500€ / 5094$US

per

day

– Mergui 
⇒

COMING SOON!

Read more about the facilities and specs of  Raja Laut ⇐
Diva Andaman
The Diva Andaman is a large 35 meters schooner offering a luxury liveaboard experience that will please the diver and the non-diver. This beautiful sailing yacht, cruising at a speed of 8 knots, is from the renowned traditional boat building company Diva Marine Co. Itineraries on the Thai Andaman Sea are available as well as on Burma's Mergui Archipelago.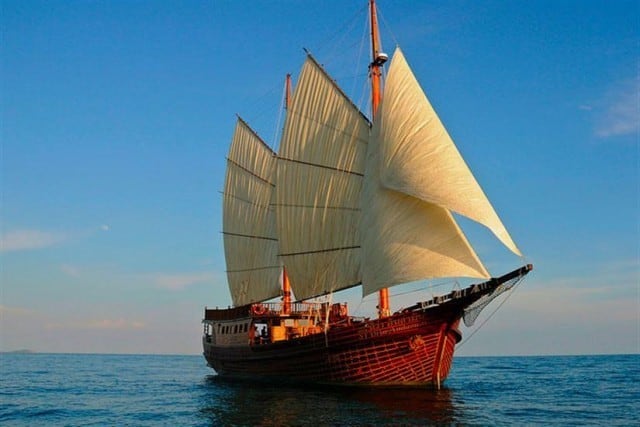 Built in 2009, all of traditional Asian materials and fitted the most recent technologies, the beautiful Diva Andaman offers luxury in a number of area. Indeed, with 7 air-conditioned cabins, the Diva welcomes a maximum of 14 guests. Considering the space available on-board, having as few guests insures that each has a feeling of privacy at anytime, anyplace. The beautifully furnished cabins are comfortable, come with an en-suite bathroom and a flat screen television. There are 5 cabins fitted with a double bed and 2 are twin shared in  bunk-style bed. There is a roomy indoor salon, a spacious covered fore deck plus a beautiful top deck with loungers and also a dining area. Moreover, there is an on-board spa, with traditional Thai massage offered!
Food and activities
In addition, you should know that the Diva Andaman is overhauled every year during the low season. Meaning that every year, you board a new beauty! Plus, the ship has is own wine cellar, and the food is prepared by a chef, providing you with a top gourmet experience.
Ultimately, the vessel is fully equipped for a diving cruise and proudly boasting a very spacious dive deck. Indeed, the Diva Andaman is more than ready for either a charter diving group or individual bookings. The diving operation is supervised by certified PADI instructors and dive masters. Moreover, there are plenty of other activities accessible with the Diva Andaman which will please also the non-divers. Indeed, snorkeling is always possible but there are kayaks on-board and the dinghies can take you to shore for some islands excursions.
Dive the stunning waters of Burma with the SY Diva Andaman Luxury Liveaboard!
Price Starts at 

2628$US

for

6 nights

– Mergui 
⇒Read more about the facilities and specs of  SY Diva Andaman ⇐
---
Thailand Aggressor
As a part of the world-renowned Aggressor Fleet, the Thailand Aggressor sets the standards high as it cruises the Andaman Sea. Indeed, the 35 meters vessel offers a luxury liveaboard diving cruise that pleases customers year after year since 2013.  Itineraries on the Thai Andaman Sea are available as well as on Burma's Mergui Archipelago.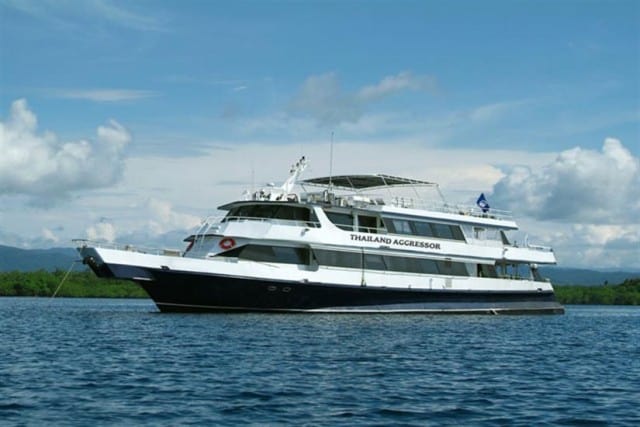 Featuring lavish accommodations and a crew of 8, the Thailand Aggressor is sure to impress with comfort and personal service. Welcoming a maximum of 16 guests in 8 beautifully appointed cabins, this modern yacht has more than enough space for everyone. Indeed, the rooms are spacious, all comes with en-suite bathroom and individually controlled air-conditioning. Plus, a television as well as ample storage and wardrobe space should please you.  To complement the adventure and provide great relaxation, the roomy sundeck comprises a Jacuzzi as well as loungers and ample seating space.
Furthermore, the salon and dining room are comfortable and boasting enough space to never feel cramped. The meals served on-board are a mix of Western and Asian fares. The two chefs prepare mouth-watering food freshly everyday and they can obviously cater to dietary requirements.
Finally, the dive deck is amazing, with ample personal storage space and 2 fresh water showers on the platform. Also, the professional crew will be there at every step to help you gear-up and take care of everything after the dives. Nitrox is available for certified divers and, nitrox certification is available during a cruise as well.
Dive the stunning waters of Burma on the Thailand Aggressor Luxury Liveaboard!
Price Starts at

3290$US

for

7 nights

 – Myanmar Route
⇒Read more about the facilities and specs of  the Thailand Aggressor ⇐
---
---
MV Diverace Class E
Custom built in 2014, this sturdy vessel is 34.5 meters in length with a beam of 7.5 meters. Made with comfort and safety in mind, it has all the needed amenities and technologies to provide a luxury experience at a very affordable price. Itineraries on the Thai Andaman Sea are available as well as on Burma's Mergui Archipelago.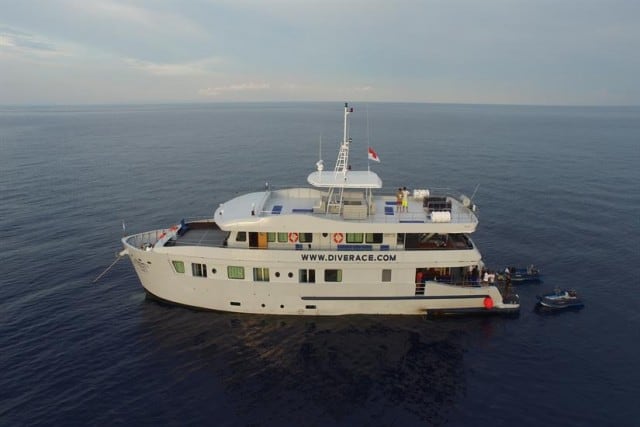 The MV Diverace is providing ample space for it's 28 guests with a roomy salon with entertainment system, a cozy sundeck as well as a massage room. Plus, the delicious dishes prepared by the chef are served to you while you sit in the sizable dining room. Furthermore, the cabins are comfortable, all including an en-suite bathroom, AC control and a safety box. Six of the cabins are luxury twin/double, meaning that the beds can be arranged separately or as one double bed. Plus, linen is of hotel quality. The four remaining cabins are for twin or quadruple occupancy, depending on the customers needs. Indeed, they can accommodate up to 4 guests as they have 2 bunk-beds each.
Now, the diving operation! The dive deck was optimized for accessibility and safety. Indeed, there is plenty of space to gear-up and store your belongings. Moreover, the crew of 15 includes 5 members dedicated to the diving operation only! There are two motorized dinghies to take you to the action-packed spots and pick you up where it's more convenient for you. Finally, beside the Similan Islands, the MV Diverace Class E offers itineraries to the Myanmar's Mergui archipelago as well as many more.
Dive the stunning Similan Islands on the MV Diverace Luxury Liveaboard Burma!
Price Starts at

2236$US

for

7 nights

– Mergui
⇒Read more about the facilities and specs of  MV Diverace ⇐
---
More great Burma and Thailand Liveaboards