Burma, also called Myanmar, is a newer diving destination. Indeed, the Mergui Archipelago is a pristine dive destination which only a few divers can discover each year. Most of the Budget liveaboards going there are cruising the Thai Andaman Sea as well.
See the Best Thailand Liveaboard Reviews of 2016 for more informations.
Budget ain't for you? See our list of Luxury Liveaboard Burma.
Giamani
The 24 meters motor vessel runs itineraries in both the Thai and Burmese Andaman waters. The Giamani was built in 1998 and fully updated in 2013, it now caters to small charter or individually booked groups.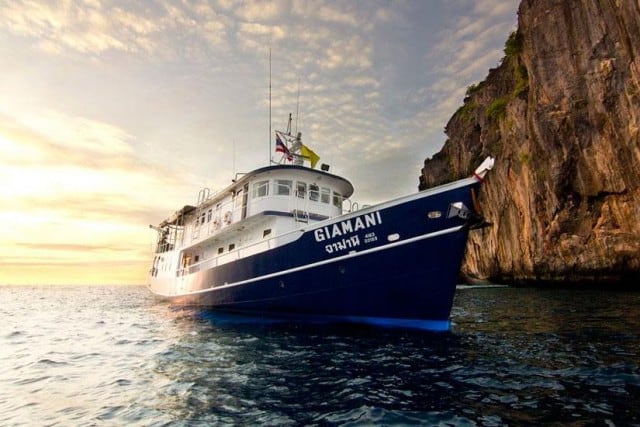 The Giamani comfortably hosts a maximum of 10 guests on-board. Indeed, this allows a customer-oriented service and more privacy for each guest. The 5 cabins available are all with en-suite bathroom, toiletries, towels, air-conditioning and a mini-fridge. There is a double bed in every cabin and in most cabin it has a single bunk on top of it, allowing for double occupancy or twin share. Furthermore, the air conditioned salon is cozy and has a complete entertainment system. Plus, you can use the big television to view your best shots and videos of the day! Meals are served buffet style and include a mix of Thai and international fares.
Finally, fitted to please divers and photographers, the Giamani has a spacious dive deck. Indeed, it's well organized and there is ample space to gear-up. Plus, there's a camera table and separate rinse tanks for your toys.
Dive the stunning waters of Burma on-board the Giamani!
Price Starts at 2077
$US for 6 nights – Dive Burma Itinerary
⇒Read more about the facilities and specs of Giamani ⇐
---
Miss Moon
Built in 2009 and renovated in 2014, the 18 meters Miss Moon runs itineraries in both the Thai and Burmese Andaman waters.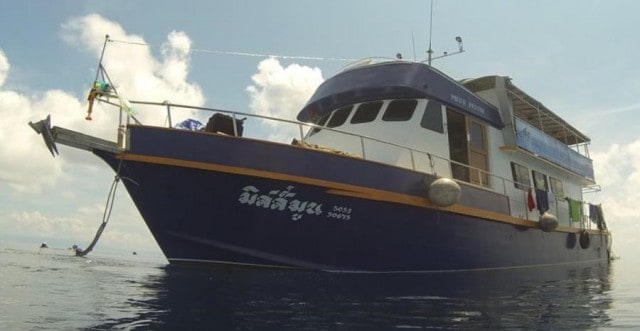 The Miss Moon caters for smaller groups, either individually booked or chartered. Indeed, with personal service in mind, the boat welcomes a maximum of 10 guests on-board. There are 5 comfortable cabins as well as 2 bathrooms, on the cabin deck. Specifically, 3 cabins have two bunk-beds and 2 cabins have double debs, one the is the spacious Master Stateroom.
Furthermore, the Miss Moon features a garden sundeck where you can enjoy the views and take it easy between dives. There is also and indoor salon with television as well as a roomy dining area where meals and snacks are served. Finally, the dive deck sure boasts everything a diver would need and the professional crew is always there to help!
Dive the stunning waters of Burma on-board the Miss Moon!
Price Starts at 952
$US for 5 nights /
 1327$US for 7 nights 
⇒Read more about the facilities and specs of Miss Moon ⇐
---
Built in 2012, MV Deep Andaman Queen is a 28-meter long steel hull motor boat running on a top speed of 12 knots. The DAQ has itineraries on the Similan and also in Burma with the Mergui Archipelago. This liveaboard would also match the category of the Luxury Liveaboards considering it's large range of options. That being said, even luxury is at budget rate on the Deep Andaman Queen Budget Liveaboard!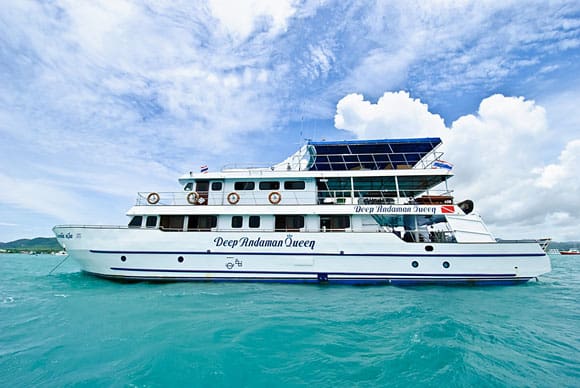 This brand-new vessel is suitable for every budget, it can be either a very cheap, budget friendly adventure or you can add-on some luxury to your trip as you wish. The Deep Andaman Queen welcomes a maximum of 21 guests. Indeed, with 9 spacious air-conditioned cabins, it has it all from quad cabins to ocean view master cabin. Every cabin has it's own ensuite bathroom. There is 1 twin, 1 triple and 1 quad cabin. Plus, 5 Deluxe cabins as well as the one and only Master cabin. See below for pricing.
The boat was custom built for one purpose and it sure doesn't disappoint when it comes to scuba diving. Indeed, the boat has one of the most spacious dive platform a budget liveaboard – or any liveaboard! – can have! There are separate entry and exit platforms, two fresh water showers, camera rinse tanks and ample space to gear-up and store your belongings. Moreover, the Deep Andaman Queen is, in fact, a floating dive center offering a full range of services such as dive certification training.
Dive the stunning waters of Burma on-board the Deep Andaman Queen!
Price Starts at:
1720$US for 7 nights in Quadruple Occupancy 
2225$US for 7 nights in Deluxe Double Room
⇒Read more about the facilities and specs of Deep Andaman Queen ⇐
---
The Thai Sea has itineraries on both the Similan Islands of Thailand and the Banks & Mergui Archipelago of Burma.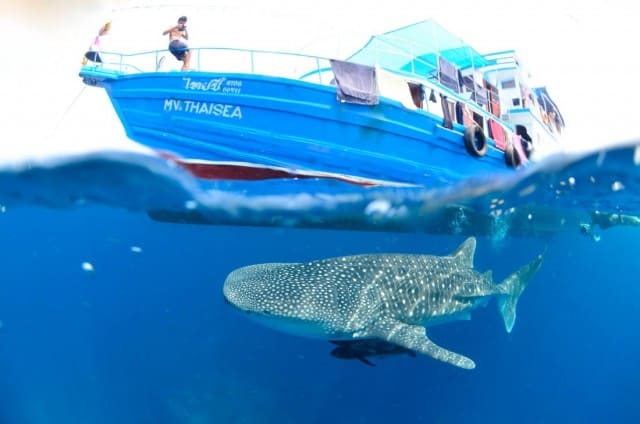 As the picture above shows it, diving with the MV Thai Sea comes with lots of great opportunity! Indeed, this 20 meters long vessel is catering to smaller groups. So, for a more private experience and definitely peaceful diving, the Thai Sea would make a great choice.
Each trip on the MV Thai Sea ends up feeling like a chartered trip as there are only 12 guests on-board. Cabins are mostly bunk-style twin shared, except for one double cabin. There are 2 complete bathrooms with hot showers available on the boats. In addition, 3 toilets are located at the aft as well as 2 sun-heated showers.
The boat is fitted with a spacious dive deck and a large dive platform. The dining area has plenty of room for everybody and comprises a salon with entertainment system. If you want to relax and/or work on your tan, there's a beautiful sundeck from which you can admire the view!
Dive the stunning waters of Burma on-board the MV Thai Sea!
Price Starts at 923$US for 5 nights / South Burma Route
Price Starts at 1529$US for 7 nights / Mergui Route
⇒Read more about the facilities and specs of MV Thai Sea  ⇐
---
Dolphin Queen
Of the Similan Diving Safari company, this mono-hulled wooden vessel offers a great quality for money option. The Dolphin Queen offers routes on the Andaman Sea but also in the Burmese Andaman (Mergui Archipelago).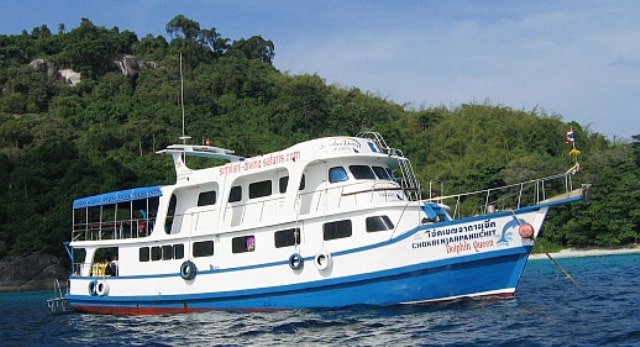 The MV Dolphin Queen cruises the Andaman sea with a maximum of 22 divers on board. There are 8 cabins total on-board. Six of those are located on the main deck while 2 are on the upper deck. Great for the budget conscious diver, there are 3 four-berths cabins plus 1 twin shared cabin. The four remaining  cabins are all double-occupancy and, the 2 located on the upper level offer a panoramic sea view at the door step! All cabins are air-conditioned, have a window as well as electrical outlets for your convenience.
The captain's quarters are found in front of the vessel, at the bow while the dining area is located at the stern. Coffee, tea, various drinks, water as well as toasts and fruits are available all day. Meals are dealt with carefully on the Dolphin Queen as they consider food very important. Indeed, the breakfast choices are various and cooked to order. Lunch and dinner are prepared fresh daily and served buffet-style. The cooks will cater to specific dietary requirements as you let them know.
Finally, rested and fed, you should be ready to hit the water! Located at the stern on the main deck is the dive center. There is plenty of space to gear-up, plus an attentive crew to help at anytime. The dive platform has two showers as well as everything you need in term of rinse tanks and space for your stuff.
Dive the stunning waters of Burma on-board the MV Dolphin Queen!

Price Starts at 1035$US for 6 nights in a 4-berths cabin
⇒Read more about the facilities and specs of  MV Dolphin Queen ⇐
---
More great Thailand and Burma Liveaboard Scuba Diving Cruises