If you have dived on this liveaboard before, please share your experience and say what you think of this boat. Please post your comments in the review section below, by doing so you will help fellow divers to plan their next diving trip ;).
MV Sting Ray Diving Liveaboard
The Sting Ray liveaboard takes pride in its 31m-long motor yacht that can take care of up to 18 divers on board. It frequently tours around the North Male, South Male and Ari Atolls. When not diving, guests can enjoy either hanging out in the spacious shaded area socializing with others or sunbathing in the sundeck on sun mattresses & chairs.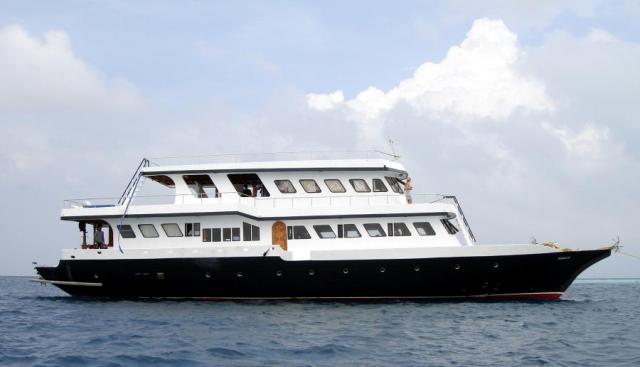 An air-conditioned saloon also includes entertainment facilities and a bar, as well as an interesting collection of books, games and magazines. There's no chance for boredom since chess and card games keep many guests entertained in a social environment. Tasty snacks and meals are also served buffet style.
MV Sting Ray yacht on board facilities and services:
Motorised dhoni dive tender
50m² Dive deck with fresh water shower
Camera table & rinse tanks
Air-conditioned saloon with well-stocked bar, TV, DVD and music centre
Dedicated air-conditioned dining area
Library with diving magazines, novels and fish ID books
Click here to Check Availability and Prices for this Boat
Boat Budget Range / Price: Starts at US$ 1,379 for a 7 nights tour
MV Sting Ray is one of the longest-running and less expensive liveaboards in the Maldives.
Customer Review
"My friend and I bought this trip for quite a cheap price so we were expecting what is stated on the website and not more. Indeed, we got what we paid for. It's not luxurious but it's comfortable and there's room for everyone to fit in comfortably. The food was great, air con in working condition and there was hot water. The beds were comfy, all the basics needs were then filled.
The boat was organized and it was easy to know where anything you could be looking for would be. The tanks were always filled with nitrox over the 200 bar. The crew was friendly, briefings were… Brief. The guides started descending before every divers in their group were in the water, that was interesting. Currents were strong and we had to ask about that often to be well informed and know what to expect. Once, we dove all together… I don't know but to me it sounds like they could have done better… 12 people all together! Anyways, the guides had a good knowledge of their environment and could tell you a great deal about the sea life.
The dives were definitely stunning… I mean, the Maldives never disappoint!!! We saw every single marine animal we were told about: reef sharks, sea turtles, nurse shark, manta rays, a huge whale shark and many many fishes, smaller and bigger!!! It was unbelievable, breathtaking and unforgettable!!!"
– Kayla & Amelie
Click here to Check Availability and Prices for this Boat