Eldene Eyssell from South Africa is telling us about her diving trip in Aliwal Shoal in South Africa. If you wish also to publish your article, contact me.
Dive Report Aliwal Shoal, Umkomaas, KwaZulu-Natal South Coast, South Africa by Eldene.

Aliwal shoal is the reef system best dived from the town of Umkomaas (which means 'the place of the cow whales' in Zulu). Many dive it for the sharks.
How to get there? • Fly to Durban, hire a car or arrange a pick-up, and drive about an hour south to Umkomaas.
• Drive about 7 hours from Johannesburg on a double highway.
The Shark Diving
For me, this is adrenaline diving. Sea conditions vary considerably, but most often the boat (rubber duck) ride out to the reef is an exciting rush, bouncing over the breakers. (And it is even more fun during the week when you know everyone else is at work.) You launch from a lagoon, so no pushing the boat into the water from the beach and hauling yourself into the boat. Then you have to get through the surf. This is where you need a really good skipper.
Reefs – are pretty, with reef fishes, nudibranchs, eels, dolphins, whales and rays, but not as amazing and varied as Sodwana, especially when it comes to corals and sponges.
Sharks – these are the things. From June to November, the ragged tooth sharks come to breed. (One year when the conditions were perfect, I saw 28 sharks in the Raggies Cave area; and that was towards the end of the season.) There are also tiger sharks (June to November), blacktips, hammerheads, whitetips, and Zambezi sharks.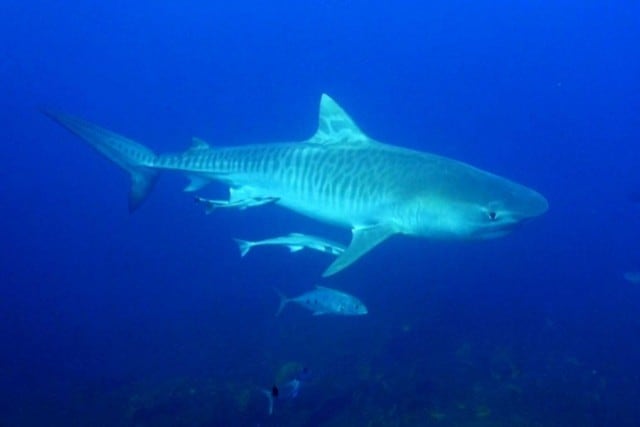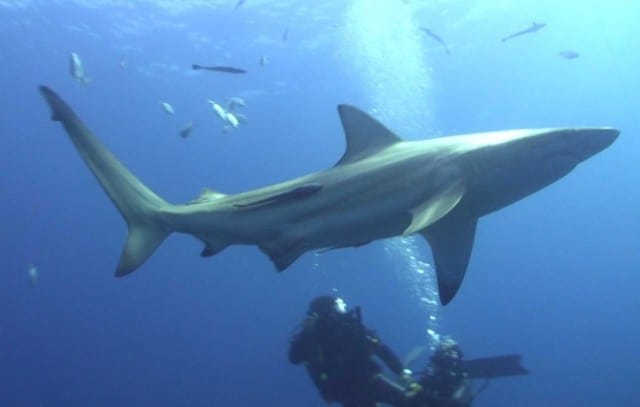 Blacktip and tiger shark (courtesy of Bark Lukasik, http://bartlukasik.tumblr.com/)
There are baited shark dives run by shark experts. They lure the sharks with sardine oil and fish in a drum, but do not actually feed the sharks, so they are not whipped into a frenzy. On my 74-minute dive we were surrounded by 25–30 exquisite blacktip sharks (not to be confused with blacktip reef sharks). The cost of a baited dive is about R1 400 (about 120 euros).

Whale sharks – I have been privileged to swim with 4 whale sharks at Aliwal, 3 on one dive alone (in December). Then again, a good friend of mine who has dived Aliwal way more than I have, believes whale sharks are mythical creatures because she has never seen one.
Wrecks – There are two wrecks, The Produce (1974; maximum depth 32 m) and The Nebo (1884; maximum depth 27 m). Diving these is very dependent on conditions. I've tried to dive The Nebo twice, with no luck – visibility disappeared below a depth of 12 m. The divemaster is usually dispatched to check the visibility before everyone kits up and bales out. On a good day, The Produce  is magnificent. It is covered with corals and ferns and surrounded by thousands upon thousands of harlequin goldies (found only on these two wrecks) and schools of kingfish and tuna. It is also home to giant brindle bass, eels, lionfish and stonefish.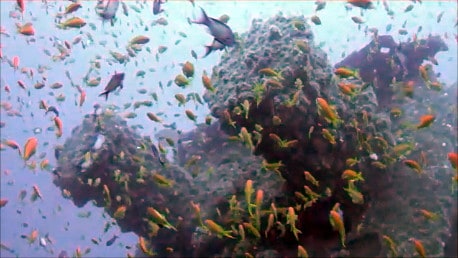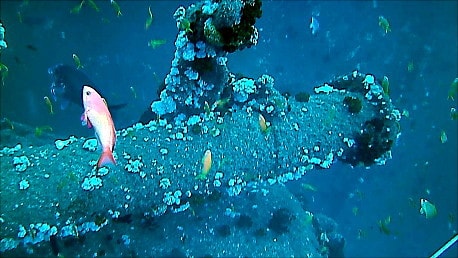 The Produce wreck (courtesy of Brightwater Scuba, Johannesburg)
Diving conditions –  very varied. Visibility zero to 20+ m. Water temperatures from 20°C in August to 28°C in December. Reefs' depths from 17 m to 32 m. Diving is mostly in the morning, before the sea get rough(er). Diving is throughout the year, but August can get really windy and unpleasant.
Where to stay?
There are a number of dive centres, lodges and guesthouses in Umkomaas, some better than others. I stay at Agulhas House, a B&B. Rooms are very comfortable, with fans, fridges and private bathrooms. There is a pool and braai (barbeque) area where you can cook your own food; a supermarket and a bottle (liquor) store are around the corner. The breakfasts, served by Mickey after the first dive of the morning, are great.
Agulhas House has its own fully equipped dive centre. You can store your gear in the kit rooms and get your wetsuit on there instead of on the beach. They load all your gear on the boat and drive you down to the beach.
Agulhas House
Other activities
Umkomaas itself is a bit of a nowhere, sleepy place. The beach is lousy and I don't think you can swim there because there are no lifeguards. There are some restaurants and pubs, but the service is slow, especially at busy times (weekends, when locals come to dive, and December/January). The next town south is Scottburgh, which has some decent places to eat and drink. There is a crocodile farm along the way.
You could drive the hour back to Durban, which has a world-class aquarium at the uShaka marine theme park. But do you really want to see fish in captivity?
Eat hot and spicy Indian curry and rice, or bunny chows (loaves of bread, hollowed out and filled with curry).
Note
Aliwal Shoal is a marine reserve, and you need a permit to dive there. Permits are available at Agulhas House (R30 for a month's permit) or from the post office down the road (R95 for a year). These permits are valid anywhere in the country.
It is not a malaria area, but mosquitoes can be a nuisance.
Interesting links
Shark diving at Aliwal Shoal –
http://www.youtube.com/watch?feature=player_embedded&v=GA6NfEt8p-8#! or
http://bartlukasik.tumblr.com/post/27699982876/clip-from-shark-diving-with-aliwal-shoal
uShaka – http://www.ushakamarineworld.co.za/
Agulhas House – http://agulhashouse.com/
Related Posts