Cocos Island Dive Report
Travelling 36 hours just to dive with hammerheads, whitetips and Galapagos sharks around Cocos island was tedious so the only way to go is travelling on MV Argo. We were first picked up from Grano de Oro Hotel and departed at 1:00PM from San Jose.
The stay on the Argo was amazing. It justifies that I spent a little more on it than choosing the Okeanos Agressor. Simply put, If I was going to spend $5000 dollars on a trip, I would want to ensure that I am getting a comfortable vessel that won't disappoint me in any way ;-).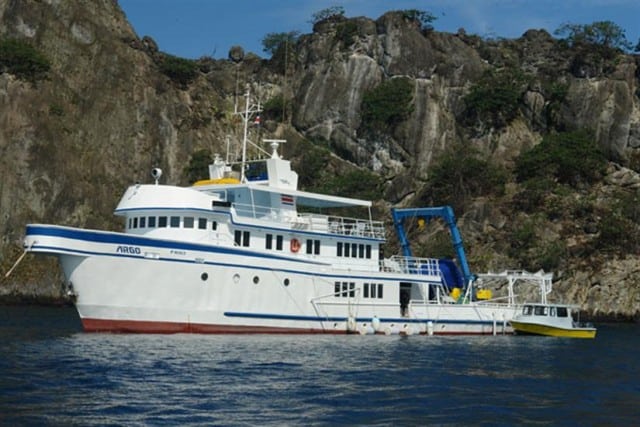 The most of the crew was composed of experienced divers who had been on several Cocos liveaboards before. It was a pleasure talking to them and they told me that they couldn't remember being on a finer boat in all of their experiences.
The food onboard was delicious. The chef offered a great selection of food every meal and the staff offered hot chocolates in the afternoon. Details like these made my trip pleasurable.
I can also recall having a warm towel waiting for me after each dive!
One of the things I've missed out though was taking the sub. Thinking about it makes me want to go back as the people seemed very pleased seeing more marine life with the 1000 feet dive. I couldn't believe I let that opportunity pass during the 10 days that I was there. For anybody wanting this rare opportunity, you can do so for an extra charge.
Diving at Cocos was something that I thought about for a long time and I'm giving it a 4 out of the 5 not because of the Argo but because during the time that I was there, I was fairly dismayed that there weren't any whale sharks and the mass of the hammerhead sharks weren't that large in comparison to the photos and videos that I've seen before.
Maybe it wasn't the best time to see the sharks although I went during the peak of the season. Talk about being unlucky. Regardless, the dive masters and our cruise director showed us a great time during our stay with the Argo liveaboard.
Related Posts