If you have been to Aqaba before, please share your experiences, ideas and feedback (Hotel, Excursions, General Feeling,…) in the comments section below, by doing so you will help fellow travellers to plan their next trip

If you do like the Red Sea scuba diving wonders but you don't like the tourist, Aqaba isdefinitely a good choice!

In this page you will find practical information to plan a scuba diving trip to Aqaba:
Where to stay?
I usually use this website to book in advance my hotels in Aqaba as they usually have the lowest rates I find. I like it because it's free to cancel and change the dates.
Aqaba offers a full range of accommodation from 2 star hotels and hostels, to luxury 5 star resorts. It really just depends on your budget.
Some of the hostels on the south beach area, also known as the 'Bedouin villages' cost as little as 10JD per night, they are basic, rustic rooms in a small 'village' with a pool and restaurant. Some of the villages have also recently added a dive centre as well. The area on the beach in front of the villages is available for camping.
In the city the 2 star hotels can be booked for as little as 15 JD for a double room, depending on your budget the standard the price of a room can go up to as much as 300 JD a night for the 5 star Kempinski resort!
There is also a new resort in the south called Tala Bay; this is primarily 5 star resorts, town houses and stylish bars and cafes situated around a marina. Also here is the Movenpick resort; Marina Plaza Resort and Radisson Blu resort, each of these have their own private beaches, dive centres and spas.
Obviously higher quality hotels such of these will have a higher quality price. Also you are approx. 15 Km away from central Aqaba, most of the resorts have regular shuttle bus services. But if you want to experience the traditional Jordanian culture, here is probably not your best option.
Hot Tip:
A few hotels have their own diving centre and offer package deals on accommodation and diving.
Activities and excursions in Aqaba
Aqaba has plenty of restaurants and cafes for whatever your taste is. Traditional Jordanian cooking is available all around town, everything from 'fast food' falafel and shawarmah to slow cooked lamb and rice dishes.
Aqaba is also a fishing town so really good for fresh seafood. The best restaurants for fish are found down by the high flag close to the fishing port. Please note that not many of the 'local food' restaurants serve alcohol. But don't worry; there are many bars around the town you can visit after your meal! Many restaurants and bars automatically add a 10% service charge to the bill. But a small amount of extra change is fine if you think the service was particularly good.
Hot Tip: The traditional Jordanian dish is Mansaf –Lamb slow cooked in a yoghurt based sauce served with rice and pine nuts. Highly recommended!
5 things to do in Aqaba
Visit the high flag – the flagpole in the Great Arab Revolt Plaza is 137 meters high and is the 2nd tallest free standing flag pole in the world. The flag flying is the Arab Revolt flag to celebrate the Arab uprising in 1916.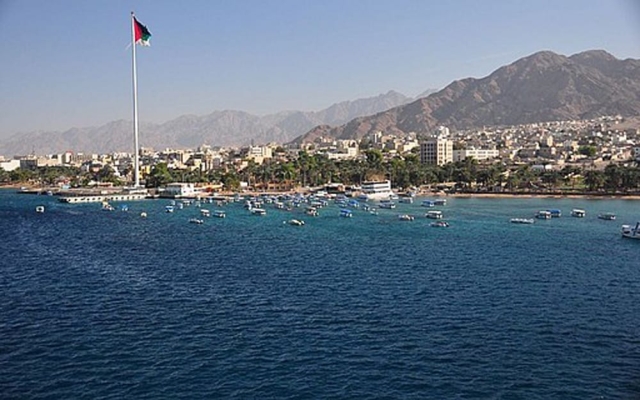 Try the Shisha – visit a traditional coffee shop and try smoking a water pipe while enjoying a Turkish coffee or 'shay' (very strong sweet tea sometimes with mint).
Visit the Hammam – Get a good scrub down and massage in a traditional Turkish bath.
Aqaba Castle – A small fort on the coast, with an archaeological museum.
Souk – The market placeis a great place to buy traditional spices, teas, fresh nuts and coffee, in 'tourist friendly' packets to take home with you. Also souvenirs and locally crafted gold.
While in Jordan, the other must see points are:
Petra – One of the new 7 wonders of the ancient world. An ancient city carved out of the mountains. 2.5 hour drive from Aqaba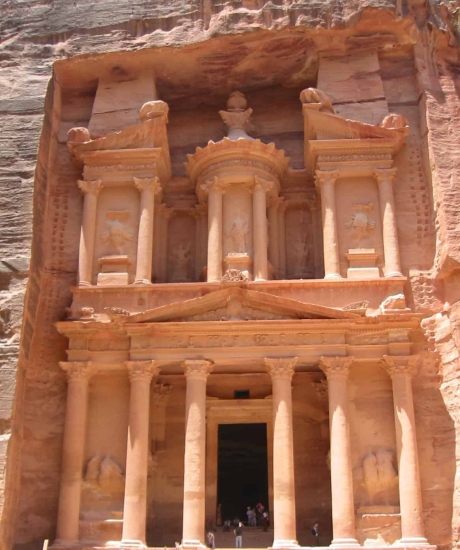 Wadi Rum – follow in the footsteps of Lawrence of Arabia by jeep, horse or camel. After touring the beautiful landscape, relax for the evening in one of the Bedouin camps, enjoy a traditional meal and sleep under the stars. 1 hour drive from Aqaba
Dead Sea – not recommended for diving! But a great day for relaxing, and try out the mud, supposedly with great healing properties. 2.5 hours from Aqaba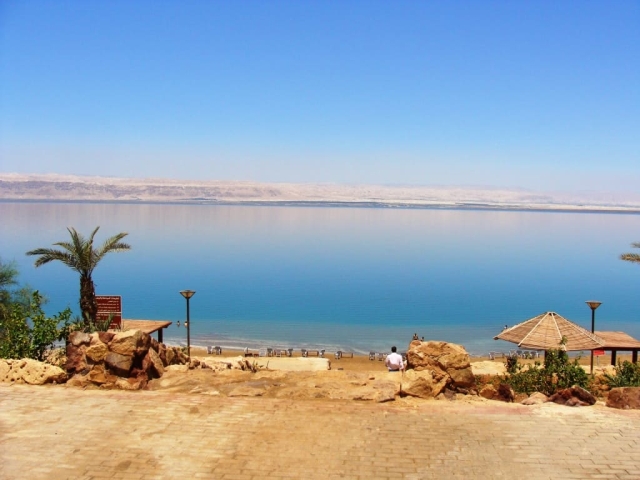 Best time to visit Aqaba
The high seasons are April-June and September- November. The January-February is usually not popular for diving as the water temperature drops to around 18C, but the city itself is still busy as this is a good time for the other excursions around Jordan. The summer is normally very quiet because the air temperature is far too hot, can be over 50C during July and August.
Best time to visit is September/October when the water is warmest and clearest, and the air temperature is a more comfortable 30-40C. Even in the highest season, the crowds here are still no where near the size as you would see in Egypt, so if you don't like the crowds, Aqaba is always a great alternative to the usual Red Sea resort towns in Egypt.
Health and Safety
Health – no particular vaccination is needed, although the usual MMR, polio and tetanus are recommended.
It is highly recommended that you have comprehensive insurance cover for diving and travel. As hospital fees are very high here. Just to see a doctor for a diagnosis will cost you at least 10 JD (US$14) plus any other treatment or medication that you may require.
Safety – Around the main areas of Aqaba the local people are used to the tourists and so you should feel safe and welcomed. Most Jordanians are very friendly and famous for their hospitality.
Aqaba is a holiday resort, so a casual dress code is expected, however revealing clothes, such as swimwear should only be worn on the beaches. Top less is definitely a bad idea.
If travelling further north to the smaller towns and villages, women in particular, may need to be more respectful in terms of covering shoulders and knees, as these areas do not have the same influx of tourists like Aqaba and Amman do.
If you are planning an upcoming dive trip or travelling to Aqaba, it is a really good idea to invest in travel insurance for scuba diving, because you never know what could happen and when you might need it (because accidents do happen!). I recommend this diving insurance as they offer worldwide coverage and focus on providing scuba divers a quality insurance and medical assistance service.
Where is Aqaba located in the world?
Aqaba is the most southern city in Jordan. It is surrounded on one side with the majestic mountains and the other the beautiful Red sea of the Gulf of Aqaba.
Just 5 km away on the other side of the gulf is the Sinai Peninsula. Jordan has boarders with Israel (Eilat) and Saudi Arabia in the south, Iraq to the East and Syria and Lebanon in the North. It may not sound like a safe place to be at the moment, with all the turmoil and disturbances due to the resent uprisings in the area. But compared to its neighbours, Jordan is remarkably safe to visit and travel around and also very stable, politically and economically.
See the map below.
Aqaba Map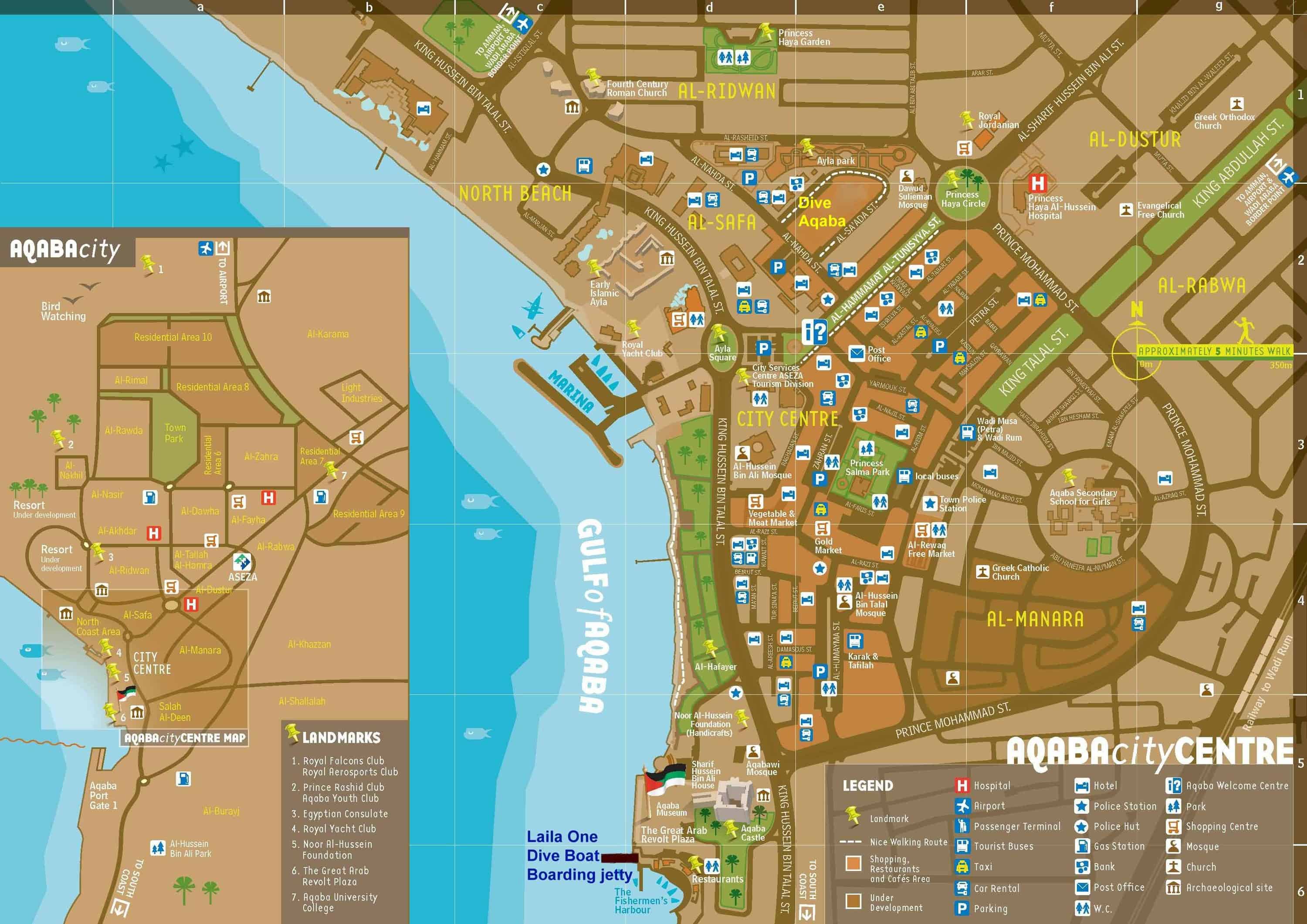 How to get to Aqaba?
A lot of travel companies use to do package tours through Syria and Jordan, obviously with the current situation not a good idea, but hopefully these will start again in the future. Also popular is to fly in to Israel or Egypt and spend a few days travelling around before crossing to Jordan or vice versa. Crossing from Israel is just a hop across the boarder and Egypt is just a short ferry ride across the Gulf.
Plane – International airports in Amman/ Eilat, Israel. Most airlines fly to Amman and then Royal Jordanian have internal flights to Aqaba. Charter flights from Sweden and England fly direct to Aqaba in high seasons.
Bus – After arriving in Amman, tourist buses are available through out the day to Aqaba, costing around 7 JD. (US$10) Approx.4 Hour drive. A service taxi will usually cost around 90 JD per car.
Boat – Ferries from Nueweiba, Egypt. Daily.
Do I need a visa for Aqaba?
Most nationalities can get a tourist visa on arrival at Amman airport for around 20 JD (approx. US$30). This is a tourist visa for 1 month. Some nationalities may need a visa before arrival but you can check this is at visitjordan.com.
If arriving in Amman airport and travelling down to Aqaba with in 48 Hours, you qualify for a free visa. Arrivals direct into Aqaba either through the airport or crossing the boarder from Israel are also granted a free visa on arrival, as Aqaba is a Special Economic Zone. Again this visa is for 1 month.
You will not receive a visa if crossing the King Hussein Bridge into Jordan from the West Bank and Palestinian territories. You will need to apply for a visa before you cross.
When you leave Jordan there is an 8JD exit tax. This is usually included in airline tickets, however if you leave by the Aqaba port or any of the land boarders this will be payable in cash at the immigration point.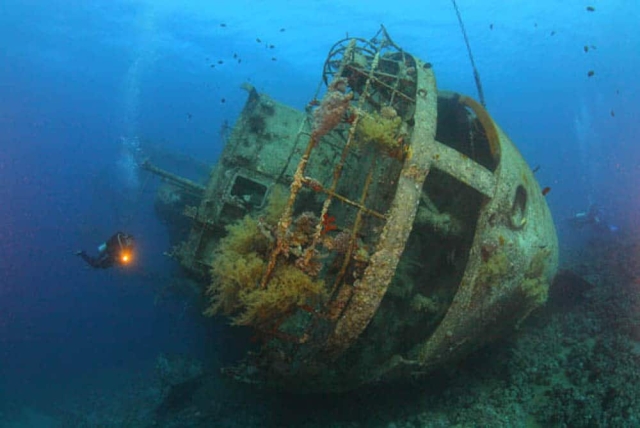 Getting Around
Most places in Aqaba down town are within walking distance from the hotels. If you have to take a taxi anywhere, it is usually pretty cheap, from one side of town to the other should cost no more than 1.500 JD. Most dive centres are based out of town on the South Beach and organise transport from the hotels each morning.
A new resort area, Tala Bay has recently opened in the South, around 15 Km outside of Aqaba, close to the Saudi Arabia border. Most of the hotels here are 5 stars and have regular shuttle buses in to the city. Taxis to Tala Bay from Aqaba approximately 10 JD.
Hot Tip:
Always make sure that the taxi driver uses his meter!
Review and pictures by Suzie Conway. Thanks a lot to Seastar watersports Aqaba for their great help.
Aqaba Photos
Scuba diving
You will find all information about sea life, best time to visit, top dive spots, etc. in our review: Aqaba Diving

Diving Reviews for this region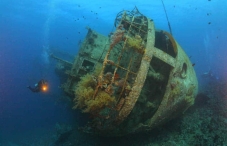 Aqaba has all the beauty that the Red Sea has to offer but with out the usual crowds of Eilat and Egypt. Aqaba is also a great base for exploring the other historical sites around Jordan.
Liveaboard Reviews in Aqaba
Cruise ship Reviews in Aqaba