If you have been to Bunaken, Manado before, please share your experiences, ideas and feedback (Hotel, Excursions, General Feeling,…) in the comments section below, by doing so you will help fellow travellers to plan their next trip

Bunaken is regarded as one of the top scuba diving destinations in stunning Indonesia. People come from all around the world especially to dive here. Divers will be delighted by the huge walls covered with magnificent coral in crystal clear water! The seabed around Bunaken Island is also incredibly deep, up to 1600 meters. It makes this destination something special!
Photo Credit: http://www.flickr.com/photos/baroquem/3638904368/
There you will find big pelagic fishes as well as small critters which make it a terrific dive location for underwater photography.
Bunaken Island belongs to the Bunaken National Marine Park created in 1991. There are several other islands like Manado Tua, Siladen, Montehagen, Nain, and Nain Kecil. Due to the creation of the marine park, the waters around Bunaken are very healthy with fantastic biodiversity and corals among the best in the world.
This destination offers also terrific snorkelling opportunities for non-divers.
In this page you will find practical information to plan a scuba diving trip to Bunaken, Manado:
Where to stay?
I usually use this website to book in advance my hotels in Bunaken, Manado as they usually have the lowest rates I find. I like it because it's free to cancel and change the dates.
There are several resorts on Bunaken Island and Manado Tua Island. Most of the accomodation is quite expensive and upmarket but you will get a really nice bungalow by the beach. It is also possible to stay on the main land around Manado in a luxurious resort with a great view on the bay.
Activities and excursions in Bunaken, Manado
Bunaken Marine National Park is mostly a diving destination. Although it is possible to do many other things during your stay or for the non divers:
Snorkelling the coral gardens. It is just fantastic in front of most of the resorts.
Go hiking along the Islands footpath or climb the Manado Tua Volcano.
Go fishing with a local fisherman but out of the marine park
Go dolphin watching or whale spotting on a day trip.
All these excursions can easily be arranged for you by your diving resort.
Best time to visit Bunaken, Manado
During the touristic peak season which runs in July and August, the diving resorts can be full and it is advised to book in advance! Otherwise, anytime of the year is good. Visit our diving page for more information.
Photo Credit: http://www.flickr.com/photos/jipii/2231337136/
Health and Safety
If you are planning an upcoming dive trip or travelling to Bunaken, Manado, it is a really good idea to invest in travel insurance for scuba diving, because you never know what could happen and when you might need it (because accidents do happen!). I recommend this diving insurance as they offer worldwide coverage and focus on providing scuba divers a quality insurance and medical assistance service.
Where is Bunaken, Manado located in the world?
Bunaken is a small island (8 km²) located on the Northern Tip of Sulawesi Island, North Indonesia. It is part of the huge Bunaken National Marine Park which covers an area of 890.65km² of which only 3% is terrestrial.
See the maps below.
Sulawesi Map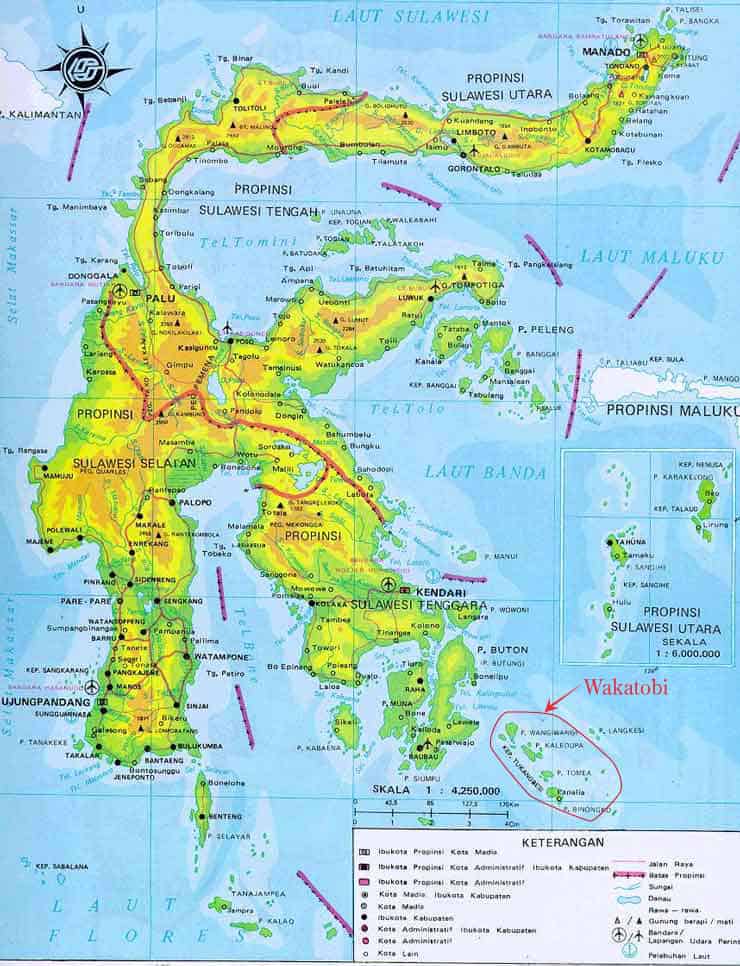 How to get to Bunaken, Manado?
To reach the park you will firstly need to make your way to Manado. It is the second largest city of Sulawesi after Makassar and it is located about 50 minutes away by boat from Bunaken Island.
So to arrive in Manado, the best way is to get a plane from Jakarta, Singapore, Kuala Lumpur or Bali. On most of the flights there is a stop over in Makassar airport.
Most of the resorts will arrange a private boat or charter boat for your transfer. If not, you can take the public ferry leaving daily (except Sunday) at 2 PM. It will cost you around Rp 25000 for a foreigner and Rp 10000 for a local. You can also charter your own boat but be prepared to bargain hard!
Hot Tips
Try to arrive in Manado during day time to be transferred directly to your hotel on the islands. Otherwise, if you arrive at night you will have to stay one night in Manado before enjoying the dives in Bunaken.
If you arrive via an International flight, it is possible to get a visa on arrival in Sam Ratulangi, the Manado Airport.
To dive inside the Bunaken marine Park you need to buy a permit. It is normally provided by your local dive operator. If not, it can be purchased in one of the three ticket offices on Bunaken and Siladen islands.
People tend to prefer to stay on Siladen than on Bunaken Island because of the very beautiful beaches. However Siladen is much more isolated than Bunaken so you can choose!
Do I need a visa for Bunaken, Manado?
It is possible to get a tourist visa (30 days, 25 US $) on arrival in Manado airport.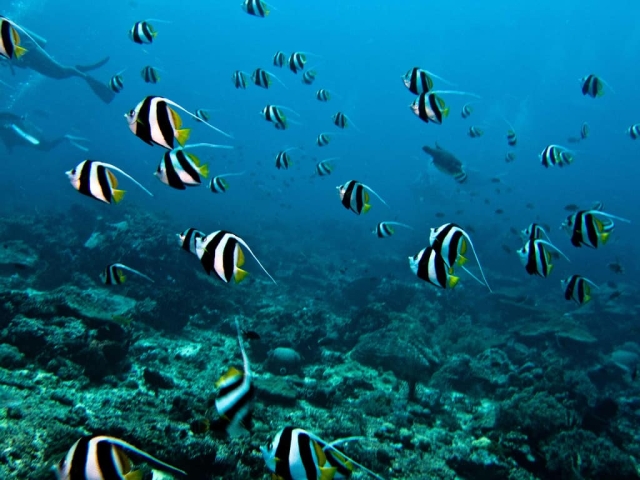 Getting Around
Bunaken is quite a small island and getting around is pretty easy. There are no cars on the islands. So you can either walk, hire a scooter or take a boat. There are several lovely pathways on the island worth exploring.
Bunaken, Manado Photos
Scuba diving
You will find all information about sea life, best time to visit, top dive spots, etc. in our review: Bunaken, Manado Diving

Diving Reviews for this region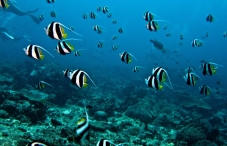 Diving in Bunaken is just fantastic for wall Diving, Coral gardens, endless visibility, incredible biodiversity. Also staying on an isolated island is something really special to experience!
Liveaboard Reviews in Bunaken, Manado
Cruise ship Reviews in Bunaken, Manado