If you have been to Malapascua Island before, please share your experiences, ideas and feedback (Hotel, Excursions, General Feeling,…) in the comments section below, by doing so you will help fellow travellers to plan their next trip

Malapascua Island is a wonderful quiet tropical Island featuring long white sandy beaches, coconut trees and crystal clear water. It is known in the Philippines and worldwide for being one of the few places on Earth where you can spot the very rare Thresher Shark! There is also a Manta Ray season and you will have great chances to observe these gentle giants!
In this page you will find practical information to plan a scuba diving trip to Malapascua Island:
Where to stay?
I usually use this website to book in advance my hotels in Malapascua Island as they usually have the lowest rates I find. I like it because it's free to cancel and change the dates.
There are several diving resorts on Malapascua. Most of them offer nice beach bungalows with fan or AC. There are also basic rooms for backpackers and budget travellers. It is best to book well in advance during Christmas time. Accommodation here is generally more expensive than in other parts of Philippines.
Activities and excursions in Malapascua Island
Malapascua is a small island with limited activities if you are not diving. The main activity is to relax and enjoy the beautiful, pristine beaches with a cold drink in hand. At night there are several restaurants and small bars, perfect to share a cold beer with other fellow divers.
Best time to visit Malapascua Island
Tourist Season
The high season runs from December to April so be sure to book in advance during this period. Especially during Christmas time, the island can get really busy therefore prices tend to increase.
The low season runs from July to early December. It can be quite rainy during this period but it normally doesn't prevent any diving.
The hottest months are March, April and May (average 32°C) and the "coldest" (average 28°C) are from December to February.
Health and Safety
If you are planning an upcoming dive trip or travelling to Malapascua Island, it is a really good idea to invest in travel insurance for scuba diving, because you never know what could happen and when you might need it (because accidents do happen!). I recommend this diving insurance as they offer worldwide coverage and focus on providing scuba divers a quality insurance and medical assistance service.
Where is Malapascua Island located in the world?
Malapascua Island is located in the Philippines, 8km North of Cebu Island and 200km North of Cebu City. It is a small Island about 1km wide with 4000 inhabitants.
See the map below.
Malapascua Map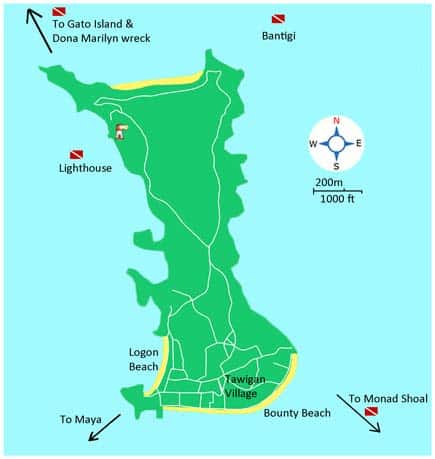 Hot tip:
There are no ATMs in Malapascua and most places don't accept credit card or if they do, they charge an extra percentage. So make sure that you bring enough cash to pay for your accommodation and diving. Otherwise you will have to come back to the mainland to find an ATM.
How to get to Malapascua Island?
You have to follow several steps to get to Malapascua Island.
Step 1: Fly to Cebu City from Manila (Cebu Pacific air for example). More information on how to get to Manila on the Philippine dedicated page.
Step 2: Take the bus from Cebu City to Maya Port. It costs around P160 and takes about 4 hours (200km) with a very scenic drive along the shore. Another option is to take the taxi, which is faster but it is more expensive.
Step 3: Take the banca-ferry from Maya Port to Malapascua (30 min, P50).
Step 4: Enjoy your holidays!
If you booked an organized diving tour, your operator can come pick you up at Cebu Airport or at Maya Port.
Hot Tip:
Try to arrive early in the day in Cebu city and before 4:30 pm in Maya Port or you will have to stay overnight to take the boat the next day to Malapascua.
Don't forget to bring a flash light to walk around at night on the Island!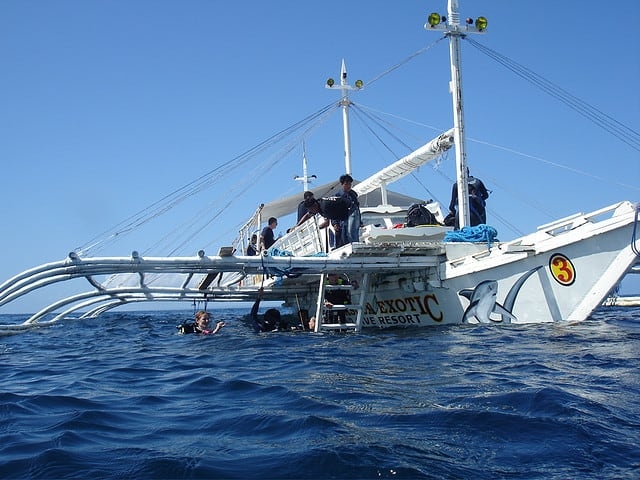 Getting Around
Malapascua Island is small – you can walk around it in 3 hours! There are no cars, just scooters. You can walk just about everywhere or ask kindly for a lift by scooter.
Malapascua Island Photos
Scuba diving
You will find all information about sea life, best time to visit, top dive spots, etc. in our review: Malapascua Island Diving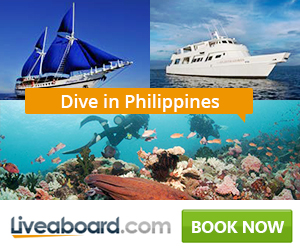 Diving Reviews for this region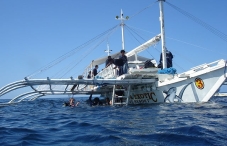 The best place on Earth to see the very rare Thresher Shark! Good chances also to spot Manta Rays and world class macro diving. Very Beautiful pristine Island.
Liveaboard Reviews in Malapascua Island
Diving resorts in this area
Cruise ship Reviews in Malapascua Island