Galapagos Sky Diving Boat
The Galapagos Sky Liveaboard boat can only accommodate up to 16 guests. Thus, you will love the spaciousness on board this vessel.

When on board the 33m long Galapagos Sky, you can focus on just 3 things: Eating, Sleeping and most importantly, DIVING! It is a fact that the enchanting beauty of Galapagos is an absolute dream for diving enthusiasts. Scuba Diving in the Galapagos is famous for its unique biodiversity. Seeing a throng of hammerhead sharks and other pelagic species is something to see once in a lifetime. With Galapagos Sky, this dream can become an exhilarating reality.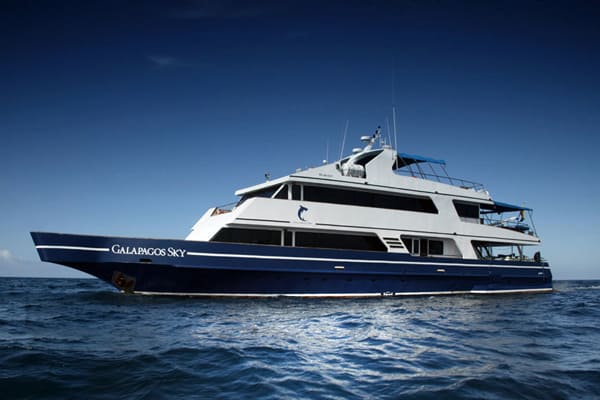 Photo credit: http://www.academybaydiving.com/
Equipped with air-conditioned master and deluxe cabins, each with their own bathrooms, biodegradable toiletries, dressing gowns and hair dryers, this vessel offers all the comforts you may need on board. This is a very diver-friendly liveaboard as can be seen on the 58m² dive deck.
Complimentary nitrox for EANx-certified divers are available. Security devices for divers are also distributed. The facilities on board Galapagos Sky Liveaboard are state of the art with a keen eye for small details.
Crisp towels and a warm drink are kindly offered to you at the end of each dive. Fresh and high quality ingredients that cater to all dietary requirements are available in each Ecuadorian and American dish, served in buffet style. You can even enjoy free beer and wine with your evening meal or up on the decks with fellow divers.
The comfort of the guests is ensured with the large saloon and dining area on the main deck, furnished with sofas, chairs and full entertainment system. Galapagos Sky can truly give you the safety, comfort, luxury and style that you need!
Galapagos Sky yacht on board facilities and services:
2 x Motorised dive dinghies
Camera table and separate rinse tank
Main deck air-conditioned saloon with TV, video player, music system, movie library, games and satellite telephone
Main deck air conditioned restaurant with bar
Sundeck and shaded area with sunbed and chairs
Budget Range / Price: Starts at US$ 5,195 for a 7 nights boat tour