Cost
Expensive, and Luxury!
Spirit of Niugini dive boat review
The Spirit of Niugini operates as a liveaboard in Papua New Guinea. Indeed, the 36 meters diving liveaboard set off from the Tufi and/or Tawali Resort, near Milne Bay. Built in 2001, the vessel has been thoroughly updated in 2016, and now sails a number of different routes in the Milne Bay.
.
The cabins
The Spirit of Niugini offers accommodation for 12 guests on-board it's diving cruises. Indeed, there are 6 double-occupancy cabins on-board, two double and four twin cabins. Every room features a private bathroom facility, as well as ample storage space and air-conditioning.
Visit this page to view prices & schedules for this boat.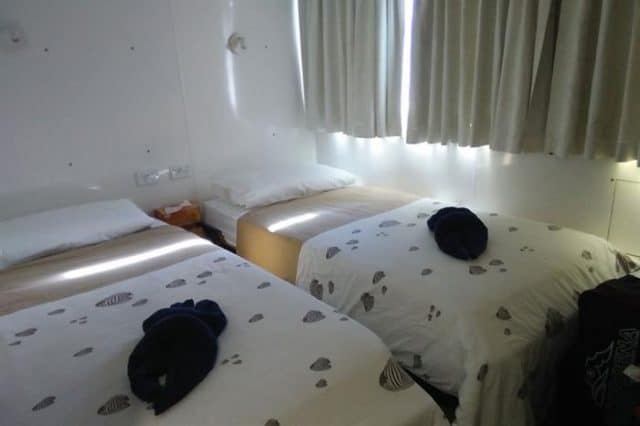 .
Spirit of Niugini's on-board facilities
The 16 divers aboard can enjoy the large indoor saloon between and after dives. Also, the meals are served mostly in the al-fresco dining area of the upper deck. The food is based on fresh local produce and fresh fish. You will be offered both local and international dishes.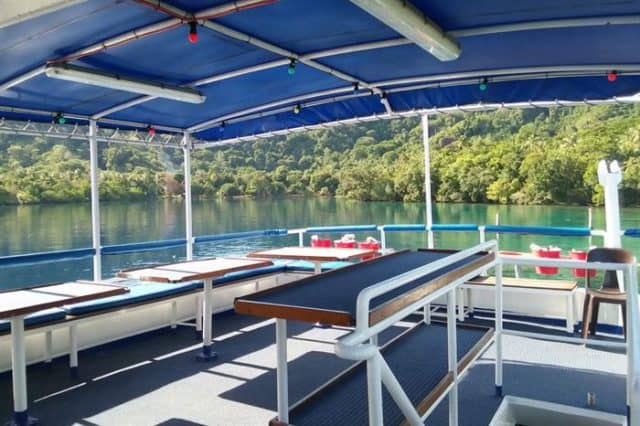 .
Moreover, the very top deck displays a spacious sundeck. It's the best spot for a great view over Papua New Guinea's unique landscapes. You will find bench seating space and carpets covering the floor, on which you can lay down. Enjoy the sun and the sea breeze in this pristine area of the world.
.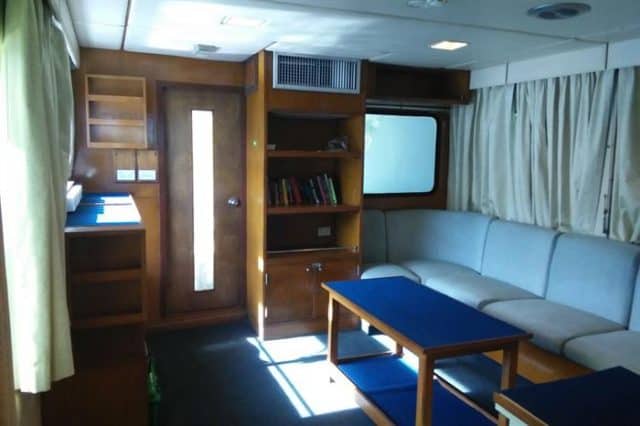 .
Vessel Layout
Topside, the MV Spirit of Niugini is a well built vessel, fitted with the latest navigation and safety technologies. In term of size and capacity, the boat can compare to the MV FeBrina, which also sails in Papua New Guinea.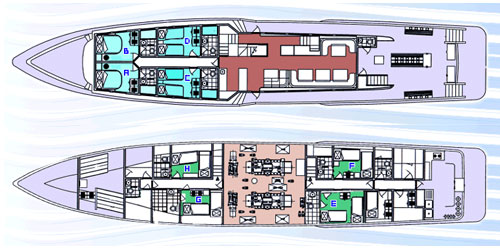 Scuba diving with the MV Spirit of Niugini
The heart of any dive liveaboard is the dive deck, and the Spirit of Niugini has a well equipped one! Indeed, considering that the dive deck is well organized, and the small number of divers aboard, it leaves plenty of space for everyone! Plus, camera tables are in a dry area for divers that need the space to work.
Moreover, access to the water is made easy by two sets of steps leading to a large dive/swim platform at water level. Divers can just step into the water when they are ready. The professional, and experienced, crew of the Spirit of Niugini is ready to take you on an diving adventure!
---
Price starts at 2,950$US – 9 days / 8 nights
TAWALI – NUAKATA REEFS – DUTCHES REEFS – NORTH EAST COAST
Where does this liveaboard dive boat go?
Check out the fabulous places where this dive boat travels to.
Note: some destinations may not be listed below, please enquire for more details.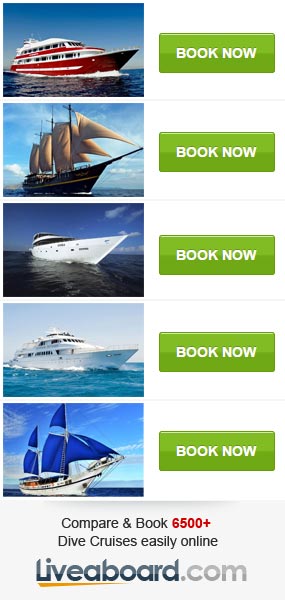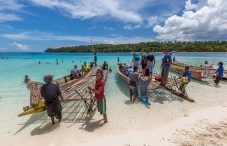 Papua New Guinea is one of the anchors of the Coral Triangle. Its remote location, low industrialization and mainly self sufficient population gives divers pristine conditions.
Other Liveaboard Reviews in Papua New Guinea
Dive spots reviews in Papua New Guinea
No dive sites reviews found