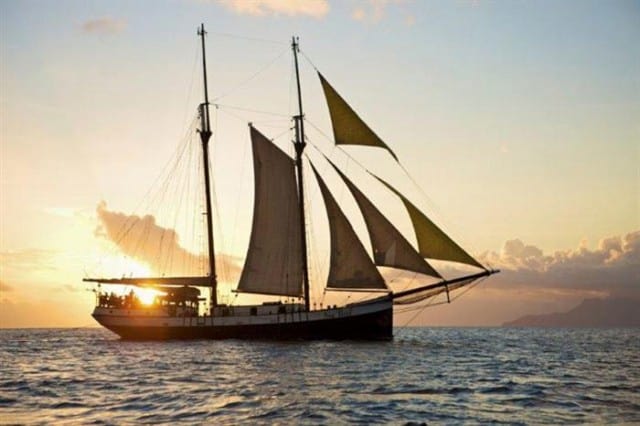 SY Sea Pearl dive boat review
Unlike many of the more 'modern' vessels on which you may spend a liveaboard trip, SY Sea Pearl and her sister vessels of Silhouette Cruises are traditional sailing vessels. Silhouette Cruises, based in the Seychelles, were founded in 1997. The vessels and voyages are a unique experience, offering the romance and style of a traditional sailing vessel from a bygone era.
The Seychelles offer something for all levels of diver. Out in the open water, napoleon and humphead wrasses, schools of humphead parrotfish, stingrays, reef sharks and green and hawksbill turtles are sometimes found. Less experienced divers – or even those non-divers snorkeling or swimming within the inner reefs may be lucky enough to find schools of angelfish, butterflyfish. Or octopus, lionfish and mantis shrimp. Amazing aquatic life. Stunning beaches and white sand. The Seychelles really are a slice of paradise from a picture postcard!
MY Sea Pearl has a rich history. Originally built over 100 years ago she spent the first act of her life as a fishing vessel. By 1930 she was the last remaining Dutch herring fishing boat. Then, in 1999, she was renovated to modern standards to spend time cruising the turquoise waters of the Indian Ocean carrying her lucky guests.
She is identical in length to her sister vessel, the Sea Shell. However, she is marginally shorter than her sister vessels the Sea Bird and Sea Star. Nevertheless, despite her slightly shorter length, there is ample space on board for a comfortable voyage and she carries fewer guests than her larger sisters. Despite being a sailing vessel she has, in addition, a 300hp Cummins motor capable of powering her at a cruising speed of 7 knots when conditions dictate.
You can check the availability and prices for this Boat here.
Cabins and Boat Layout
Sea Pearl has 6 double-bed cabins (with 1 bunk bed), known as (Category A).
Then there are also 2 triple cabins with 3 bunk beds , known as (Category B).
Every cabin has air-conditioning and wash basin, and is traditionally and tastefully decorated.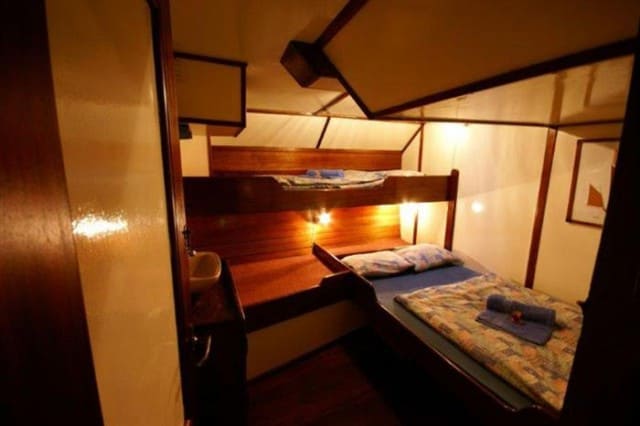 Outside of the cabins, at the stern of the vessel, there's a covered 'deck lounge' outside where you might relax on your surface interval.
There are plenty of opportunities to lie and bake in the sun! At the very bow of the boat there is a net where you can lie in the sun and nap. There is also a more traditional sun deck at the top deck of the vessel.
If you're looking for somewhere shady and cool to spend time you may choose to sit in the air-conditioned comfort of the salon and read a book. Or enjoy the TV/DVD and stereo system.
Meals onboard are a selection of wonderful local creole dishes and western cuisine. And, for the drinkers, there is also beer and wine available onboard.
Scuba Diving Onboard Sea Pearl
There is a minimum of 1 diving instructor onboard should you wish to be guided in-water. The English and French speaking crew onboard are there to ensure your smooth passage and help with any issues you may have.
Camera, computers and torches can be rinsed in bespoke tanks and charging points are available for delicate scuba gear and cameras.
If you've brought your own equipment and require DIN adaptors, these are available onboard. The Seychelles diving is mainly in the 8-20m range and for additional safety dinghies are on standby for pickups and drop for divers where necessary ensuring you always get the optimum dive.
Itineraries
Typically Sea Pear cruises inner islands over an 7-8 day, 7 night itinerary – depending on the season.
The vessel departs from Anse Possesion, Praslin and docks there again at the end of the adventure.
There are also opportunities explore possible explore some of the islands by bicycle during the trip. Or perhaps walk amongst the palm trees and relax on the beaches. Swimming, snorkeling and beach barbecues also normally form part of the voyage. And, combined with Kayaking and the amazing views these voyages are suitable for divers and non-divers alike.
There is a planned itinerary (obviously subject to season and weather etc.) which takes in the best dive sites in the area.
Expect to budget in the region of EUR1,085 depending on season and availability which equates to only EUR131 per day – a bargain. However, please note that this excludes some items such as marine park fees, alcoholic drinks, crew tips and equipment rental. Contact us for further details.
Where does this liveaboard dive boat go?
Check out the fabulous places where this dive boat travels to.
Note: some destinations may not be listed below, please enquire for more details.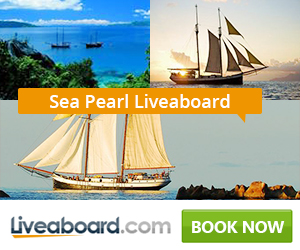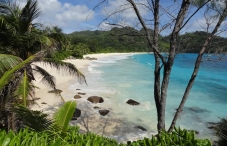 Seychelles offers pristine dive sites in a relaxed laid back destination.
Other Liveaboard Reviews in Seychelles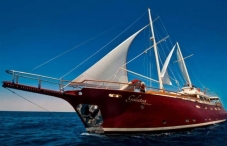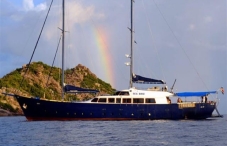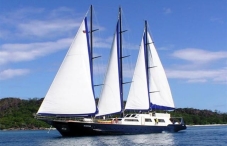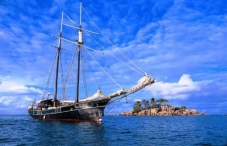 Dive spots reviews in Seychelles
No dive sites reviews found