Cost
Expensive, and Luxury!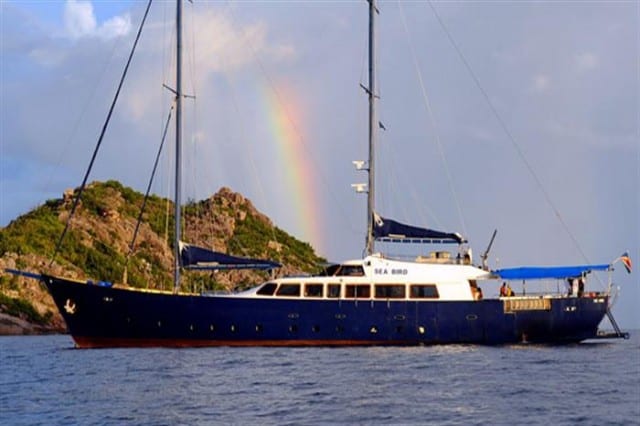 SY Sea Bird dive boat review
Silhouette Cruises, based in the Seychelles, were founded in 1997. With their fleet of sailing vessels they offer some of the most stylish, elegant and comfortable ways to enjoy a cruise of wonderful islands of the Seychelles. SY Sea Bird is one of their stunning fleet along with her sister vessel Sea Star.
One of the gems of the Indian Ocean, the Seychelles are made up of a group of some 115 islands nestling in the clear, azure blue waters. The healthy tropical reefs and granite walls of the Seychelles are home to an abundance of marine life. So, whether you're blown away by the myriad colours of the large schools of tropical fish – butterfly fish, snapper and batfish – or you're in search of a majestic eagle ray or shark, the Seychelles provide an unforgettable diving experience.
The twin-masted MY Sea Bird is 42m long and 8.5m in beam – the largest of the fleet. She has four sails in a Bermuda Sails configuration but with an engine capable of easing her through the waves at a cruising speed of 9 knots. Sea Bird was substantially re-designed in 2007 improving her layout and configuration and making her an opulently trimmed, logically laid-out boat to dive from.
You can check the availability and prices for this Boat here.
Cabins and Boat Layout
Sea Bird has comfortable accommodation for 18 guests onboard plus her 9 professional crew.
There are 9 cosseting cabins onboard with a choice of two layouts. The first cabin option features a double bed for couples sharing. The second option features a double bed with additional single bed. There are 3 cabins with a double bed and 6 with a double bed with single bunk option – depending on your preference. As you would expect, every cabin has air-conditioning to maintain a comfortable temperature for a healthy night's sleep and, also, private en-suite bathroom facilities.
When not the cabin there is an air-conditioned bar/lounge/dining salon. Here you can relax and take advantage of the TV/DVD, stereo, ice-machine and washing/drying facilities as you wish.
At the stern of the vessel outside is a covered 'leisure area' where you may relax with a drink or mingle with other guests. Or, if preferable, there's a two-tier sundeck at the bow of Sea Bird. It's a spacious area to lie and tan on your surface intervals between dives.
Still scratching around for something to do? There are Kayaks onboard on which you may explore during parts on your amazing voyage.
The onboard chef with keep you well nourished with a fine selection of local creole dishes and western cuisine. Beer and wine is also available onboard for when the day's diving is completed and you unwind while taking in the breathtaking vista.
Scuba Diving Onboard Sea Bird
The English and French speaking crew onboard are there to attend to your requirements onboard. A professional instructor is onboard to brief and guide you in the water.
There are charging points and rinse tanks for photographers. The shaded dive deck means you're able to kit-up and complete your buddy checks in comfort before exploring the waters and it's rich marine life with your buddy or guide.
DIN adaptors are available for those bringing their own European regulators and support dinghies are on standby for pickups where necessary.
Itineraries
Typically Sea Bird cruises inner islands over an 8 day, 7 night itinerary. The vessel departs and docks at Inter-Island Quay departing Port Victoria at around midday and touring various beautiful islands, bays and outcrops depending on season, weather and tide.
The diving is varied and the voyage is suitable for divers and non-divers alike with swimming, snorkeling and beach excursions with barbecues normally forming part of the adventure.
Expect to budget in the region of EUR2,029 depending on season and availability which equates to only 177 per day. However, please note that this excludes some items such as marine park fees, alcoholic drinks, crew tips and equipment rental. Contact us for further details.
Where does this liveaboard dive boat go?
Check out the fabulous places where this dive boat travels to.
Note: some destinations may not be listed below, please enquire for more details.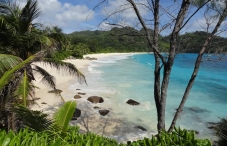 Seychelles offers pristine dive sites in a relaxed laid back destination.
Other Liveaboard Reviews in Seychelles
Dive spots reviews in Seychelles
No dive sites reviews found