If you have been to Komodo Island before, please share your experiences, ideas and feedback (Hotel, Excursions, General Feeling,…) in the comments section below, by doing so you will help fellow travellers to plan their next trip

The Komodo National Park is one of the pure jewels of Indonesia. Its specific landscape and fauna makes it a unique destination for adventurous travellers and nature lovers.
It is a marine reserve with dozens of wild islands inhabited by the world famous Komodo Dragon!
Komodo Dragon on Rinca Island (Photo Credit: http://www.flickr.com/photos/rachdian/5418187901/)

Liveaboard Diving in Komodo National Park is considered by some as the best diving location in Indonesia and even one of the best spots in the world by many people for big fishes and amazing underwater life.
Crystal clear water, a lack of pollution, huge schools of fishes, pelagic fishes everywhere, sharks galore and the wonderful manta ray all year round make it a dream diving destination!
Also this part of Indonesia is a bit off the touristic track (the banana pancake trail!) but is still easily accessible from Bali.
To plan my trip I usually use this guide book as they have great maps and give a good overview of the Komodo, Labuan Bajo and Flores island.
In this page you will find practical information to plan a scuba diving trip to Komodo Island:
Where to stay?
I usually use this website to book in advance my hotels in Komodo Island as they usually have the lowest rates I find. I like it because it's free to cancel and change the dates.
I have been staying in the Gardena Hotel. It is a simple and basic hotel but very cheap. You have also nice villas to rent in Labuan Bajo or a beautiful resort.
Activities and excursions in Komodo Island
Komodo National Park is mostly a diving destination with not a lot of tourist infrastructure. The attraction here is the incredible nature, so it is possible to do other things during your stay or for the non divers such as:
Go trekking the Islands hills and the Kelimutu Volcano
Go to see the world famous Komodo dragons
Explore the typical flores Island (eg Python cave)
Go Snorkelling on a day trip cruise
There are a few travel agencies in Labuan Bajo which can organize all your excursions.
Kelimutu's blue and dark lakes (© Amre Ghiba)

Best time to visit Komodo Island
It is possible to enjoy the Komodo marine reserve all year round.
Dry season from April to December, average temperature of 26°C.
Rainy season from January to March, average temperature of 28°C.
The best time to visit Komodo National Park is between April and December during the dry season. The weather is very nice, not too hot with very little to no rain. The rainy season sometimes starts early in December, so if you don't like getting wet plan your trip before.
You can spot the Komodo dragon all year round. However, the mating season runs from July to August and the nesting season from September to November and spotting the dragons is not as easy during these periods.
Health and Safety
If you are planning an upcoming dive trip or travelling to Komodo Island, it is a really good idea to invest in travel insurance for scuba diving, because you never know what could happen and when you might need it (because accidents do happen!). I recommend this diving insurance as they offer worldwide coverage and focus on providing scuba divers a quality insurance and medical assistance service.
Where is Komodo Island located in the world?
Komodo Islands are located in Indonesia between the islands of Lombok on the West and the Flores (Labuan Bajo) on the East.
Have a look to the Komodo Island map.
Komodo Island map
How to get to Komodo Island?
Exploring the Komodo National Park is very easy but you need to go to Bali first to get a plane or a boat.
There are 4 ways to discover the park:
Fly from Bali airport to Labuan Bajo located on Flores Island. Labuan Bajo is the best base to explore the Komodo National Park. From there you can go diving with one of the local dive centre during daytrips in the marine reserve.
From Labuan Bajo you can get a diving Liveaboard to take a tour of the Komodo islands and the best diving sites.
You can charter a boat in Labuan Bajo and make your own private cruise around the Komodo Islands, perfect for discovering the archipelago and for snorkelling.
From Bali, you can take a Liveaboard which will take you to a splendid diving cruise around Lombok Island and the Komodo marine reserve.
Hot Tips
Flights from Bali to Labuan Bajo are operated by small companies with small planes. The flight is very scenic so be sure to get a window seat to get a glimpse of the spectacular views!
Small planes are often full so it is better to book your seat in advance. Otherwise, for the more adventurous and the ones who are travelling on a tight budget you can take the public ferry from Bali to Labuan Bajo. It will take about 3 days and the journey is an adventure in itself.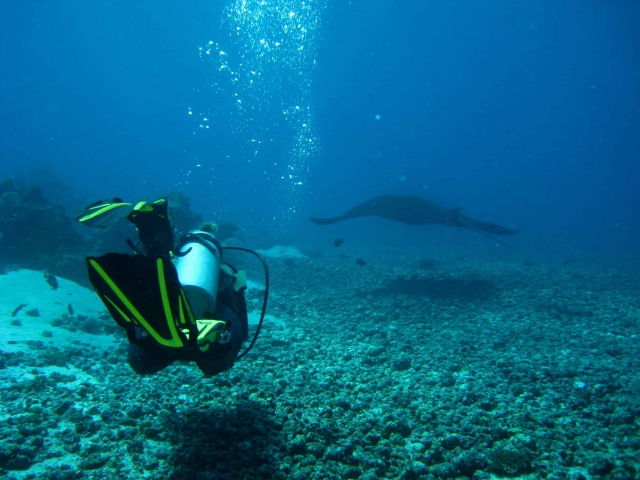 Getting Around
Once you are in Labuan Bajo, you can discover the wild Flores Island by local bus but the journey can be rough and it is better if you can speak some Indonesian language. The best way is to hire a car with a driver for a very fair price in one of the local travel agencies.
If you want to discover the Komodo marine reserve, you can:
Go scuba diving and snorkelling with local dive centers. The boat ride to the diving sites can be quite long, up to 3 hours but very scenic.
Get a liveboard for a few days to cruise around the Komodo Islands and dive the best spots.
Arrange your own cruise in Labuan Bajo. Everything can be easily arranged by local travel agencies. You will have your own boat and your own crew for a very fair price! Enjoy
Going to check out the huge Komodo dragons is a must do for anybody travelling in the area. The best places to spot them are on Rinca and Komodo Islands. It is easily possible to go there during a day trip from Labuan Bajo or during a diving trip between two dives. Great surface time!
Komodo Island during dry season(© Amre Ghiba)
Komodo Island Photos
previous
Beautiful & Colorful Mandarin Fish

Thousands Fish Swimming By Huge School

Crocodile Fish Komodo Island
next
Scuba diving
You will find all information about sea life, best time to visit, top dive spots, etc. in our review: Komodo Island Diving

Diving Reviews for this region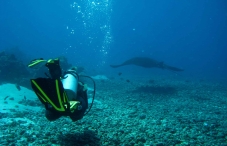 Diving in Komodo is all about action! It is BIG fishes land! With wonderful coral, it is just incredible diving all year round.
Liveaboard Reviews in Komodo Island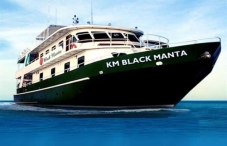 . Please note… The Black Manta has bee
Cruise ship Reviews in Komodo Island