If you have been to Tulamben before, please share your experiences, ideas and feedback (Hotel, Excursions, General Feeling,…) in the comments section below, by doing so you will help fellow travellers to plan their next trip

Tulamben is a quiet fishing village located on the Northeast Coast of Bali Island. This dive location is surrounded by magnificent scenery where ancient lava is melting alonggside dry vegetation. In the distance, the sacred volcano Mount Agung seems to guard the area. Really a wonderful place to see during your Balinese trip! In this part of Bali you are very far away from the Southern touristic crowd.
Photo Credit: http://www.flickr.com/photos/c_baltrusch/5317598404/
This peaceful place is only disturbed in the morning by mini vans packed with divers coming from all around Bali, impatient to dive THE world famous dive site The Liberty Ship Wreck!!! This is a World Class dive site and for sure one of the best wreck dives in the world. It is big, it is shallow, and it is easily accessible! A must dive for any diver coming to Bali.
In this page you will find practical information to plan a scuba diving trip to Tulamben:
Where to stay?
I usually use this website to book in advance my hotels in Tulamben as they usually have the lowest rates I find. I like it because it's free to cancel and change the dates.
Health and Safety
If you are planning an upcoming dive trip or travelling to Tulamben, it is a really good idea to invest in travel insurance for scuba diving, because you never know what could happen and when you might need it (because accidents do happen!). I recommend this diving insurance as they offer worldwide coverage and focus on providing scuba divers a quality insurance and medical assistance service.
Where is Tulamben located in the world?
Tulamben is located on the Northeast Coast of Bali Island slightly just North of another diving spot Amed. Due to the recent volcanic activity and the lack of rain, this area is really different from the usual deep green jungle you see in Bali. It is very interesting to see and if you are brave enough, you can try to trek or mountain bike the magnificent Mount Agung!
See the map below.
Tulamben Map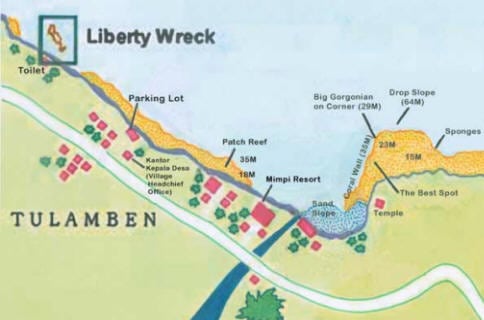 How to get to Tulamben?
It takes about a 4 hour drive to reach Tulamben from South Bali and from the Ngurah Rai International Airport of Denpasar depending on the traffic. 4 hours is long but the journey is very scenic and therefore an enjoyable part of the journey!
After Padang Bai the road follows on into breathtaking landscapes filled with terraces of green rice paddy fields, amazing sea views, quiet Balinese villages and ancient temples!
If you go there on your own (without an organised dive group), the best way is to hire a car/van with a driver (about 300 000 to 400 000 IDR from the Airport/South Bali, and don't be afraid to bargain!). You can also reach Tulamben by bus but it will be a real adventure and a long journey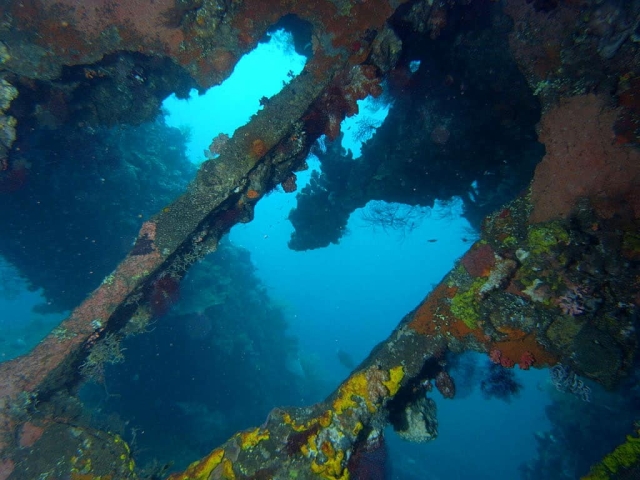 Tulamben Photos
Scuba diving
You will find all information about sea life, best time to visit, top dive spots, etc. in our review: Tulamben Diving

Diving Reviews for this region
One of the best Wreck Dives in the World!!! And the most easy for sure, 30m from the Shore and starts at 4m deep! Fantastic Marine life and great Coral!
Liveaboard Reviews in Tulamben
Cruise ship Reviews in Tulamben