If you have been to Kapalai, Sabah before, please share your experiences, ideas and feedback (Hotel, Excursions, General Feeling,…) in the comments section below, by doing so you will help fellow travellers to plan their next trip

Kapalai is a superb Island on the South East coast of Sabah, the Malaysian part of Borneo. In fact it is more of a sand bank than an island!
There is just one resort on this desert Island and you will feel like Robinson Crusoe, a castaway, but with all the comfort you can expect from a luxury resort.
The island is also very well known for being a great base from where to dive Sipadan Island, one of the best scuba diving spots in the world!
In this page you will find practical information to plan a scuba diving trip to Kapalai, Sabah:
Kapalai, Sabah Photos
Where to stay?
I usually use this website to book in advance my hotels in Kapalai, Sabah as they usually have the lowest rates I find. I like it because it's free to cancel and change the dates.
There is just one place to stay on the Island: the luxurious Kapalai Resort. It is actually more of a "floating" water village!
Diver's reviews are very positive about this diving resort. Rooms are big and clean. Diving facilities are very well equipped and organized.
Activities and excursions in Kapalai, Sabah
The main activity in Kapalai is scuba diving. If you are travelling with your family and for non-divers there is not much to do except relaxing and snorkelling the beautiful house reef. It is also possible to rent sea kayaks.
Excursions to the nearby island of Mabul to see the fines beaches can be arranged. There is no pool and no beach on Kapalai but swimming and snorkelling is easy from the wooden deck.
Health and Safety
If you are planning an upcoming dive trip or travelling to Kapalai, Sabah, it is a really good idea to invest in travel insurance for scuba diving, because you never know what could happen and when you might need it (because accidents do happen!). I recommend this diving insurance as they offer worldwide coverage and focus on providing scuba divers a quality insurance and medical assistance service.
Where is Kapalai, Sabah located in the world?
This Island is located on the East coast of Borneo in Sabah, Malaysia not far from Mabul Island and Sipadan.
See the map below.
Kapalai Map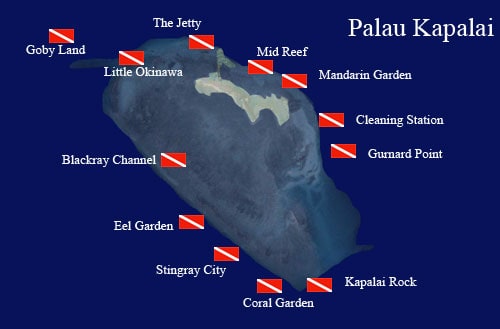 How to get to Kapalai, Sabah?
Going to Kapalai is not an easy task but everything is well arranged to get you there as fast as possible on the island.
Step 1: You firstly need to fly from Kuala Lumpur (3 hours flight) or Kota Kinabalu (55 min flight) to Tawau airport. The best companies to fly there are Air Asia and Malaysian Airlines.
Step 2: From Tawau airport, you have to take a taxi or a mini van for about 2 hours to reach the port of Semporna.
Step 3: From Semporna harbour, you take the fast boat from the resort to reach Kapalai Island in about 45 min.
Hot tips
The entire trip will be arranged by the Kapalai resort.
The latest boat to Kapalai leaves at 3:30 pm so take an early flight in the day or you will have to stay overnight in Semporna.
There are no Banks or ATM facilities but the resort accepts major credit cards.
Photo Credit: http://www.flickr.com/photos/pesik/2514884031/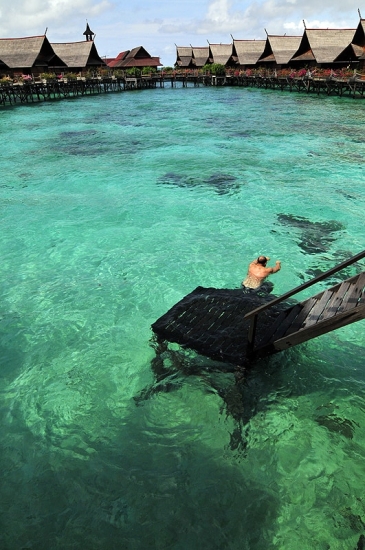 Getting Around
Kapalai is really small and the only way to get around is by boat or with a sea kayak. There is no beach as such, just a sand bank.
Scuba diving
You will find all information about sea life, best time to visit, top dive spots, etc. in our review: Kapalai, Sabah Diving

Diving Reviews for this region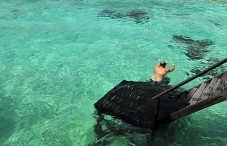 Very easy and shallow Macro diving. Great place for underwater photography and Night Diving.
Liveaboard Reviews in Kapalai, Sabah
Cruise ship Reviews in Kapalai, Sabah