If you have been to Wakatobi before, please share your experiences, ideas and feedback (Hotel, Excursions, General Feeling,…) in the comments section below, by doing so you will help fellow travellers to plan their next trip

Wakatobi is located in Indonesia, in the Southeast of Sulawesi Island. It is a small archipelago of 4 islands called Wangiwangi, Kaledupa, Tomea, and Binongko. The name is an acronym of these 4 islands names.
Photo Credit: http://www.flickr.com/photos/diverslog/219132302/
Wakatobi is one of the best diving destinations in the world with magnificent coral and amazing biodiversity. Jacques Cousteau even stated that it is quite possibly the finest dive site in the whole world! However, Wakatobi is a very remote place and going there is not so easy. And there is only one luxurious diving resort called the Wakatobi dive resort.
This place is really famous for passionate underwater photographers who come from all over the world to capture these pristine reefs.
In this page you will find practical information to plan a scuba diving trip to Wakatobi:
Where to stay?
I usually use this website to book in advance my hotels in Wakatobi as they usually have the lowest rates I find. I like it because it's free to cancel and change the dates.
There is only one resort, the Wakatobi Dive Resort. It is a luxurious resort providing a high standard of service. The Resort has various Diving Packages, all offering unlimited shore diving on the House Reef and at least 3 boat dives a day.
It is possible to ask for a private dive guide. Prices are expensive but Wakatobi is a real piece of paradise in a remote and pristine environment for those lucky enough to be able to experience it.
The resort also offers cruises on their Liveaboard which offers the possibility of further dive sites and unexplored Reefs!
Activities and excursions in Wakatobi
Once you are in Wakatobi, there is no transport on the island. There are no roads or cars. The only way to get out is by plane or boat. However, the resort offers excursions like the visit of a sea gypsy village or various Treks to visit the surroundings but Wakatobi stays a pure diving destination and may not be the ideal place for non divers.
Health and Safety
If you are planning an upcoming dive trip or travelling to Wakatobi, it is a really good idea to invest in travel insurance for scuba diving, because you never know what could happen and when you might need it (because accidents do happen!). I recommend this diving insurance as they offer worldwide coverage and focus on providing scuba divers a quality insurance and medical assistance service.
Where is Wakatobi located in the world?
Wakatobi is situated in the Southeast of Sulawesi Island in Indonesia in avery remote area. See the map below.
Wakatobi Map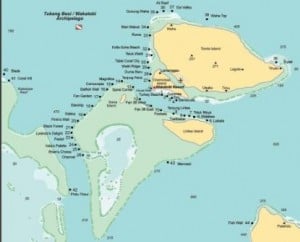 How to get to Wakatobi?
The only way to get to Wakatobi is by air with chartered flights from Bali. The dive resort constructed a private air strip!
Step 1: First you'll have to fly to Bali and in most cases spend a night there. For more information check out our How to get to Bali page. Local staff from the resort will take care of you as soon as you get out of the plane.
Step 2: When you are in Bali, take the Wakatobi dive resort chartered plane. There are 2 air planes, one is leaving early in the morning and the second one leaves around noon. The very scenic flight takes about 2h30 min.
Step 3: Enjoy your stay and excellent diving
Hot Tips
If you arrive in Bali via an International flight, it is possible to get a tourist visa on arrival.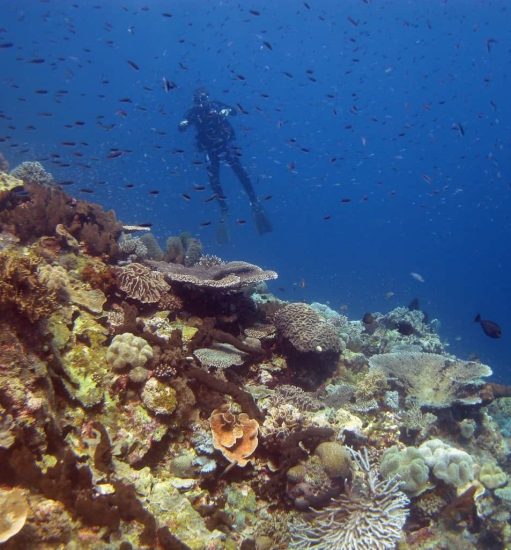 Getting Around
Once you arrive on this very isolated Island, the only way to get around is by boat!
Photo Credit: http://www.flickr.com/photos/diverslog/219132301/
Wakatobi Photos
Scuba diving
You will find all information about sea life, best time to visit, top dive spots, etc. in our review: Wakatobi Diving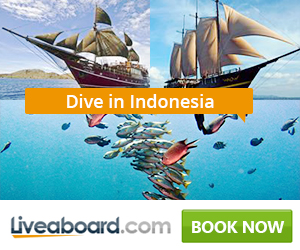 Diving Reviews for this region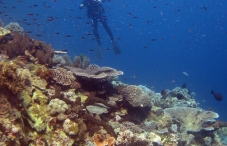 Wakatobi has some of the finest coral in the world, amazing biodiversity and one of the best places in the world for macro photography! On the right day, the visibility can be outstanding!
Liveaboard Reviews in Wakatobi
Cruise ship Reviews in Wakatobi