If you have been to Port Douglas before, please share your experiences, ideas and feedback (Hotel, Excursions, General Feeling,…) in the comments section below, by doing so you will help fellow travellers to plan their next trip

Port Douglas is a small, beautiful coastal town of North Queensland famous for its beach and reef life. It is an upmarket scuba diving and holiday destination with numerous pricey resorts. Port Douglas is ideally located, 70 Km North of Cairns with very easy access to the Great Barrier Reef. Many liveaboards trips start from there.
If not taking a Liveaboard cruise, you can still dive the Great Barrier Reef on a day trip. Many Snorkelling Reef tours are also available. Port Douglas offer excellent scuba diving opportunities.
The Great Barrier Reef is the largest coral Reef in the world and stretches over 2000 Km! It is home of a fabulous array of biodiversity, fantastic coral and crystal clear water. That is why it is now considered one of THE Top scuba diving destinations in the World!
Port Douglas is pretty quiet with nice bars and restaurants and a superb golf course, but these options can get pricey! It is also the best gateway to explore the magnificent rainforest of the Daintree National Park and the pristine tropical beaches of Cape Tribulation, but watch out for Crocodiles!
In this page you will find practical information to plan a scuba diving trip to Port Douglas:
Where to stay?
I usually use this website to book in advance my hotels in Port Douglas as they usually have the lowest rates I find. I like it because it's free to cancel and change the dates.
Port Douglas is an upmarket destination. There are numerous 5 star resorts, with some famous ones such as the Shantara Resort & Spa and the Sabaya Resort. It is also possible to rent an apartment or a villa for the duration of your holidays. There are comfortable hotels too and a few budget backpacker options.
Activities and excursions in Port Douglas
Port Douglas has a lot to offer when you are not diving or if you accompanied by non-divers.
Explore the amazing Daintree National Park and the pristine tropical beaches of Cape Tribulation
Enjoy the superb Golf Course
Visit the interesting Rainforest Habitat Wildlife Sanctuary
Visit a Crocodile farm
Go fishing on the Wharf or Cycling along the beach
Try kite surfing or water skiing
Enjoy a superb cruise on the Coral Sea
Go shopping in Cairns
Experience a hot air balloon ride
Health and Safety
If you are planning an upcoming dive trip or travelling to Port Douglas, it is a really good idea to invest in travel insurance for scuba diving, because you never know what could happen and when you might need it (because accidents do happen!). I recommend this diving insurance as they offer worldwide coverage and focus on providing scuba divers a quality insurance and medical assistance service.
Where is Port Douglas located in the world?
Port Douglas is situated 70km North of Cairns and is about 1 hours drive from the Cairns International Airport or Railway station.
See the map below.
Port Douglas Map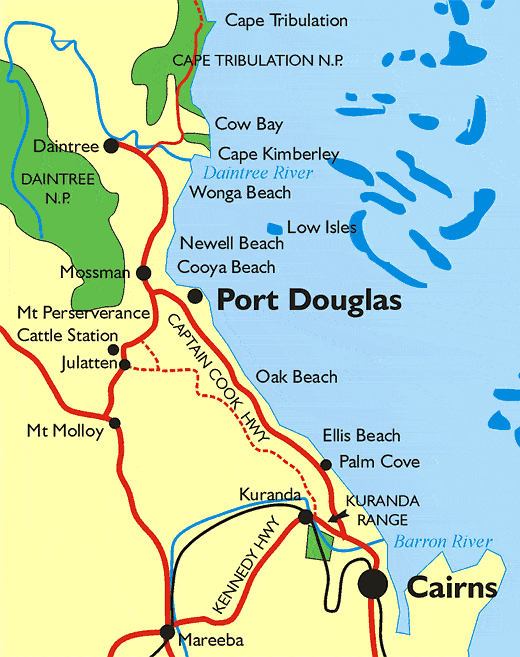 Photo Credit: http://www.flickr.com/photos/theadventuresofsarahandbrett/2872020527/
How to get to Port Douglas?
The best way to get to Port Douglas is to go to Cairns first.
Plane
Cairns has an International airport with many connections to the main cities in Australia and in Southeast Asia. From there you can take the Sun Palm shuttle bus for 1 hour 15 minutes. It will cost you around $30.
As Australia is so huge (at least twice the size of Europe!), the most common way to travel is by plane. There are many good domestic airlines such as Jetstar, Tiger Airways, Virgin Australia and Qantas offering cheap flights to Sydney, Perth, Brisbane, Melbourne and Darwin.
International airlines include Air New Zealand to Auckland, the excellent Cathay Pacific to Honk Kong and Jetstar with flights to Singapore, Osaka and Tokyo. Continental Airlines also offers flights to Guam.
Train
The train station is right in the city centre of Cairns. However the distances to cover are huge and travelling by train can be very slow in Australia! For example it takes 32 hours just to get from Cairns to Brisbane!
Bus
The main bus company is Greyhound and offers cheap rates to several destinations in the country.
Car
Travelling by car is an experience in itself in Australia and you can make a superb road trip along the East coast. Many travellers staying in Australia for an extended time actually buy a van and travel freely throughout the whole country. However, Australia is a really huge country and driving from one place to another can take days! It is possible to rent a car at Cairns Airport and then head to Port Douglas.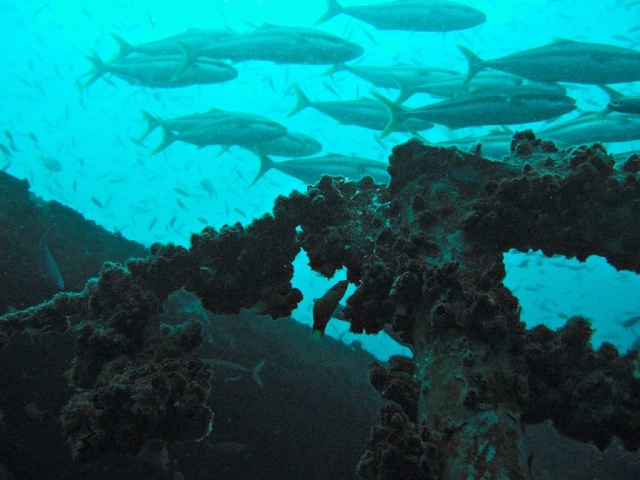 Getting Around
Port Douglas is a small town. You can easily walk from one place to the other if you stay near the main street. You can also rent a bike or a car at your resort or in the centre. Taxis are also available.
If you want to visit the Daintree National Park and Cape Tribulation you need a car or you can go there by bus or by an organized tour. However if you want to go further North than Cape Tribulation you will need a 4WD!
You can plan your excursions to the forest or to the Great Barrier Reef with one of the numerous travel agencies or directly at your resort.
Photo Credit: http://www.flickr.com/photos/24823561@N02/2881864711/
Port Douglas Photos
Scuba diving
You will find all information about sea life, best time to visit, top dive spots, etc. in our review: Port Douglas Diving

Diving Reviews for this region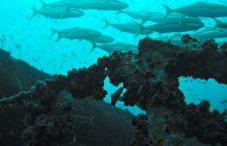 Perfect gateway to the Great Barrier Reef with possibility of snorkelling tours and diving day trips. Many Liveaboard cruises start from Port Douglas.
Liveaboard Reviews in Port Douglas
Cruise ship Reviews in Port Douglas