If you have been to Ningaloo Reef before, please share your experiences, ideas and feedback (Hotel, Excursions, General Feeling,…) in the comments section below, by doing so you will help fellow travellers to plan their next trip

The Ningaloo Reef is located on the stunning West Coast of Australia. It is an ocean paradise famous for its Whale Sharks and Manta Rays sightings, which come here to feed in the plankton due to its rich waters.
Your main gateway to the Ningaloo Reef is from a little town named Exmouth. More and more people are venturing here to discover the excellent diving opportunities in the Ningaloo Marine Park, to surf and to visit the Cape Range National Park.
A bit further South is Coral Bay where the Ningaloo Reef is closest from the shore, just 500 meters away.
In this page you will find practical information to plan a scuba diving trip to Ningaloo Reef:
Where to stay?
I usually use this website to book in advance my hotels in Ningaloo Reef as they usually have the lowest rates I find. I like it because it's free to cancel and change the dates.
There are numerous camping sites and caravan parks around Exmouth. The town also has a few resorts and backpacker places. There is a Novotel located just out of town if you are looking for a bit more comfort, or for even more luxury, there are villas to rent too.
Activities and excursions in Ningaloo Reef
Exmouth is very small and doesn't have any nightlife or cultural places to visit really. There is however still plenty to do outside of the water – you can enjoy the amazing wildlife and explore the superb Cape Range National Park.
You can also visit the Coral Bay further south or go on a fishing trip. Even if you are not diving, you can still go on a tour on the Ningaloo Reef to watch the Whales or the Whale Sharks from the boat!
Another possibility is to take a scenic low altitude flight over the Ningaloo Reef which is ideal for photography ;-).
Best time to visit Ningaloo Reef
It is possible to dive all year round on the Ningaloo Reef.
Dry Season runs from August to December with sunny weather
Wet season is in May and June.
The Whale Shark season is from March to June
During Winter is the best time to spot Manta Rays (May to November), Humpback Whales (July to November), Dolphins and even the very rare Dugongs!
The weather is mostly sunny all year round. The average air temperature is about 35°C from December to March (Summer season) and about 25°C from June to August during the winter season. During Spring and Autumn (April to May and September to November), expect around 30°C.
Health and Safety
If you are planning an upcoming dive trip or travelling to Ningaloo Reef, it is a really good idea to invest in travel insurance for scuba diving, because you never know what could happen and when you might need it (because accidents do happen!). I recommend this diving insurance as they offer worldwide coverage and focus on providing scuba divers a quality insurance and medical assistance service.
Where is Ningaloo Reef located in the world?
The Ningaloo Reef is located in a remote area of Australia so it is not so easy to reach. The starting point to explore this 260km long reef is the town of Exmouth.
See the map below.
Ningaloo Reef Map
How to get to Ningaloo Reef?
To reach Exmouth, you have several options:
Plane
As you'll often find in this vast country, the best way to travel is by plane if you want to cut down on travel time. There is the Exmouth's Learmonth Airport located 37 km from Exmouth. The company Skywest runs daily flights from Perth. There is a shuttle bus from the airport to Exmouth.
Bus
The Greyhound bus company have buses running from Perth to Exmouth 3 times a week. It will take you about 20 hours and cost around $210. If you then want to venture further South to Coral Bay there is another bus for 2 hours which costs $65.
Car
The easiest way to travel this part of Australia is to have your own wheels. It will be much easier if you want to visit the Cape Range National Park between your dives. From Perth, you will have to drive for about 20 hours to arrive in Exmouth. Do watch out for Kangaroos on the road

You can also rent a car directly at the Exmouth's Learmonth Airport or in Exmouth itself.
Another way to visit the area is by booking a tour in Perth.
Photo Credit: http://www.flickr.com/photos/dearanxiety/4711562098/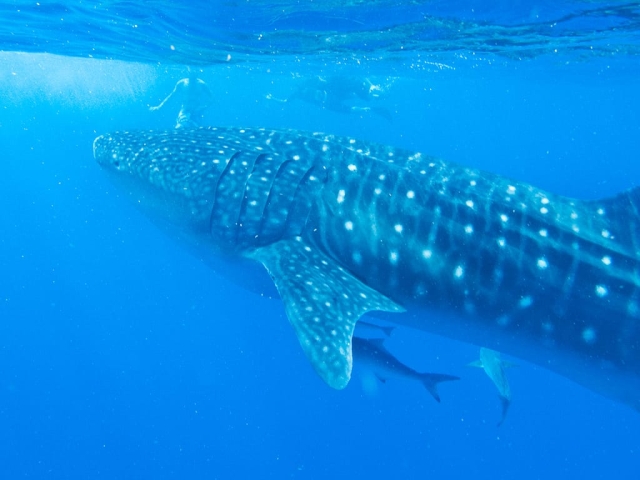 Getting Around
Once you are there, the easiest way to get around is by car. You can also rent a scooter or a bike in the town. However, if you are feeling energized, you could actually get by on foot in Exmouth as it is not such a big city.
Ningaloo Reef Photos
Scuba diving
You will find all information about sea life, best time to visit, top dive spots, etc. in our review: Ningaloo Reef Diving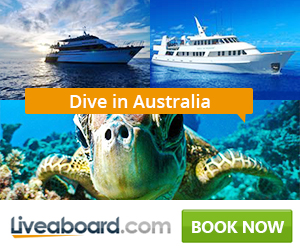 Diving Reviews for this region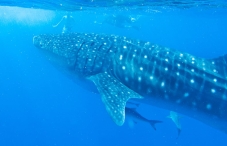 Excellent scuba diving with the chance to spot Whale Sharks or Manta Rays during the right season.
Liveaboard Reviews in Ningaloo Reef
Cruise ship Reviews in Ningaloo Reef