If you have been to Sipadan before, please share your experiences, ideas and feedback (Hotel, Excursions, General Feeling,…) in the comments section below, by doing so you will help fellow travellers to plan their next trip

Sipadan is a mythical Island for any diver. It should be on anybody's wish list! This small island located on the East side of Sabah, the Malaysian Borneo is a world class diving destination and has been described among the top 10 best dive spots in the world.
The marine life is teeming and you will encounter "fishes wall"! Be careful not to lose your buddy in the fish cloud! The coral is also fantastic. In a nutshell Sipadan is just a dream location to dive

In this page you will find practical information to plan a scuba diving trip to Sipadan:
Where to stay?
I usually use this website to book in advance my hotels in Sipadan as they usually have the lowest rates I find. I like it because it's free to cancel and change the dates.
You will have to stay in resorts either in Mabul Island or Kapalai Island.
Activities and excursions in Sipadan
As the Sipadan Island is a desert covered in sand, there is nothing to do here but to walk and admire the beautiful white sandy beaches. There are numerous monitor lizards on the island that you can easily spot.
Sipadan is a pure diving destination. It is also possible to snorkel but it could be difficult to board a diving boat as the number of seats is limited so ask ahead.
Sipadan itself is not really considered a family destination due to the lack of facilities but most of the resorts on Mabul and Kapalai have pools and babysitters services.
Photo Credit: http://www.flickr.com/photos/barrypeters/4292123528/
Health and Safety
If you are planning an upcoming dive trip or travelling to Sipadan, it is a really good idea to invest in travel insurance for scuba diving, because you never know what could happen and when you might need it (because accidents do happen!). I recommend this diving insurance as they offer worldwide coverage and focus on providing scuba divers a quality insurance and medical assistance service.
Where is Sipadan located in the world?
The island situated in Malaysia, on Borneo Island,on the East side of Sabah province.
See the map below.
Sipadan Map
How to get to Sipadan?
It not so easy to reach the Sipadan jewel but it is worth it!
Step 1
Firstly, you need to fly from Kuala Lumpur (3 hours flight) or Kota Kinabalu in Borneo (55 min flight) to

Tawau

. The best companies to fly there are probably Air Asia (the low cost airline carrier) and Malaysian Airlines.
Step 2
Once you have reached Tawau's airport, you need to get to Semporna, which takes a little less than a two hours by car. It's recommended to use a taxi or a shared van, which you both can find a the airport.
Step 3
From Semporna harbour, you can then take a fast boat to reach the islands of Kapalai or Mabul (45 min) where you will stay. Since 2002, it is no longer possible to stay directly on Sipadan Island, so you will go diving to Sipadan on a day-trip. It is also possible to dive from Semporna on a day-trip but boat rides are long (around 1 hour).
This entire trip can be arranged by your dive operator or your diving resort.
Step 4
The boat ride from your accommodation to Sipadan will be 25 minutes if you stay on Mabul and 15 minutes if you stay on Kapalai.
Hot tips
Be aware that the number of divers is limited to 120 per day. You need a permit to dive in Sipadan and you have to book it in advance if you want to be sure to get it. Most of the time the permit is arranged by your diving resort when you will book for your accommodations.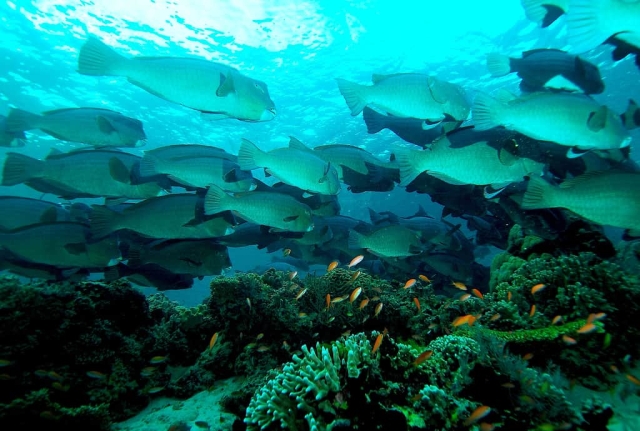 Getting Around
There is nothing on the island itself. The only way to get around is walking around the Island between two dives.
Photo Credit: http://www.flickr.com/photos/barrypeters/4373424921/
Sipadan Photos
Scuba diving
You will find all information about sea life, best time to visit, top dive spots, etc. in our review: Sipadan Diving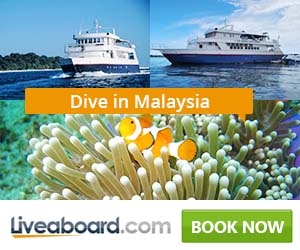 Diving Reviews for this region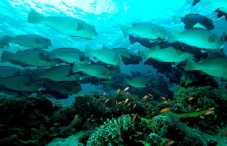 Big fishes Land! Incredible Marine Life with tons of fishes everywhere... Fantastic coral and very good visibility.
Liveaboard Reviews in Sipadan
Cruise ship Reviews in Sipadan