If you have been to Spain before, please share your experiences, ideas and feedback (Hotel, Excursions, General Feeling,…) in the comments section below, by doing so you will help fellow travellers to plan their next trip


Spain is a country who has spread its culture around the world. Indeed, everyone has most likely been touched by some aspects of Spanish culture, but to truly experience it, you must visit Spain and feel it at the roots.
The country is a wonder to visit, both for its natural beauty and the culture. The interior mountains and the beautiful coastal regions both express what this country has to offer.
Spain is a country that dances to its own beat. In the hustle and bustle of a big city, shops still close for siesta in the early afternoon. Many working people, instead of napping, will head to a bar or restaurant. The bars and restaurant take their siesta from about 4 pm to 8 pm. Around 5 pm is time for a merienda, a snack. Then, dinner is from 9 pm to 11 pm, with tapas all day long! If you are a food lover, this is the place to be.
In this page you will find practical information to plan a scuba diving trip to Spain:
Spain Photos
Where to stay?
There are many different faces of Spain and each has its own attraction. Here are a few of the top destinations:
Barcelona is the most visited city in Spain and is the capital of Catalunia. The region has milder winters and cooler summers than most of Spain.
The Balearic Islands is an archipelago in the Mediterranean Sea. The four largest islands are primary tourist destinations and are very popular. The islands are Mallorca, Menorca, Ibiza, and Formentera.
The Canary Islands is an archipelago is located in the Atlantic ocean off the coast of Africa. The seven main islands are, from largest to smallest in land-area, Tenerife, Fuerteventura, Gran Canaria, Lanzarote, La Palma, La Gomera and El Hierro.
Madrid is the capital of Spain and a city for everyone. Indeed, it is one of the world's liveliest capital, with a very active night scene. There are many historical building and over 80 museums and two thousand monuments. If you love food, you will be overwhelmed by choices in Madrid!
Activities and excursions in Spain
There are many activities for you to do in Spain, here are some iconic ones:
Running of the Bulls in Pamplona, Spain. This annual event is said to date back to 1592. While animal rights activist are opposed to it, the event is still very popular.
Attend a bullfight. Another activity that is opposed by animal rights groups and that many people feel is wrong. The autonomous community of Catalonia made a law outlawing the practice, however, the Spanish Supreme Court overturned the law. Still, there are no bullfights in Catalonia. Their bullfighting arena is now a mall.
Visit a beach anywhere on the Mediterranean coast and/or on the two archipelagos. Indeed, both the Canary Islands and the Balearic Islands have outstanding beaches.
Binge on Madrid's museums with over 80 museums to discover!
Eat plenty of tapas! They are small dishes generally served with a drink. They have become a subset of Spanish cuisine. Many restaurants have bars will have their signature tapas. Do not confuse tapas with an appetizer. If you are eating tapas you will not move on to something else. The term "go for Tapas" means to go bar hopping or at least go to a bar, eat tapas, drink wine and hang out with friends.
Best time to visit Spain
Spain is best visited in spring and fall. The months of April to June and then again September to October are the most favorable months. The Mediterranean gets very crowded during the summer months, as people flock there to avoid the heat. If that when you want to visit book early and expect crowds.
Health and Safety
The Spanish National Health Service provides outstanding universal health care system, one of the best in the world to its citizens. It is said there is no place in the country that is further than 15 minutes from a hospital or major medical clinic. Emergency service will not be denied due to lack of payment nor nationality.
Visitors to Spain that require a visa will be required to have medical insurance before a visa is approved. Those not needing a visa are encouraged to have medical insurance that covers them in Europe.
In January 2018, the US State Department listed Spain as "Level 2: Exercise Increased Caution" in its travel advisory. There have been random terrorist attacks in the country. Other concerns are petty crimes such as pickpockets or snatching. Visitors are advised to maintain standard security precautions. Overall, however, Spain is considered a safe country to visit.
If you are planning an upcoming dive trip or travelling to Spain, it is a really good idea to invest in travel insurance for scuba diving, because you never know what could happen and when you might need it (because accidents do happen!). I recommend this diving insurance as they offer worldwide coverage and focus on providing scuba divers a quality insurance and medical assistance service.
Where is Spain located in the world?
Spain is located on the Iberian Peninsula in Southern Europe. It is bordered on the south and east by the Mediterranean Sea and to the north by France, Andorra, and the Bay of Biscay. Portugal and the Atlantic Ocean are to the west and northwest.
How to get to Spain?
Spain is an easy destination to reach both from Europe and the rest of the world. The county has outstanding air, rail and bus connections. Indeed, Spain has 135 airports of which 45 are considered major airports. This includes 25 international airports with a million or more passengers a year.
Do you want to know where to start as you're looking for cheap flights to Spain? Here are the top four Spanish airports:
Madrid Airport (MAD) is also known as Adolfo Suárez Airport is the main international airport serving the Spanish capital. It is one of the busiest airports in Europe.
Barcelona Airport (BCN) is an international airport located southwest of Barcelona city center. It is the main airport in Catalunia, second largest in the country after Madrid.
Palma de Mallorca Airport (PMI), also known as Son Sant Joan Airport, is the country's third largest airport. During the summer, this airport is one of the busiest on the continent as it is a very popular tourist destination.
Malaga Airport (AGP) is the gateway to the entire region of Costa del Sol.
The National Network of Spanish Railways (RENFE) connects to the rail systems of neighboring countries. Indeed, this allows the traveler to easily reach Spain from a neighboring country. Plus, there's a number of long-distance bus companies that can provide the same service.
Do I need a visa for Spain?
The European Parliament established the Community Code on Visas which allows EU nationals to freely pass borders. The Schengen agreement established a unified visa and entry system for the signatories of the agreement. Citizens of Schengen area countries, even those outside of the EU, do not need a visa to travel to Spain or any other country within the area.
Nationals of other countries will need a passport, valid for three months after the expected departure date. Nationals holding passports of some countries may enter the Schengen area without a visa for a period of 90 days. Plus, this visa-free period in allowed once every 180 days.
The list of countries benefiting from this agreement as well as more details can be found on the Spain Visa Application Center's website.
For stays longer than 90 days within 180 days and for countries not shown above a visa is required. For the latest information and steps for those needing a visa, visit either the aforementioned page or the Spanish government website.
Getting Around
The cities of Spain have well-developed mass transit systems that make it easy for the tourist to get around town. For example, Madrid has 13 metro lines, more than 170 bus routes (EMT), 3 light rail routes and 10 Cercanias lines (commuter trains that link the city with the suburbs).
Furthermore, Barcelona has an integrated system of the metro, the public bus network (TMB), the trams (TRAM), the local trains (Rodalies), the regional trains and the NitBus.
Regarding transport between the Spanish cities, the RENFE trains are the ones to use! Indeed, Renfe offers medium and long distance high-speed trains (AVE) as well as medium distance normal trains that connects the entire country.
The RENFE also has tourist trains with trips up to 8 days that include stopovers and onboard accommodations. You can also book special tourist trips such as the Medieval Train to Sigüenza, which includes sightseeing and a round trip day ticket.
To sum it up, Spain is a country that will please travelers from everywhere. Indeed, the country has everything, from a rich cultural heritage to amazing outdoor adventure opportunities and not forgetting an outstanding culinary experience!
Scuba diving
You will find all information about sea life, best time to visit, top dive spots, etc. in our review: Spain Diving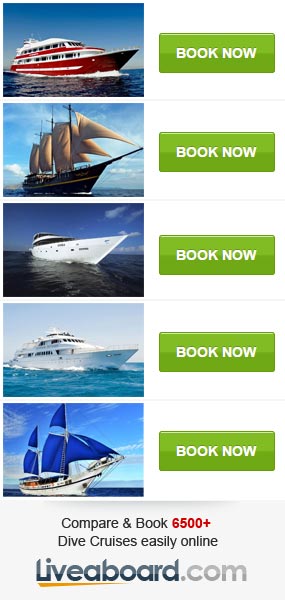 Diving Reviews for this region
Spain offers a tremendous range of dive sites with diving in the Atlantic Ocean and the Mediterranean Sea.
Liveaboard Reviews in Spain
Cruise ship Reviews in Spain