Shawn and Abegailare both PADI Advanced Open Water certified divers with about 120 logged dives. They are from Singapore and are planning to move to Melbourne, Australia permanently. They are looking forward to diving there and hopefully doing a cage dive with the Great Whites!
Their previous dive destinations include the Similan Islands in the Andaman Sea, Tulamben and Nusa Lembongan (Bali), Pulau Tioman / Pulau Aur / Pulau Dayang of Malaysia, and the Maldives. They are are planning to do their PADI Rescue Diver and Divemaster courses in Sabah, Malaysia from September to October.

If you wish also to publish your article, contact us now!

Diving at Moalboal and Oslob
Our dive trips thus far have spanned Tioman, Dayang, Aur, Similan Islands, Maldives, Bali (Tulamben and Nusa Lembongan). It's a bit of a stretch to write about any of these places now, given that the details are no longer all that fresh in my memory. But I hope this account will do justice to the wonderful people we've met along the way, and the sheer natural beauty of the Philippines.
Why we chose Moalboal
Apart from Tioman, Dayang and Aur which are a stone's throw away and quite affordable both in $-sense and Annual Leave required, we have tried not to repeat our dive destinations. Our logs aren't even at 120 dives each, and we saw no reason to go back to the same places, even though we enjoyed each of our dive trips thoroughly – except perhaps for Bali, where A took issue with Balinese cuisine and the saline tapwater of Nusa Lembongan, and came down with a (probably unrelated) bout of viral meningitis immediately after that.
Another question I would ask: What do I want to see on this trip?
At that time, I had not had my fill of "big stuff" yet, and the Whale Sharks of Oslob came to mind. Having been inspired by TW and Jo's account of these gentle leviathans, I decided that we would incorporate a day trip to Oslob to dive with them and hopefully get some decent pictures of them (or with them!).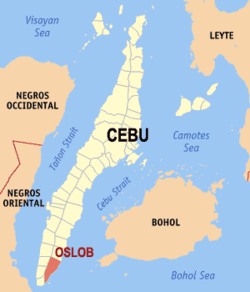 So the next question was what else could we see or do on the trip. From my other readings on the web, Whale Shark watching was an hour-long event.
Having also heard of the Thresher Sharks of Malapascua, I thought that these would be a worthy attraction to complement the Whale Sharks… until another friend pointed out that Malapascua was right at the northern tip of Cebu. In fact, not only was it at the far north, but a boat transfer was also required as Malapascua is an island. That's probably a five-hour overland journey ONE WAY, as there are no proper highways serving the towns outside of the major cities. In fact, arterial roads (dual carriageways, often narrowing to one lane as they thread through villages) pass through the cities, and I wish my primary school classmate W all the best of luck when she and her posse attempt the long journey literally all the way down Cebu.
The place "Moalboal" popped up quite a few times in conversations with the helpful friend and other friends who have dived the Philippines. The term "sardine run" in particular caught my attention. Apparently, dense schools of sardines had appeared at Pescador Island off Moalboal a few years back, although they had disappeared just as mysteriously as they had showed up.
A few BIG fish and a LOT of small fish swimming together. Somehow, that was all I needed to decide – and convince A.
Who we dived with
Two friends had recommended The Blue Abyss Dive Shop, and I must say that their service was top notch, with very reasonable prices. The best part about their service was that they didn't expect any upfront payment (Yes, $0 "diveaway" package was available, pay in full upon checkout!). So we didn't have to 'commit' ourselves to a certain number of dives, or worse, an 'Unlimited Dive Package' which we have tried once in Bali and found to be thoroughly exhausting. But whether this is exclusively a Blue Abyss thing, I can't say for sure. We usually have had to pay deposits in order to secure bookings. The fact that June is super off-peak season may have had something to do with this, so don't quote me and complain if you don't get the same deal!
Accommodation was clean and cheap, and brand new at time of writing. Nothing to complain about, though admittedly it is quite basic.
In short, dive first, pay later. Excellent.
What we saw below
Moalboal has decent macro life, nothing like Tulamben, but at least as good as the Similan Islands. It's definitely a worthy destination for the macro and the numerous walls. But all that pales in comparison to the sheer magic of the sardines.
Before our first dive, our Divemaster, Garry, had told us that the volume of a sardine school could easily fill the dive shop (about the size of an average semi-D in Singapore). The sardines had only just returned after a few months hiatus, and nobody could say with certainty that we would see them.
But the bottomline…
Words can't describe the magic of the moment, and the video is but a shadow of what we experienced there and then. For those who know a bit about photography, this was shot with a ultra wideangle adaptor, making the subject seem further away than it actually is. The nearest we got to the sardines was probably less than a meter. On subsequent dives, we even witnessed jacks chasing and making passes at the sardines, although unfortunately I didn't bring my camera at that time.
For the macro life, perhaps the top attraction is the elusive Mandarinfish. Unfortunately, my photography skills are way too crappy, and thus my best shot of the Mandarins was this:

Of course, the usual suspects like Ornate Ghost Pipefish, Pygmy seahorses, Fairy Crabs, Soft coral Crabs all can be easily found by the helpful divemasters. If you don't have a macro adaptor, the Frogfish here are simply enormous compared to the micro specimens we met at Tulamben.

Above water
Food at Moalboal is decent, and value-for-money for a rural tourist destination. That is to say, SGD 5 is more than enough for a delicious full meal at a less upmarket place, and budget about S$10 if you want drinks. Alcohol is very reasonably priced, at around PHP40-60 (that's S$1.20-1.80) for a bottle of beer. I particularly enjoyed Red Horse, which presents better value at 500ml per bottle at pretty much the same price as the other San Miguel offerings.

Although you'd be disappointed if white sandy beaches are a must-do on your diving holiday (Maldives and Similans do not disappoint here), the town of Moalboal is idyllic and does not feel like a tourist trap. Stingy-looking Asians can get away without being pestered to buy souvenirs too often, and the market (200PHP for a two-way tricycle ride for three pax, tourist price) offers a nice range of fresh produce which one could bring back to the resort for them to cook.
A brief on Oslob

I guess the video pretty much says it all. Never mind the detractors who decry this as an unnatural event, because even with ecotourism projects such as this, whale shark butchering has been documented as recently as 2010.
Far better for these beautiful creatures to be worth more, alive than dead. While the demand for sharks fin soup continues among the ignorant, encouraging "unnatural" behaviour such as this WILL have more benefits than harm to these animals.
For those still concerned, there is a team of marine biologists on hand to ensure safe and sustainable ecotourism. Whale shark tours only last till 1pm everyday, in order to discourage dependence on this food source and to reduce excessive human contact with the sharks. A five-meter exclusion zone is mandated around the sharks, although with "poor buoyancy control" demonstrated by yours truly or 'recalcitrant' sharks, close encounters of the Whale Shark kind may still be had. Motorised craft are also banned in the vicinity, to prevent sharks from being injured by propellers as they feed.
While A and I will strive for a more natural encounter with them in future, I have no reservations recommending this activity if you have not seen them up close AND have a wish to interact with them. Of course, a tolerance for agonisingly-long road trips is a prerequisite, or else, don't bother!
Next up, I will be writing about our short decompression stopover at Cebu. In the meantime, feel free to drop questions, feedback or comments, and we will do our best to answer them!


– S
Related Posts