Sea life
WOW! Once in a lifetime experience!
Current
None or Light current
Visiblity
Am I dreaming?! 30m+!
Level Advanced Divers
Dive depth Normal diving depth, 10-25m
The North Horn dive site is located in the Coral Sea on a remote atoll of the Great Barrier Reef called the Osprey Reef. North Horn is actually one of the best and most famous dive spots of Australia. It features all the sharks of the Great Barrier Reef like the Grey Sharks, Silvertip, Great Hammerhead Sharks and the rare Tiger Shark.
Shark feeding is commonly done which will surely give you a true adrenalin rush! Watch this Video to get a glimpse of the amazing underwater action!
The conditions are usually very good with excellent visibility of 40 meters like often on the Osprey Reef. If there is some current, it makes a great opportunity for drift diving on the Western Wall with superb Soft Coral and Gorgonians Sea Fans.
Enjoy this Amazing Dive site and Don't forget your underwater Camera!!!
Marine Life
The Marine Life at North Horn is just amazing. This spot is famous for its resident population of Sharks and you can spot all the different species of sharks of the Great Barrier Reef.
The most common at North Horn are the Grey Sharks and the even more impressive Silvertip Sharks. It is sometimes also possible to spot a Hammerhead Shark! The place is also full of the smaller Whitetip reef Sharks.
North Horns attracts numerous pelagic fishes too. You can see Barracudas, Giant Trevallies, mackerel, Rainbow Runners, and Big Dogtooth Tunas! The feeding attracts Big Potato Cods too!
The magnificent Eagle Rays and Manta Rays are can also sometimes glide by if you're lucky! be spotted, so keep your eyes open!
Access
Osprey Reef is a remote atoll in the Coral Sea, North of Queensland, Australia. It is situated about 130 kilometres from the Great Barrier Reef and 320 kilometres from Port Douglas and 350 kilometres from Cairns.
It is only accessible by Liveaboard trips exploring the Great Barrier Reef. The main places to get the liveaboards visiting North Horn are Cairns and Port Douglas. Another Great dive site you will visit on the way is Cod Hole where you will encounter friendly Giant Potato Cods!
This is great place for spotting and
diving with Sharks
!
You can dive North Horn all year long. Access: from the Shore. See the map of North Horn on the right for the exact location.
Fishes you may spot while diving North Horn
Angel Fish

Barracuda

Batfish

Boxfish

Frogfish

Goatfish

Lion Fish

Moray Eel

Parrotfish

Whitetip Shark
... and more fishes & sea life, Nurse Shark, Wobbegong Shark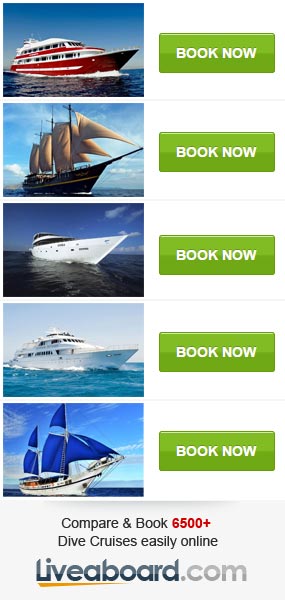 Photos
previous
Huge Hammerhead Shark patrolling the reef in French Polynesia

Lion Fish swimming in crystal clear water

Photo by Agnes Tjandranegara

Two Lion Fish Swimming Blue Ocean

Photo by Agnes Tjandranegara

Patrolling

Photo by Matthieu Billaud

Above

Photo by Matthieu Billaud

Yellow Moray Eel Rangiroa
next
Diving Reviews for this region
Dive spots reviews in
No dive sites reviews found