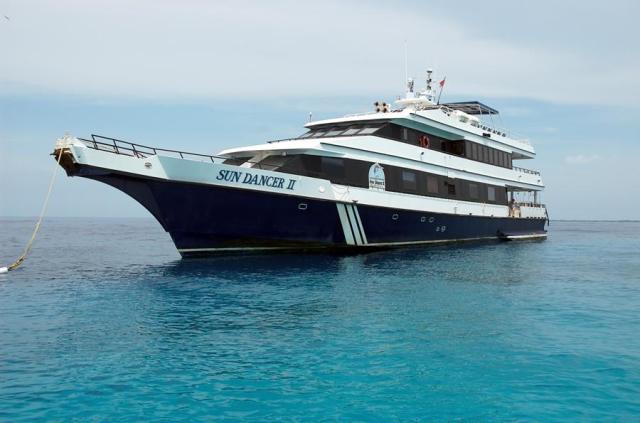 Belize Aggressor IV dive boat review
Built in the late 1990's, the Belize Aggressor IV (formerly Sun Dancer 2) is a 40 meter motor boat that cruises along at 14 knots in the cool waters of Belize. The Sun Dancer 2 sleeps up to 20 guests in the privacy and comfort of 10 air-conditioned cabins fitted with private toilets, showers and sinks, TV and DVD player.
Being a part of the worldwide famous Aggressor / Dancer Fleet, the crew of this Diving Liveaboard, with their unique combination of talents, extends the ultimate in service you will never forget. Features include a roomy, air conditioned salon, a beautiful dining area, and a luxurious sun deck complete with deck chairs for your use. You can also share a cocktail with your new dive buddies while hanging out in the wet bar.
Interesting nightly entertainment awaits guests, which includes Belize diving, fish identification presentations, games and new release movies on DVD. Want to check up on some new species of fish you saw underwater? No worries! There is a small library where you can find various fish identification books for your reference.
You can check the availability and prices for this boat here.
A camera table with charging area is available for underwater photographers. A computer and CD burner are also available, allowing you to save and edit your underwater photos on board.
The menu on board is varied and plentiful, with a variety of delectable American feasts, barbecues and international dishes served buffet style in air-conditioned dining area also make your liveaboard trip more exciting. Beverages such as local beers and wines are complimentary while onboard. They also cater to whatever diet you need, just let them know your dietary requirements before boarding.
The Belize Aggressor IV Liveaboard will absolutely ensure that you dive all the hot spots in Belize in one voyage of perfection!
Belize Aggressor IV's On-board facilities and services:
Enriched air nitrox
Motorised dinghy
Dive deck & platform, hot water shower, toilet and rinse tank
Air-conditioned saloon and restaurant with TV, video and music
Satellite telephone
Water dispenser
Price Starts at US$ 2,795 for 8 days / 7 nights – Belize Exploration
Click here to Check Availability and Prices for this Boat
Find other Belize Liveaboard reviews here.
Customer Review
"It's my second time onboard Sun Dancer 2 and as always, I felt pampered and special with all the services they offered. They wouldn't even let me stand and get a hot towel after our dives as the crews always get if and wrap around the guests' shoulders with a quick little back and neck massage, which guests love. Needless to say that this liveaboard and her crews were excellent and beyond amazing!
Sun Dancer 2 facilities were also in good condition and dive sites are well chosen and amazing. Accommodation onboard was so far excellent too with lots of spacious rooms to choose from. In between the fourth and fifth dives, hot snacks and meals and offered while dinners are just as superb!
I may have sensed that I am not as experienced as most of the other divers on board but I felt safe all the time and even on the night dives. For my first ever ocean night dive, the divemaster stayed right with me all throughout the dive and I was able to see a lot of cool and amusing stuff.
To sum it all, what really makes my Sun Dancer 2 trips special and enjoyable are the warm/hot showers and towels after dives, their fresh treats, clean and spacious boat, the friendly and ever approachable crews, fantastic diving and sumptuous food!
Highly recommended, take it from a very satisfied guest!"
Jeff, UK, 2015
Photo Credit: http://www.actionscuba.com/
Where does this liveaboard dive boat go?
Check out the fabulous places where this dive boat travels to.
Note: some destinations may not be listed below, please enquire for more details.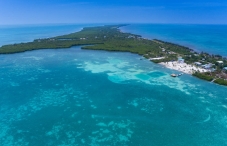 "Little known a decade ago, Belize is now a must do destination for serious divers."
Other Liveaboard Reviews in Belize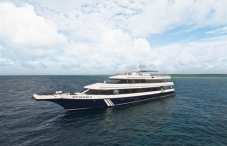 Aggressor Fleet, based in the USA, has w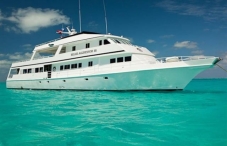 USA based Aggressor Fleet have a liveabo
Dive spots reviews in Belize
No dive sites reviews found