Cost
Simply the best of everything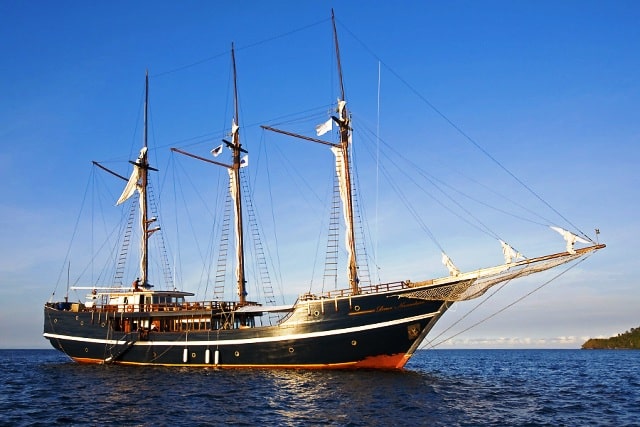 Dewi Nusantara dive boat review
Having a trip on board Dewi Nusantara will give you the opportunity to discover how magical Raja Ampat is. Built in 2007, this 188 ft-long wooden schooner is the largest of the Raja Ampat liveaboards.
Cruising with a top speed of up to 11.5 knots, this boat gives you more than just a large space to stay while sailing in Raja Ampat. The direct benefit of her immense size is the deluxe cabins, obviously much larger than the industry standard.
Choosing Dewi Nusantara as your Raja Ampat diving liveaboard means choosing a full-board setup with plenty of food to fuel your diving expeditions whilst enjoying breathtaking scenery. Liveaboard diving in Raja Ampat is best if it takes place anytime between October-March.
You can check the availability and prices for this boat here.
Dewi Nusantara on board facilities and service:
Nitrox
100m² dive deck with 2 hot water showers and 1 toilet
200 HP dinghies
Separate rinse tank for cameras
Camera table
45m² air-conditioned saloon with TV, DVD and sound system
Computer with CD burner
Movie and book library, games and magazines
Fish ID and diving books
Water Dispenser
Open-air dining area
Dedicated air-con restaurant area
Well-stocked bar
100m² sun deck with sun chairs
Dewi Nusantara Budget Range / Price: Starts at US$ 4,990 for a 10 night tour.
Click here to Check Availability and Prices for this Boat
Customer Review
"First impression lasts. Indeed. Well, I guess this is true to Dewi Nusantara. The first time I saw this boat, I was pretty impressed with its design. There was plenty of space and the cabins were roomy and tidy. Facilities were also kept clean and well-arranged.
We usually have 4 dives everyday. A hot towel welcomed us as soon as we re-surfaced above the water. We also chose to take advantage of the satisfying neck massage to relax more. It's free!
To give you a short overview of the daily schedule: Breakfast is usually available at 6am. First dive happens at around 7:30am. Second dive is at 11am, followed with a scrumptious lunch. The divers can relax and unwind in the spacious deck while waiting for the next dive at 2pm. You can munch on some snacks that are readily available. If you are interested about night diving, you can do it at around 5pm. After the night dives, we were welcomed back to the boat with a cup of hot coffee or hot chocolate. Dinner was served afterwards.  Speaking of dinner, it was usually tasty, especially the soup, and the service was superb.
Food was cooked well. When it comes to drinks, beer and a glass of wine were included in dinner. Coffee and sodas were also free. If you like to gobble down on some alcohol, I would advise that you should bring your own because it is sort of expensive on board.   The cruise director was fantastic and made our trip more indulging. He organized a smooth diving itinerary and effectively managed a productive team. We were also privileged to meet and talk to the owner of the boat while we were waiting for our bags in the port. He seemed nice to be with and he shared some interesting dive stories with us.
Dewi Nusantara let me experience a first class diving cruise. I had so much fun in and out of the water! The crew was very helpful. They helped us in preparing and setting up our gear and other devices. They also assisted us in all our diving activities. Photographers were also happy with the separate camera room with spacious stations.  Not only that! Their huge help in arranging for my flights, hotel accommodation and transfers to and from the boat and any other requests (even with the small things) I had, was really a big deal for me. I couldn't thank enough the crew. Thanks for everything, guys!
I'm really looking forward to my next Dewi Nusantara dive extravaganza!"
Jean, 2014
Where does this liveaboard dive boat go?
Check out the fabulous places where this dive boat travels to.
Note: some destinations may not be listed below, please enquire for more details.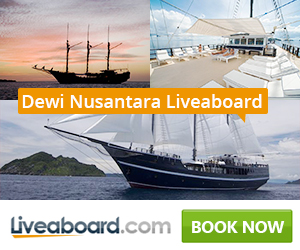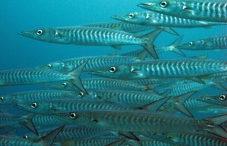 Richest Reef in the World, Amazing Biodiversity, Wonderful Coral, perfect place for underwater photography.
Other Liveaboard Reviews in Raja Ampat
Dive spots reviews in Raja Ampat
No dive sites reviews found