Cost
Simply the best of everything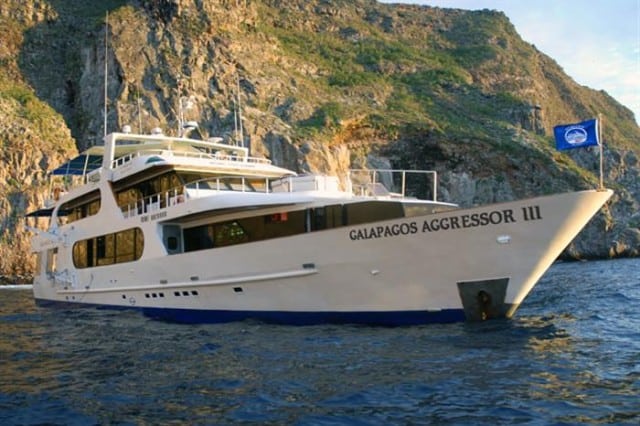 MV Galapagos Aggressor III dive boat review
Ubiquitous with international liveboard vessels, the Aggressor Fleet are well-known for operating at the world's top diving destinations. The MV Galapagos Aggressor III is their offering at the amazing Galapagos Islands.
Made famous by the legendary voyages of Charles Darwin on HMS Beagle, the Galapagos islands have a rich history and the rich waters are home to arguably the most impressive marine life on the planet. The islands are now a vitally important centre for marine and scientific research. This is possibly one of the last places on earth where there is the opportunity to see huge pelagic life such as hammerhead sharks and whale sharks. Or, on land, to see iguanas and penguins. The diving is challenging – sometimes with powerful currents – however, for those wanting the ultimate in large marine life, the Galapagos is at the top of the wish list.
The MV Galapagos Explorer III is purpose built for diving expeditions in these waters. At 100ft/32m long and 22ft/7m in beam, she is of a very sturdy construction; compliant with Lloyd's Registry and American Bureau of shipping standards. Galapagos Explorer III cruises at 10 knots and has the full compliment of safety equipment onboard including but not limited to a complete First Aid Kit and medical supplies, D.A.N. Oxygen System with 100% demand regulator, Automatic External Defibrillator (AED) and the full range of safety and rescue equipment. You're in good hands.
You can check the availability and prices for this Boat here.
Cabins and Boat Layout
Galapagos Explorer III has the space to advantageously hold 16 passengers over her 8 cabins.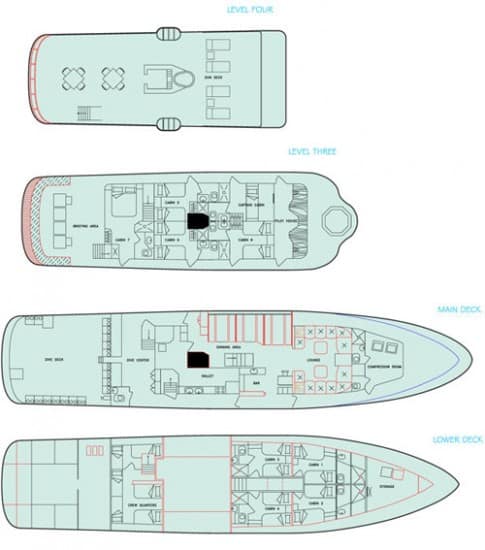 There are 4 'Deluxe Staterooms' and 4 'Master Staterooms'. Sizes vary slightly depending on individual cabin. However, each cabin has individual climate control, private head and shower facilities for your convenience. And, a monitor with media player should you wish to watch movies or view photos in the privacy of your well-appointed cabin. There are also port windows where you can view the ocean from your cabin.
Also while you're topside you can take advantage of the other luxurious facilties that Galapagos Aggressor III has to offer.
There is a sumptuous air-conditioned salon area. In the salon you can choose to sink into a soft chair and watch a movie on the entertainment system. Or read a book from the library onboard. Or chat with guests and share photos over a complimentary snack or cup of coffee.
There's a camera room with charging points for the happy snappers onboard.
The large indoor dining area is more that adequately sized for all guests or, alternatively, enjoy the great mixture of freshly prepared local and western cuisine together with amazing sea views and dine outside.
On the top level of Galapagos Explorer III is a large, partially covered sun-deck. The ideal spot to soak out some vitamin D between dives or relax on a chair and daydream as you take in the view.
Diving onboard Galapagos Aggressor III
The Galapagos Islands are one of the ultimate diving destinations. A maximum of 4 dives per day are usually available.
There are 9 crew aboard the vessel to assist you on your journey. Diving is done in buddy teams. The dive deck is spacious and there's ample storage space for your diving equipment in a personal locker. Nitrox is available for an additional fee and is highly recommended for making the most of your bottom time and extending safe limits.
Diving conditions may be challenging and in addition to the usual equipment we would recommend packing a spare mask, SMB/DSMB and reel, whistle, dive alert, mirror and/or other safety devices. Sensibly, dive computers are mandatory for each guest to allow you to track your individual nitrogen exposure.
The diving is conducted from support dinghies and the trip is recommended for intermediate and advanced/experienced divers. DIN adaptors are available onboard for those bring European regulators and there are rinse tanks and fresh water showers for keeping your gadgets salt-free.
Itineraries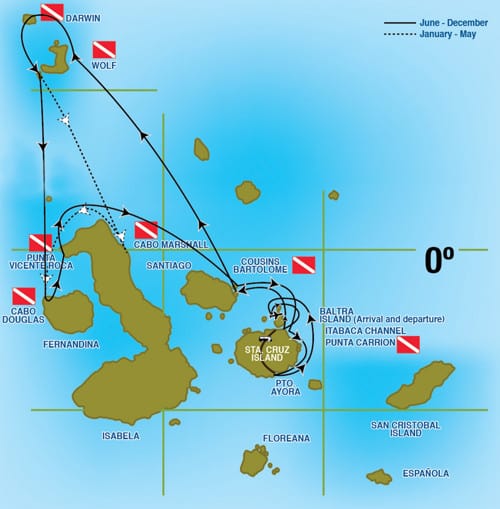 Voyages are 8 days/7nights and begins and ends in Baltra each week.
Expect to pay around EUR4,924 for this length trip. This equates to 418/day. However, please note that this does not include some extras such as port/marine park fees and equipment rental. Please contact us for further details.
Where does this liveaboard dive boat go?
Check out the fabulous places where this dive boat travels to.
Note: some destinations may not be listed below, please enquire for more details.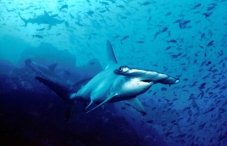 Wolf Island and it's neighbor Darwin Island are the highlight of any Galapagos Islands Liveaboard.
Other Liveaboard Reviews in Galapagos
Dive spots reviews in Galapagos
No dive sites reviews found