Scuba diving is mostly a social sport as it involves a somewhat crowded boat, and a dive buddy. The dive buddy is a major part of all scuba diving certification courses. Indeed, you're taught underwater team work and to always care for and rely on your dive buddy. Solo diving is often thought of as technical diving, something only the pros would do, but perhaps we've got a biased perception of it. Think about the numerous scuba diving story that we hear about a scuba diver that got separated from his dive buddy, or one that got paired with a buddy that is not well trained. In such cases, having a solo diver certification can benefit to all of us.
Let's learn more about solo scuba diving and see how and why getting a solo diver certification might be a good idea!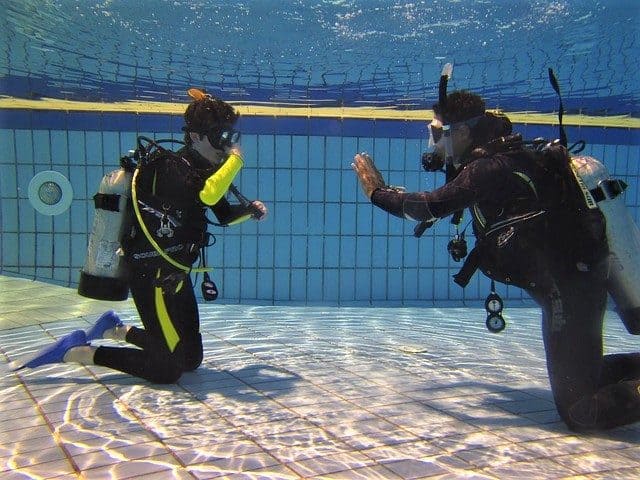 The solo diving certification course
The certification you need to dive solo are offered with PADI as the Self Reliant Solo Diver Course or  with SDI as the Solo Diver course. Scuba Schools International (SSI) also has a certification for solo diving which is called Independent Diving.
The prerequisites vary depending on the agency. For example, with SSI you can take the Independent Diving course if you are over 18 years old and Open Water Diver certified. On the other hand, with PADI and SDI, you need to be certified as an Advanced Diver and have a minimum of 100 logged dives prior to the solo diver certification. According to a blog post on Scuba Diving International's website, the 3 certifications are equivalent. You can read this post here, and you'll also notice a huge comparison chart for all the certification courses between PADI, SDI and SSI, it's great!
Why and when would you need to dive solo?
Usually when we think of a solo scuba diver we refer to scientists, spear fishers and serious underwater photographers. Diving solo requires some technical skills and was once reserved to highly trained professionals. This is changing as some expert divers advise solo diving in order to allow any serious diver to me autonomous underwater. The buddy system is what we first learn when getting certified and it sure is a proven working and safe system. That being said, incidents happens, currents happens, and inexperienced dive buddies happens. What if you are dragged away from your buddy or dive leader, do you have the skills to safely dive by yourself? Perhaps you should.
If you're a lone adventurer and travel solo often, you could want to be a trained solo diver but still dive with a buddy. Indeed, it's a peace of mind to know that you can be paired with anyone on the dive trip and be totally self-sufficient if your dive buddy is inexperienced, or if you get separated from the group. Simply imagine a common scene in Thailand, where you are ready, with over 100 dives under the belt, and you are paired with a diver that is making his tenth plunge in the deep blue. Plus, what if a problem arises underwater. I would want to be autonomous.
The certification will teach you to be self-reliant and to have the ability to deal with any issues that might occur. You'll learn to carry and work with a new type of dive buddy: your extra, independent, air source. Indeed, experts agree that solo diving requires top notch diving skills and top shape equipment, plus spare equipment. You need an extra one of every essential pieces of gear such as the air source, the mask, the computer, the buoy, cutting tool, etc.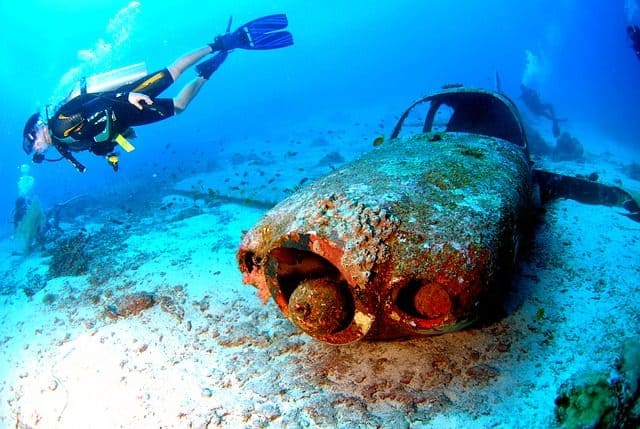 Is solo diving for you?
Every diver should be trained to be self-sufficient, it's simply an extra safety net to have while practicing this somewhat risky sport. This way, if anything happens, a diver would be trained to reach the surface and/or the boat safely and by himself if needed. That being said, diving is, and should remain, a social sport. It's so much fun to point out at underwater critters and show our buddy, and then discuss what you've seen afterwards on the boat. Sharing the experience with someone is often a bright side of scuba diving and it's crucial in the process of learning the basic diving skills.
Otherwise, if you are a seasoned diver and you want to dive alone and not have to wait for a buddy, the solo diver training is definitely for you. This way, you'll have the skills to scuba dive by yourself and still be safe.
---
Are you a solo diver ? Tell us more about your experience ? Why should anyone get certified for solo scuba diving ? Comment below ⇓
---
Related Posts