Guest post brought to you by Lionel Kobi
I was always very much an indoor dweller. Sure, I like sports and going outside on occasion. But I always came to life behind at least two 22 inch monitors. My career demanded a lot of screen time and once I got home and was supposedly free from the computer's grasp, I would willingly return to the glow of these same monitors to play video games all night.
Like a moth to a flame.
Later I started to understand that I did this as a coping mechanism. In the absence of something meaningful in my life, I simply distracted myself enough so I would not notice that void. I never particularly liked going to the beach, I hated getting sand everywhere and my Swiss skin just sunburnt way too easily. Can you believe that today I work as a full-time dive instructor?
Let's rewind a little. Life in Melbourne was great. Everyone wears black, looks hipster and rides bicycles to their jobs. So, I did the same. Everything was fine. I had a good job, a nice apartment, my worldly possessions to keep me entertained and there is never a dull night in Melbourne.
More and more, the void started to grow until I could not ignore its existence any longer. I developed an urge to do more, see more and experience more this world has to offer. I dreamed of retiring on a tropical island and convinced myself that this would be how I would feed the void and keep it at bay. Over the years, Friday after work drinks, became Monday, Wednesday, Thursday and Friday after work drinks. At that age I was supposed to be in the "prime of my life" and here I was drinking at the pub with colleagues much older, some with families almost every night of the week.
I could see where it was all heading and I wanted out.
If you asked me then, whether I would consider moving to a tropical island and working as a dive instructor, I probably would have dismissed you as insane. I didn't know what I wanted, but I knew I was living a life I did not want to be living. I battled with myself. Successes at work would make me doubt my thirst for adventure and change. Downfalls hit much harder and I felt that I was wasting time. It was a hard decision that took a lot of courage, but I listened to my inner most voice to follow what I felt was right.
On a regular Tuesday I quit my job and began to set things in motion to travel South-East Asia for three months and then relocate to London to work abroad for several years. It was exciting. At first I found it very difficult to not have society's safety blanket and painful to sell all my worldly possessions to complete strangers. But it got easier with time.
The less I owned the better I started to feel. When a father bought my gaming computer and monitors for his son, I had a hard time letting go. A few days later I barely missed it.
The initial plan to explore South-East Asia before moving to London soon escalated into a much larger adventure. Two weeks in a country were becoming two months in a country and a three months trip soon became a year long adventure.
During these travels I was recommended to visit a small island called Koh Tao to try scuba diving by a friend I had met travelling. I always wanted to try diving. My dad always talked about the ocean and I never quite understood his deep love for diving and our ocean.
So I tried it.
I booked my Koh Tao diving course at Sairee Cottage Diving. This changed my plans permanently. Diving became something very special to me. I fell in love with the underwater world, the processes of diving safely and the adrenaline that is released with every descent. Realizing that my instructor was working on this tropical island made me question some previous life decisions. He was a very satisfied individual and it was contagious how positive everyone was. Most dive professionals were not worried about owning two pairs of shorts and a few t-shirts. They were happy.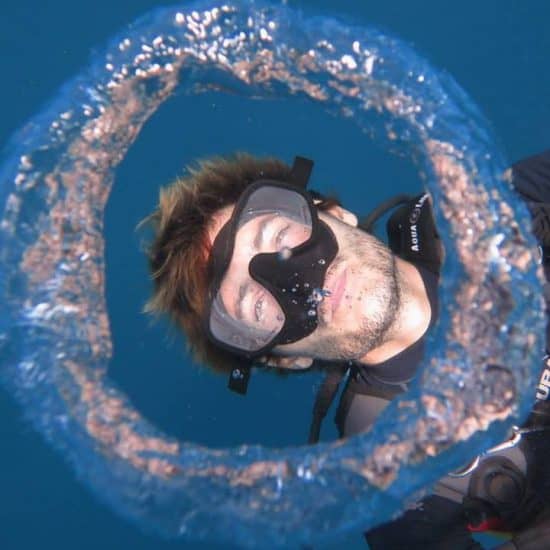 I asked my instructor if he didn't want to go back home to the UK and he countered with "Why would I want to do that?"
After my Advanced certification, I continued to travel Cambodia, Laos, Vietnam and Thailand. But his answer was ringing in my ears all those months. I began to seriously question whether I wanted to return to the 9 to 5 grind. Had I simply justified moving to London as a solution to truly change my life? After all I was planning to go back to the same life, just in a different location. A lot of debating followed and the best decision I ever made was to decide to become a dive instructor and see how it would go.
Now I live on a tropical island paradise. Turns out I did not have to wait until retirement to do what I always dreamed of. I "commute" on my little motorbike to the dive shop where I introduce new divers to the underwater world every day.
It is a very satisfying and fulfilling "job" to take people's fear of the ocean and change their attitude towards nature. Introducing someone to the underwater world for the first time is a privilege. I stay in contact with many of my students and many of them are now changing their day to day lives to pursue something they always wanted to do.
---
Author Bio  // Lionel quit his job in 2013 and bought a one way ticket to South-East Asia. I fell in love with diving and currently work as a Scuba Diving Instructor on a tiny island in Thailand. My passion is to introduce and excite as many people as possible for diving and our oceans. Occasionally I share parts of my story on my travel blog over at Two Green Backpacks. I am excited to see what is in store for me next.
Related Posts