If you have been to Gili Islands, Lombok before, please share your experiences, ideas and feedback (Hotel, Excursions, General Feeling,…) in the comments section below, by doing so you will help fellow travellers to plan their next trip

The Gili Islands are three small islands located on the North West side of Lombok about 80km from Bali. The three islands are Gili Trawangan, Gili Meno and Gili Air.
Gili Trawangan is the largest of the three and also the most touristic, with many foreigners making home and setting up small businesses on the island. It is known as the famous "Party Island" of Indonesia. So if you like parties and having beers in crowded bars on the beach with other travellers, then this is the right place for you!
Gili Trawangan is mainly a backpacker mecca which is used by some to relax over a few beers after hardcore trekking on the nearby Rinjani Volcano
Photo Credit: http://www.flickr.com/photos/jedavillabali/5135549231/

Gili Air and Gili Meno are smaller and much more quiet (with less facilities) with only a few guesthouses on the beach, and non-existent nightlife. This is the quiet tranquil Bali that you may have imagined. So if you like to lie back and relax on a white sandy beach under coconut trees, overlooking the crystal clear water, this will be your ideal piece of paradise.
So, depending on your mood, whether it be pure relaxation or craving full-on party mode, you can really experience all three islands as you like!
Gili Islands is a very popular diving destination. People come here mostly to do diving courses and get there Padi licence as the prices are quite low. Scuba Diving in Gili Islands is good but not terrific compared to other spots around Lombok and Bali. The coral is not in the best shape but it is a very good place to see many turtles right off the shore!
In this page you will find practical information to plan a scuba diving trip to Gili Islands, Lombok:
Where to stay?
I usually use this website to book in advance my hotels in Gili Islands, Lombok as they usually have the lowest rates I find. I like it because it's free to cancel and change the dates.
Activities and excursions in Gili Islands, Lombok
When you are not diving, there are many things to do:
Relax on the beach with a banana or pineapple smoothie from one of the local bars or restos
Do absolutely nothing on Gili Meno and read a good book you've been meaning to read for a while but did not have the time
Go fishing or snorkelling on a local fishing boat – try turtle spotting
Enjoy a few beers and cocktails in the numerous bars on Gili Trawangan and meet other travellers to party the night with
After a hard day scuba diving or snorkelling, you can try and experience the famous "Return trip to the moon", a magic mushroom based cocktail for sale in some restaurants on Gili Trawangan
Watch the sunset while indulging in a local seafood meal on a quiet beach at one of the local restaurants
There are a few travel agencies on Trawangan which can organize all of your excursions.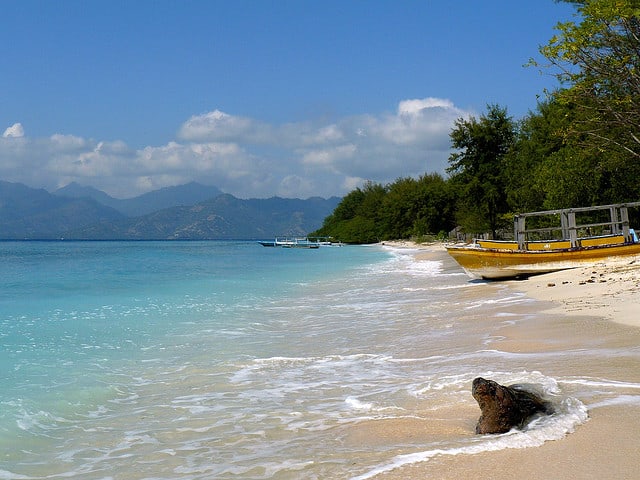 Photo Credit: http://www.flickr.com/photos/yeowatzup/933858514/
Best time to visit Gili Islands, Lombok
Best touristic season
Like the diving season, it is better to not go there during monsoon from December to January.
Hot tips!
You can usually go to the Gili Islands without booking anything but during high season (July, August and December, January), the islands can get very full so it is advised that you book your hotel in advance if you don't want to end up sleeping on the beach ;-).
In high peak season, prices tend to double or even triple so plan ahead if you can.
Health and Safety
If you are planning an upcoming dive trip or travelling to Gili Islands, Lombok, it is a really good idea to invest in travel insurance for scuba diving, because you never know what could happen and when you might need it (because accidents do happen!). I recommend this diving insurance as they offer worldwide coverage and focus on providing scuba divers a quality insurance and medical assistance service.
How to get to Gili Islands, Lombok?
You have 3 ways you can reach Gili Islands:
From Padang bai in Bali, you have several fast boat companies. It takes from 1h30 to 3 hours to reach Gili Trawangan. You can then get one of the small boat to reach Gili Meno and Gili Air (which run between all three islands daily). It costs around 600 000 rupiahs (60 USD, 45 Euros) for a one way ticket depending on the company.
The public ferry boat from Padang bai harbour. It costs "only" 200000 rupiahs (20 USD, 15 Euros) but takes about 7 hours. So you basically lose a day in the transfer.
Take a plane from Denpasar, Bali airport to Mataram, the airport in Lombok. The flight takes about 30 minutes and will cost you around 400000 rupiahs (40 USD, 30 euros). Then you will need to take a bus or a taxi to go to Bangsal village and from there you can take a small boat to reach the Gili Islands. The whole trip takes about half a day.
Have a look to the map.
Gili Islands Map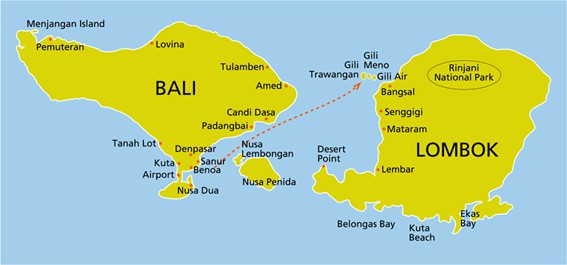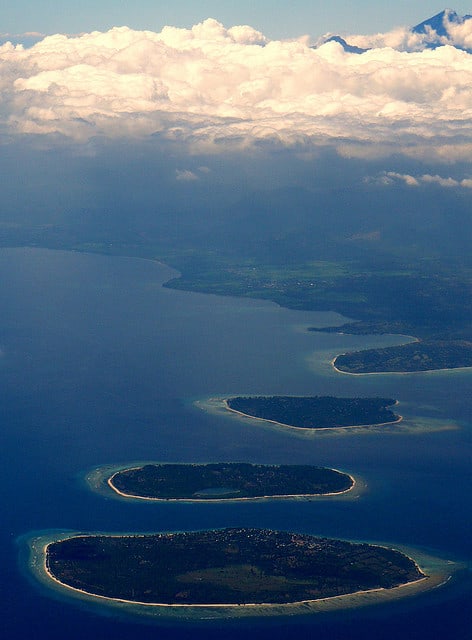 Credit Photo: http://www.flickr.com/photos/yeowatzup/932832535/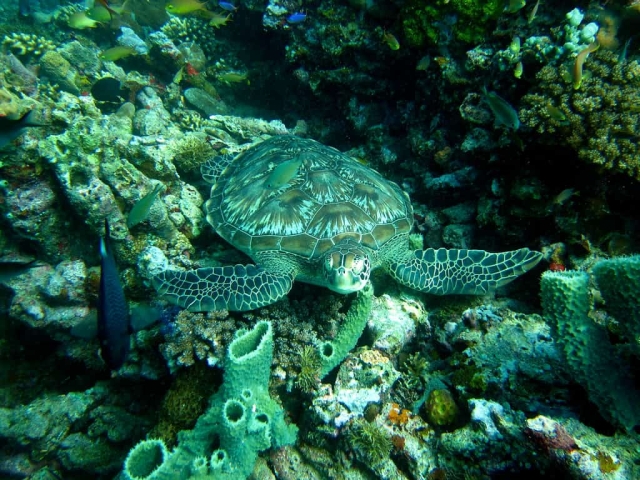 Getting Around
There are no cars, no scooters, no motorbikes and no police on the Gili Islands!
People therefore tend to walk everywhere (for example, on Gili Meno or Gili Air, it takes just 90 minutes to walk around the entire island!). Or you can choose to hire a bicycle or take a "horse cab"! To go from one island to another island is very easy with small taxi boats running daily. You can also charter a boat to go snorkelling around the Gilis.
Gili Islands, Lombok Photos
Scuba diving
You will find all information about sea life, best time to visit, top dive spots, etc. in our review: Gili Islands, Lombok Diving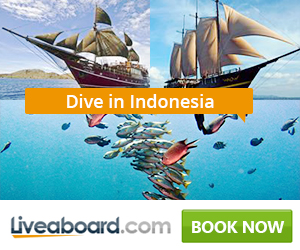 Diving Reviews for this region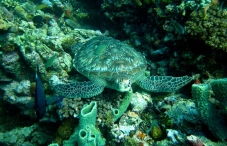 Diving in Gili islands is great for swimming with Turtles! It can also be a great spot to take your next diving course as the dives here are relatively cheap.
Liveaboard Reviews in Gili Islands, Lombok
Cruise ship Reviews in Gili Islands, Lombok