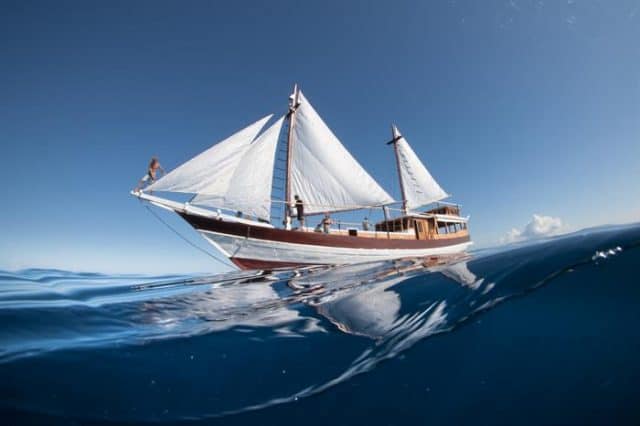 Kira Kira dive boat review
The 22 meters long Kira Kira Liveaboard is an original Phinisi sailing in the Komodo and Raja Ampat regions of Indonesia. Moreover, the Kira Kira is very stable and also economical, thus environment friendly. She's a great budget option for a scuba diving adventure in Indonesia.
Boat Cabins & Layout
The Kira Kira has a total of 4 cabins on board, catering to a maximum of 8 guests. Indeed, it's the perfect vessel for groups of friends that want to dive together, or individuals that like a more personalized dive cruise.
You can check the latest schedule & prices for this liveaboard here.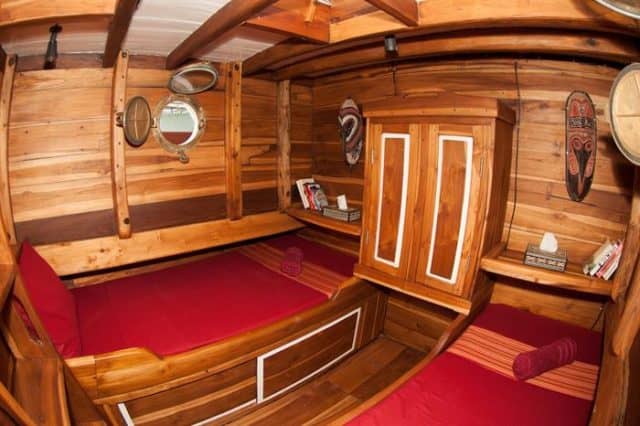 The 3 lower deck cabins are featuring 2 twin beds as well as enough space to store your belongings and clothes. On the top deck , there is 1 more cabin, fitted with a double-bed and amazingly large windows for a great view. Also, the Kira Kira's guests share 2 bathrooms together.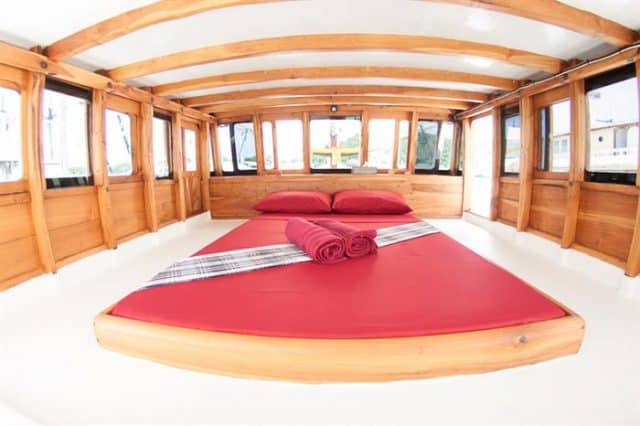 Kira Kira's On-board Facilities
Sun lovers are welcome to enjoy the massive sun deck from which you can always admire a great view. Furthermore, the Kira Kira has an open-air lounge which is the perfect place to mix and mingle, read a book, etc.
The food is prepared by a chef which cooks both Indonesian and western fares. Plus, freshly baked breads and fresh from the day fish are often on the menu!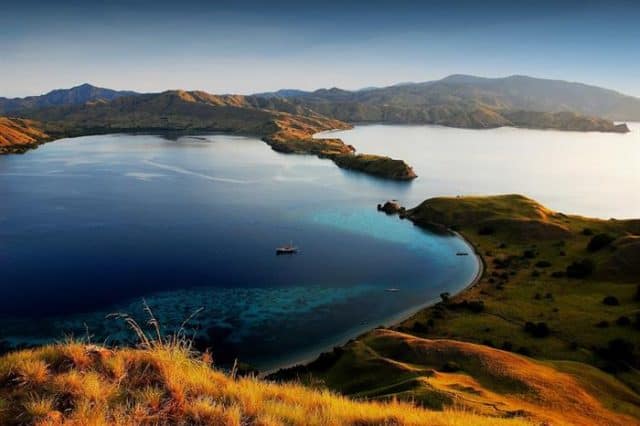 Diving with the Kira Kira
Diving the Komodo or Raja Ampat area is already a special moment, perhaps a dive vessel such as the Kira Kira can enhance this experience. Indeed, they are fully equipped with the basics you need, such as tanks, belts, weights, etc. and offer a highly customizable experience, which is also very unique.
The Kira Kira offers great scuba diving itineraries and discovers the best sites of Indonesia. The professional dive guides and owners of this dive boat have been sailing in Indonesia for a while a get a great deal of experiences to share.
Uncrowded diving and magical moments await!
---
Price starts at 1916$US for 9 days / 8 nights – Sorong – Raja Ampat – Sorong
 OR 1532$US for 9  days / 8 nights – Gili Islands – Komodo 
***Different time duration is available on some itineraries***
Where does this liveaboard dive boat go?
Check out the fabulous places where this dive boat travels to.
Note: some destinations may not be listed below, please enquire for more details.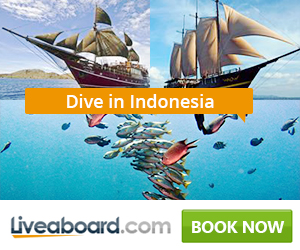 Other Liveaboard Reviews in Gili Islands, Lombok & Indonesia & Komodo Island & Raja Ampat
Dive spots reviews in Gili Islands, Lombok & Indonesia & Komodo Island & Raja Ampat